On Newsstands Now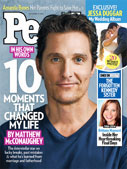 Matthew McConaughey: In His Own Words

Jessa Duggar's Wedding Album

Brittany Maynard's Final Days
Pick up your copy on newsstands
Click here for instant access to the Digital Magazine
People Top 5
LAST UPDATE: Tuesday February 10, 2015 01:10PM EST
PEOPLE Top 5 are the most-viewed stories on the site over the past three days, updated every 60 minutes
Picks and Pans Main: Screen
Buena Vista Social Club
Featured attraction
In the same way that a beaver gnaws on wood to keep its teeth sharp between leafier meals, so Anthony Hopkins must have seen Instinct as a means of honing his incisors before his next outing as the carnivorous Hannibal Lecter. (A Silence of the Lambs sequel is in the works.) Alas, Hopkins doesn't actually bite into anyone here; Instinct might have been livelier if he had.
In this half-baked psychological thriller, Hopkins plays a primatologist who abandoned society to live among gorillas in Africa. At Instinct's start, he is being flown back to Miami under armed guard after having gone on a murderous spree in the jungle, where he bludgeoned two men to death and injured three others. Since the rampage, Hopkins has refused to speak to anyone, including his wife and grown daughter (Tierney). In Miami he is confined to a prison ward for the insane, where a hotshot psychiatrist (Gooding Jr.) tries to figure out why Hopkins went bonkers and whether he is still—or ever was—nuts.
The older man, it turns out, has much wisdom to pass on to the younger one, all of it dressed up in pseudo-intellectual mumbo jumbo about society being dominated by "takers." It's clear early on where Instinct is headed; the movie, as directed by Jon Turteltaub (Phenomenon), lurches from set piece to set piece (Hopkins confronts an odious prison guard; Hopkins reunites with his daughter) without adding up to much. In the end, Instinct's message seems to be that only by standing in the rain without cover and embracing the wetness, just as gorillas do, can one be truly free. (Thanks, but I'll hang on to my umbrella.)
With his long white hair and beard, Hopkins blusters his way through the hokum sounding and looking like a Biblical prophet. Gooding pounces on his big scenes as if convinced they were Oscar bait (wrong!), while the always reliable Tierney (TV's NewsRadio) is woefully underutilized. (R)
Bottom Line: Trust your instincts—pass this one by
Craig Bierko, Gretchen Mol, Vincent D'Onofrio, Dennis Haysbert
Even if you're not superstitious, The Thirteenth Floor is to be avoided. Directed by Germany's Josef Rusnak (a directing associate on Godzilla), this dull sci-fi thriller is about folks who travel back and forth in time in a deadly virtual-reality game. After a murder is committed in the present, the movie's hero (Bierko, displaying about as much charisma as seaweed at low tide) zips back to 1937 to find out whodunit. He discovers that even then, reality—virtual or otherwise—bites.
To say that Floor's plot makes The Matrix, another hero-amidst-virtual-reality film, seem coherent is to indicate just how muddled things are on this Floor. As for Mol, last fall's It Girl (thanks to her provocative Vanity Fair cover), she is a bland blonde dud as the movie's femme fatale. (R)
Bottom Line: Definitely an unlucky number
Brendan Sexton III,
Kate Hudson
, Casey Affleck, Christina Ricci
Sophomore slump strikes again. Desert Blue is the second film by director Morgan J. Freeman (not to be confused with the actor—Kiss the Girls—of the same name), and it's a disappointment after Hurricane Streets (1997), his terrific first film.
Blue has a talented cast, but it's a shambling bore. Sexton III plays a disaffected, parentless teen stuck in a tiny desert town in California. He pals around with other bored teens, including an explosives-happy pal (Ricci) and a visiting TV actress (Hudson, daughter of Goldie Hawn). Nothing much happens beyond the fact that early on the kids all have lousy hair but seem to discover shampoo by the end. In a film this inert, such a change qualifies as a significant development. (R)
Bottom Line: It's arid all right
Bruno Ganz, Isabelle Renaud
At least it's aptly titled. Burdened by artistic self-importance, this Greek import feels like an eternity tacked onto a day, an epoch, an aeon and a millennium. On and on it goes, as a terminally ill writer (Ganz, with a distinguished beard) sadly, slowly wraps up his affairs before going off to a hospital to die alone.
This is a situation ripe with emotional, even tragic, possibilities, but writer-director Theo Angelopoulos fritters it all away. In a plot reminiscent of last year's superb Central Station, the old man rescues a street boy from a black-market adoption gang, then must figure out, in his depressed, preoccupied way, what to do with him. He also spends a good deal of time indulging in flashback memories of his dead wife (Renaud), a radiant woman whom he neglected for his own writerly solitude. (Oh, and he wasn't nice to his mother, either.) He and the boy take a bus ride that becomes a dreamlike procession of entering and exiting passengers, including chamber musicians who take out their instruments and saw out a melody. I wanted off many stops before that. (No rating)
Bottom Line: Endless bummer
Documentary
What we have here is a glorified promotional video for an album of Cuban music. Luckily, it's a sensational album. Produced by guitarist Ry Cooder, 1997's Buena Vista Social Club brought together in a Havana studio more than a dozen great, largely forgotten veteran musicians, including singer Ibrahim Ferrer, now in his 70s, who had wound up shining shoes. Miraculously, the performers are fresh and strong, both on record and in the film, which re-creates the collaboration.
Famed German director Wim Wenders's work is atmospheric—colorful travelogue shots of Havana; glossy footage of the band in concert in Amsterdam—but the movie begs for more historical detail. Were there no archival recordings that could have amplified the story? Still, the music—a vibrant hodgepodge of Spanish, African and other influences—is percussive, joyous, irresistibly sexy. (No rating)
Bottom Line: Can't beat this band
Contributors:
Tom Gliatto.
Anthony Hopkins, Cuba Gooding Jr., Maura Tierney, Donald Sutherland
Advertisement
Today's Photos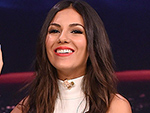 Treat Yourself! 4 Preview Issues
The most buzzed about stars this minute!