On Newsstands Now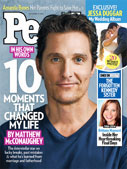 Matthew McConaughey: In His Own Words

Jessa Duggar's Wedding Album

Brittany Maynard's Final Days
Pick up your copy on newsstands
Click here for instant access to the Digital Magazine
People Top 5
LAST UPDATE: Tuesday February 10, 2015 01:10PM EST
PEOPLE Top 5 are the most-viewed stories on the site over the past three days, updated every 60 minutes
Picks and Pans: Pages
Sis Boom Bah
Andersen, the New Yorker writer who cofounded that '80s snarkfest Spy magazine, badly wants to be Tom Wolfe, but when he tries to out-sizzle The Bonfire of the Vanities by deconstructing the New York City-centered media conglomerates of 2000, Andersen proves he's a sheep in Wolfe's clothing. This first novel has the narrative momentum of the Manhattan White Pages while dropping almost as many names and approaching it in length. Andersen's microchip-thin characters speak in a strenuously hip techno-babble (toasting each other's "bandwidth" or "signal-to-noise ratio"), and his storytelling is so weak that this book is millennial mainly in the sense that centuries seem to go by while you're reading it. (Random House, $24.95)
Bottom Line: Bonfire of banalities
by Jackie Kay
While preparing the body of a black Scottish trumpeter for burial, a mortician makes a startling anatomical discovery: The renowned jazzman Joss Moody was actually a woman. Who knew? In this captivating first novel (echoing the true story of American pianist Billy Tipton), celebrated Scottish poet Jackie Kay answers that question as Joss's white wife, their adopted son and others recall the Joss (née Josephine) they thought they knew. In the process, Kay also raises questions about sex, race and privacy. By turns funny and poignant, Trumpet compassionately explores whether we can freely invent the lives we choose to live. (Pantheon, $23)
Bottom Line: Provocative riff on unconventional love
Trapeze—Reflections on Fear, Trust and the Joy of Letting Go
by Sam Keen
Imagine disrupting your pleasant but mundane life and training to become—ta dah!—a flying trapeze artist. Now imagine doing it at the age of 61. That's the unlikely adventure at the heart of this invigorating memoir by Keen, author of the 1991 bestseller Fire in the Belly (a treatise on manhood). A former religion professor, Keen embraces his scary new obsession with such joyful abandon that it's all but impossible not to pull for him as he wedges his aching body into tights and tries, again and again, to fly.
At times, Keen lays on the spiritualism a bit heavily. The planges, splits and other trapeze tricks he attempts seem far less exhausting than his relentless soul-searching ("something in my DNA," he writes, "has destined me to become a butterfly"). In the end, however, Keen's Roberto Benigni-like sense of wonder is as winning as a flawless triple spiral. (Broadway, $23)
Bottom Line: Memoir that truly soars
by Luann Landon
In the South some things don't have to make sense. So Luann Landon doesn't waste any pages here explaining why her long-married grandmother was called Miss Lady or why her grandpa, a retired insurance company adjuster, was known as Judge. Instead, she affectionately conjures up the summers she spent at their elegant Greensboro, Ga., home in the 1930s and '40s, scarfing down southern treasures like country ham, buttermilk pie and trifle. Half family memoir, half cookbook, Dinner follows each childhood milestone with a menu for the meal that accompanied it. Heavy on eggs, butter and cream, the recipes are not for the clogged of artery. Nor is Landon's languid prose for anyone wanting a quick read. But then her stories, like her recipes, are meant to be savored. (Algonquin, $19.95)
Bottom Line: Food for the southern soul
by Richard Belzer
As Det. John Munch on NBC's Homicide: Life on the Street, comedian-actor Richard Belzer can often be heard spouting the sardonic cop's paranoid theories about government cover-ups and domestic espionage. Yet who ever thought Belzer himself was such a die-hard conspiracy nut? Or is he just putting us all on?
In the first half of his mystifying UFOs, JFK and Elvis (in which the late Mr. Presley, incidentally, gets only a brief mention), Belzer gleefully trashes the 1964 Warren Commission report on JFK's assassination. But Belzer embraces so many alternate explanations that we're left to conclude that a veritable army of assassins—from CIA agents to Mafia hit men—murdered the President. When he moves on to UFOs, Belzer's approach is slightly more antic. ("The universe is really big," he says, making the case for extraterrestrials. "It's even bigger than Wal-Mart.") Was the 1969 lunar landing merely a huge special-effects hoax? Or did Neil Armstrong spot UFOs on the moon, which NASA then covered up? In sum, Belzer's cockeyed thesis seems to be: Have it your way—just don't believe anything the government tells you. (Ballantine, $24)
Bottom Line: Get a life, Belz
by Jane Heller
Beach book of the week
If you've ever wanted to kill your sister, this is the novel for you. At 43 and 45, Deborah and Sharon Peltz ought to have outgrown petty bickering. But for the thrice-divorced Sharon, a wedding planner, and her never-married younger sister, a TV soap opera writer having a midlife crisis, contempt would represent a step forward in their relationship. "If my sister were my husband, I'd divorce her," Deborah says. But they're thrown together when their mother has a heart attack in her Stuart, Fla., home, and then—surprise—both sisters fall for Mom's cardiologist, a Porsche-driving stud-muffin. When he gets murdered the sisters become prime suspects. Deborah buckles down and tries to solve the crime herself; Sharon, meanwhile, sees good fortune in finding a suntanned (and single) defense attorney who, she hopes, will clear her name—and maybe even change it.
Heller, a South Florida author (Infernal Affairs, Princess Charming) with a breezy, lighthearted touch and ironic sense of humor, has concocted another delightful summer read—just the book to pass on to anyone's sis when you finish. (St. Martin's, $23.95)
Bottom Line: You'll be shaking the sand out of this one
Contributors:
Kyle Smith,
V.R.Peterson,
Alex Tresniowski,
Cynthia Sanz,
Mike Lipton,
Amy Waldman.
by Kurt Andersen
Advertisement
Today's Photos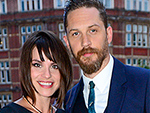 Treat Yourself! 4 Preview Issues
The most buzzed about stars this minute!