On Newsstands Now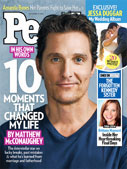 Matthew McConaughey: In His Own Words

Jessa Duggar's Wedding Album

Brittany Maynard's Final Days
Pick up your copy on newsstands
Click here for instant access to the Digital Magazine
People Top 5
LAST UPDATE: Tuesday February 10, 2015 01:10PM EST
PEOPLE Top 5 are the most-viewed stories on the site over the past three days, updated every 60 minutes
Summer Knights
In the Phantom Menace, They're Better Than Par for the Force
Two Jakes: Vader Tot
Like most 10-year-olds, Jake Lloyd is more used to playing with toys than being one. "My friend came over," says Lloyd—Menace's mop-topped Anakin Skywalker—"and he was all, 'Ha, ha, you're a Lego! Oops! There goes your head!' "
Lloyd never lost his head during a grueling shoot in the Tunisian desert in 1997. He'd already played Arnold Schwarzenegger's son in Jingle All the Way and had a recurring role on ER in 1996. The fourth grader, who lives in Santa Monica, first saw the Star Wars trilogy (and declared Darth Vader the coolest character) before his audition for the part at age 6. On the set he invented his own alien tongue to rival Anakin's "Huttese" lingo but otherwise "wouldn't talk much," says father William, 33, a movie-set medic (mom Lisa, 28, is a film producer; sister Madison, 7, has a small part in Menace), who adds that between takes, Jake was so still in the heat, "he looked like he was dying." Jake's dad told one worried crew member, "If Jake quacks at you, he's fine." Sure enough, the staffer approached Jake, William says, "and he started quacking away in Duckese." It wasn't the first time Jake showed he takes to the spotlight like a mallard takes to water. As he once told his mother when she tried to talk him out of acting: "Are you crazy? I love this!"
Drumming Up a Controversy
Lovable lug or reptilian racial stereotype? Ahmed Best—Menace's klutzy creature Jar Jar Bulks—thinks comparing his character's Caribbean-lilting malapropisms with the "Yes, massa" speech of Stepin Fetchit, as some viewers have done, is "just silly. He is such an innocent, positive character. People," sighs Best, "will find something wrong with everything." His ability to play against species is just one of many talents for the Bronx-born Best, 25, who started playing drums at age 3 and memorized Martin Luther King Jr.'s "I have a dream" speech at age 4. "A lot of what you see onscreen, I've been laughing at for a long time," says his father, Adrian, 51, an ABC cameraman and ex-martial arts teacher (mother Ahmondylla, 49, is a percussionist and artist). Best, whose siblings are twin brother Khalid, a graphic artist, and Dunia, 27, a singer, grew up writing music, learning martial arts (he even compared moves with Ray Park, Menace's Darth Maul), dancing and acting. "I was the guy who pretty much jumped in and did everything," he says.
That range of talent landed Best in the touring company of the junkyard dance-and-clatter revue Stomp, a San Francisco performance of which caught the eye of Menace casting director Robin Gurland. Best was initially hired only to mime Jar Jar's agile movements (the character was then animated), but he pushed hard to win the job of doing Jar Jar's voice, which he insists has "no preconceived accent. I just read the language the way George had it written." Today, Best, who lives in a one-bedroom apartment in Brooklyn, is completing a hip-hop album, dating an actress (he won't discuss details) and looking forward to a busy career—as soon as he's offered another job (he hasn't yet been asked to do more Star Wars prequels). "If I had work," he sighs, "I'd be a workaholic."
The White Hat in a Frontier Galaxy
Liam Neeson was a champion boxer in his youth, and he buckled his share of swash in Rob Roy, but no one on the Tunisian set of Menace expected him literally to carry the production. After the set was hit by a thunderstorm one night, "it was just a mess," recalls Kenny Baker, who reprises his R2-D2 role. "Liam rebuilt his own dressing room. He's a big strong man, and he was humping pieces of wood and canvas."
George Lucas was looking for that strength in casting the central role of Qui-Gon Jinn, the Jedi master played by Neeson, 47, who "always wanted to be a cowboy—and here we're basically cowboys in space, right?"
That galaxy is far, far away from Neeson's tiny hometown in Ballymena, Northern Ireland, where the star of Schindler's List once said shrimp was so rare he'd never seen one. Today, Neeson is husband to actress Natasha Richardson, 36, and dad to Micheal, 3, and Daniel Jack, 2—who Neeson says are too young to see Menace.
The travails of being a Jedi may be why Neeson, who stars in next month's The Haunting, recently told Red-book, "I'm retiring from movies"—a whim he soon recanted. "I just got burnt out," he explains now. Maybe he was exhausted by the Star Wars frenzy. "It's only a movie," he says.
Embraceable Ew Turns Jedi
Many a 6-year-old in 1977 wanted to be Luke Sky-walker, but Ewan McGregor was more impressed by Wedge, Luke's pilot buddy. That's because he was played by Ewan's uncle Denis Lawson. McGregor, 28, told Britain's The Independent on Sunday that everything about Lawson dazzled him offscreen as well. "He had [bell-bottoms] on and sideburns and a big sheepskin waistcoat and beads and didn't wear shoes, and I just wanted to be like him."
Little did McGregor suspect that, as the young Obi-Wan Kenobi in Menace, he'd be following in his shoeless uncle's footsteps. "It was nice to go full circle like that," McGregor told PEOPLE in 1997. Now that Menace has earned more in its opening weekend than McGregor's 15 previous films combined, he's finding that mere acting is very different from being a movie star. "People have actually said to me, 'May the Force be with you,' " he told GQ. "I think that's quite batty."
The Force was not with him on the set of Menace—McGregor says shooting was "a slog," and at times he was more C-3PO than Jedi. "Ewan," says stunt coordinator Nick Gillard with a chuckle, "was the clumsiest. Every take, something would fall off [his costume] or he'd drop his lightsaber." But he was the darling of the cast and crew—even those from whom he was forced to bum cigarettes, saying his Obi-Wan costume had no pockets.
McGregor's teachers in Crieff, Scotland, say he was ever the charmer, even as a teen who, at 16 in 1987, quit Morrison's Academy (where his dad, Jim, 56, taught phys ed; mother Carol, 54, worked as an administrator at another nearby school). He went on to study acting at the Kirkcaldy College of Technology and the Guildhall School of Music and Drama in London. His early TV roles won him attention, not least from Eve Mavrakis, 32, a production designer on the 1993 British drama Kavanagh QC, who in 1995 became his wife. (Today the pair live in London with daughter Clara, 3.) By 1996, McGregor had captured Star Wars creator George Lucas's attention as a heroin addict in Trainspotting, one of several roles in which McGregor appeared au naturel. Says Ben Bolt, who directed another McGregor nude scene in the 1993 BBC drama Scarlet and Black: "He was anxious for more takes when it wasn't really necessary."
Whatever his state of dress, McGregor works hard. "I'm not very good at saying no," he says, but that dedication was tested in 1997, when his daughter suddenly came down with meningitis (she recovered fully after he flew home) while he was in L.A. doing a guest shot on ER. "My daughter almost died," he told Harpers & Queen, "and I wasn't there to help."
McGregor's film future is not strictly intergalactic: He stars in June's HBO movie Rogue Trader and the detective thriller Eye of the Beholder. He has also agreed to play Obi-Wan in Episode 2, to begin shooting next year. As McGregor told biographer Brian Pendreigh, "It was my dream to be up there. When the curtains open and the lights go down and it says, 'Ewan McGregor,' it's like, 'Yessss!' "
"This," for a Fan Turned Star, "Is Awesome!"
For Samuel L. Jackson, whose riotously profane patter in Pulp Fiction won him an Oscar nomination, earning the role of Mace Windu was not unlike a Jedi apprenticeship. "I went to the first screening [of Star Wars in 1977 in New York City], and I was sitting there saying, 'This is it. I need to find a way to get into this movie.' It took me 22 years to figure out how to get into one of these movies!"
Jackson, 50, known in Hollywood for a cool that surpasses Jedi confidence, grew up in segregated Chattanooga—"We were motivated because we were always told we had to be five, 10 times smarter," he told USA Weekend—among female relatives after his father left. (His mother, Elizabeth Jackson, is a retired clothing buyer.) "He looked like a movie star even before he was a movie star," says Kasi Lemmons, who directed Jackson in 1997's Eve's Bayou. "He has that bearing. He's tall and handsome and intense." Following his marriage to actress La Tanya Richardson (U.S. Marshals), the 1980s brought daughter Zoe, 17, as well as a drug habit, but he told USA Weekend that these days, "golf is my drug of choice."
Jackson, who lives in L.A., has not addressed recent complaints that the Jar Jar Binks character is racially offensive, but last month he praised Star Wars for its world of inclusion. "You look around and see green people, blue people, hairy people," he said, "and nobody is talking about what people look like."
Darth Victory for Kombat Vet
Qui-Gon Jinn and Obi-Wan Kenobi are worthy opponents for Ray Park's Darth Maul onscreen, but Park had seen worse by the time he was 18. "I was coming home late at night," remembers Park of the London encounter, "and I was randomly attacked by 10 drunk guys with knives who were about my age. Due to my training in martial arts, I was able to keep a strong mind, and I was agile enough to defend myself."
Park, 24, who grew up revering Bruce Lee, was also agile enough to begin his movie career by accident; a stunt coordinator for Mortal Kombat: The Annihilation saw him working out at a gym in London and was dazzled enough to hire him as a stuntman. Word soon got out to the London set of Menace, and after a brief audition, Park, who has a steady girlfriend and lives in London, knew he'd won the call to be Maul when he was driving to a martial arts competition and producer Rick McCallum told him over the car phone, "Pull over." Now, Park, whose voice was dubbed by another actor (it wasn't dastardly enough), is featured (in his splendidly evil Darth Maul makeup) on the cover of the Menace novelization that is outselling the three other covers. "I think that's unbelievable," says Park. "I guess people always go for the bad guy."
Kyle Smith.
Liz Corcoran, Jane Cornwell and Simon Perry in London, Amy Brooks, Susan Christian Goulding, Chris Lee and Elizabeth Leonard in Los Angeles and Sue Miller in New York City
Contributors:
Liz Corcoran,
Jane Cornwell,
Simon Perry,
Amy Brooks,
Susan Christian Goulding,
Chris Lee,
Elizabeth Leonard,
Sue Miller.
Only in a galaxy far, far away could you miss the noise, the toys and the boys of Star Wars: Episode I The Phantom Menace. Arriving 16 years after the last Star Wars installment, the film rests on the shoulders of a few good men, from fourth-grader Jake Lloyd to fourth-grader-at-heart Samuel L. Jackson, who admits that when he found out his character intones, "May the Force be with you," he thought, "Oh, man, I get to say the line!" From Jedi Knights to Jar Jar Binks, here are the men of Menace....
Advertisement
Today's Photos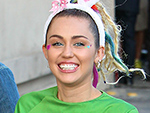 Treat Yourself! 4 Preview Issues
The most buzzed about stars this minute!