On Newsstands Now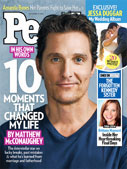 Matthew McConaughey: In His Own Words

Jessa Duggar's Wedding Album

Brittany Maynard's Final Days
Pick up your copy on newsstands
Click here for instant access to the Digital Magazine
People Top 5
LAST UPDATE: Tuesday February 10, 2015 01:10PM EST
PEOPLE Top 5 are the most-viewed stories on the site over the past three days, updated every 60 minutes
Giant Steps
Paralyzed in 1991, Ex-Detroit Lion Mike Utley Fights to Get Back to the Football Field—for the Simple Satisfaction of Just Walking Off It
Rising to challenges has always been Utley's way, never more so than in the eight years since his devastating injury. A fiercely aggressive guard for the National Football League's Lions, Utley was blocking David Rocker of the Los Angeles Rams in 1991 when Rocker leapt in the air to deflect a pass and landed on Utley, who fell on his head. The fall compressed Utley's spinal cord at the sixth and seventh vertebrae. Initially paralyzed from the chest down, he listened in his hospital room as doctors labeled him a C-6, C-7 quadriplegic and told him he would probably never walk again. His reaction? "I told them to get out," says Utley. "I said, 'Don't ever tell me or anyone else that they can't do something.' "
In fact, Utley's spinal cord break was incomplete, allowing for the possibility—however remote—that he could regain some function and feeling below his chest. A slim chance, it turned out, was all Utley needed. In February he rose from his wheelchair before a phalanx of TV cameras, held on to two men and—wearing braces to keep his ankles from rolling—took seven wobbly steps. Utley's next goal: return to Detroit's Pontiac Silverdome, where he broke his neck, and walk off the football field on his own. "If anyone is going to walk, it will be Mike," says his chiropractor, Jason Schroeder. "You rarely see his kind of dedication. I have a hard time dieting for six months, and he's been at this for eight years."
For Utley—a go-his-own-way kind of guy who wears his hair long and his shirts tie-dyed—the payoff has been precious independence. Thanks to strenuous physical rehabilitation and cutting-edge biofeedback therapy, Utley has coaxed his broken body to do things few envisioned a quadriplegic ever doing. He has regained a good range of movement in his chest and arms and can drive his specially rigged Grand Cherokee, go hang gliding and cook elaborate meals in his spacious three-bedroom lakeside house in Orondo, Wash. "He pretty much does everything himself," says Danielle Anderson, 31, a paramedic who is Utley's live-in girlfriend. "I forget he's even got a disability."
As his mother sees it, that's just testimony to her son's stubborn self-reliance. "From the age of 2 he was that way," says Irene Utley, 71, a retired nurse. "He wanted to do things on his own, like tying his shoes and buttoning his shirt. And he'd keep trying until he could." Born in Seattle, the third of four children of middle-class Catholic parents, young Mike had another defining trait: toughness. "He'd get a bump but he wouldn't cry," says his father, Frank, 63, a retired mechanical engineer. "He could take punishment. He'd go right back into a game because he wanted to win."
That go-for-broke style landed him a football scholarship to Washington State, where Utley—all 300 pounds of him—often finished games bruised from head to toe. Drafted by the Lions in 1989, he broke his leg during his fifth game, the first of a rash of injuries that included cracked ribs and a separated shoulder. "I was a very aggressive, very violent ballplayer," says Utley. "And it caught up with me."
The play that changed his life came in the 11th game of the 1991 season. "I knew it was bad when it happened," says Utley, who lay on the field for 30 minutes, unable to move his arms or legs. He was taken to Detroit's Henry Ford Hospital, where, says his father, "it was shocking to see a man who could squat 800 pounds unable to hold a napkin." But a few weeks later, when Utley was transferred to Craig Hospital, near Denver, one of the nation's leading rehab centers, he had some motor function in his shoulders and arms. That and "a very positive, very motivated attitude," says Sharon Blackburn, his physical-therapy supervisor at Craig. "You'd tell him to do something—he'd do it twice."
In 1992, Utley teamed up with Dr. Bernard Brucker, a Miami psychologist specializing in biofeedback, a technique that uses electrodes to identify which neurons—the cells that transmit impulses to the spinal cord—have survived an injury. "Mike used those neurons to make new neuroconnections to his leg muscles," explains Brucker, who supervised Utley's first small steps last November and who works with him three months a year. (Utley also sees a physical therapist once a week.) The determined patient devotes nearly four hours a day to sessions with a chiropractor and his personal trainer, Blair McHaney, who is in charge of the workouts that have replenished some of the 105 pounds of muscle Utley lost after his injury. "His attitude is, 'I'm either gonna walk or die trying,' " says McHaney. "You leave a session with him energized."
It was McHaney who introduced Utley to Dani Anderson last April. After dating him for a few months, she moved into his new home in Orondo, which Utley had remodeled and made discreetly wheelchair-accessible. (He is financially independent, thanks largely to a substantial insurance settlement.) Together they enjoy staying home and watching movies, when they're not tearing up Lake Entiat in Utley's 21-foot speedboat. "I take it to 83 miles an hour," says a grinning Utley, who also swims, hunts and skydives (with a partner). "I work hard, and I play hard."
He also gives motivational speeches and spends hours with young, recently paralyzed patients, urging them not to lose hope. "He has a humongous heart," says Anderson. "He'll do anything for anyone, as long as they help themselves first." That no-excuses approach has those around him believing that Utley will one day walk on his own. "It's still functionally premature for him," says Dr. Brucker. "But he can weight-bear without his knees locking, which means that walking off that football field is possible."
Until that day comes, Utley has other big plans. He'd like to take up snowmobiling, maybe marry Dani ("I told her to start investigating rings," he says) and even have kids. "That," says Utley, "would be kick-butt." One thing he won't do is waste time feeling bitter. "Do I get angry sometimes? Yes," he admits. "I get upset that I can't play football, or I'll look at a freakin' jar on a shelf and think, 'How the hell am I going to get that down?' " Then Utley is grinning again. "But is any of that going to destroy me? Naaah."
Alex Tresniowski
Meg Grant in Orondo
The M&Ms, Mike Utley recalls, were one of his first big tests. He had let a two-pound bag of the candies slip from his hand, then watched helplessly as dozens of them rolled across his kitchen floor. A minor annoyance for most people, but for Utley—the onetime Detroit Lion confined to a wheelchair since breaking his neck in a football game—it was a major challenge. "I could have decided to wait until the nurse came back to clean it up," says Utley, 33, "but that's not the way I am." Instead, he spent three hours dragging his 6'6", 240-lb. body across the floor until he had picked up every last M&M.
Advertisement
Today's Photos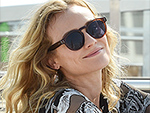 Treat Yourself! 4 Preview Issues
The most buzzed about stars this minute!