On Newsstands Now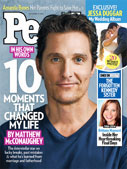 Matthew McConaughey: In His Own Words

Jessa Duggar's Wedding Album

Brittany Maynard's Final Days
Pick up your copy on newsstands
Click here for instant access to the Digital Magazine
People Top 5
LAST UPDATE: Tuesday February 10, 2015 01:10PM EST
PEOPLE Top 5 are the most-viewed stories on the site over the past three days, updated every 60 minutes
Out of Hiding
Actor David Lander—once 'squiggy'—reveals the Illness He Has Kept Secret 15 Years
Not much of anything has been simple for the actor since he was diagnosed with multiple sclerosis in June 1984, about nine months after the taping. Hiding his condition from everyone but his family and closest friends out of fear that he might never work again, Lander struggled to cobble together a post-Laverne career of acting roles and voice-overs. (He also became a part-time scout for baseball's Anaheim Angels, a dream come true for a lifelong fan like himself.) Sometimes that involved trying to disguise a limp as a comedic shuffle. Other times it meant being viewed as a prima donna if he asked for a chair during a taxing shoot—or being mistaken for a drunk on days when his balance was failing.
"I didn't deny that I was drinking—it was easier than saying I had MS," says Lander, who decided to discuss his condition publicly for the first time with PEOPLE in the hope of showing that it is possible to enjoy life with the disorder, despite all its uncertainties. "MS is like living on a fault line," he says. "Your body is the earthquake."
The Brooklyn-born actor experienced a characteristic early symptom—weakness in his legs—during a 1983 benefit in Los Angeles. "I remember taking the curtain call next to Buck Henry, hoping he would hold me up," Lander recalls. "I said, 'Just hold onto my elbow, will ya, Buck? This bowing thing was never that tough before.' I knew there was something wrong, but the next day I was fine." Then he started having trouble negotiating curbs. One day he was carrying his infant daughter Natalie when his legs suddenly buckled. "Fortunately nobody got hurt," he says.
Lander's symptoms led his internist, Dr. David Kipper, to suspect MS. After taking a spinal tap, a specialist confirmed the diagnosis. "I was crying all along from the minute he went into the hospital," says Lander's wife, Kathy, 52, a former photographer currently interning as a marriage and family therapist. "Then when we got the diagnosis, I didn't know what it meant for us and our future."
Unpredictability, the Landers would learn, is typical of MS, a degenerative disease of unknown origin affecting the central nervous system. Though some of the estimated 400,000 cases in the U.S. get progressively worse, as have Annette Funicello's and Richard Pryor's, many MS patients can remain stable, with intermittent relapses, while taking the immune-enhancing drug Avonex—as does Lander—or one of several other drugs that have recently come on the market. "For most people the connotation of MS is somebody sitting in a wheelchair," says Kipper. "But I was very encouraging with David that he had a very good chance that this would stay a mild disease."
For Lander that proved to be true, but he has had some close calls. One came in 1984 while he was shooting a scene for the film The Man with One Red Shoe, starring Tom Hanks. It was sweltering on location in Washington, D.C., and Lander was wearing a rubber suit as he waited to be lowered into a sewer. "I was amazed that I hadn't just melted on the sidewalk," says Lander, who somehow got through the scene.
What made the tough times worse, Lander and his family now admit, was the secrecy on which he insisted. He even waited six years before confiding in best friend Michael McKean—Lenny to his Squiggy on Laverne & Shirley—"because I didn't want that to become part of our relationship." Says Kathy: "I understood his fears. I had the same fears. But at the same time it was very isolating. It was difficult not to be open about it."
About four years ago, Kathy organized a couples support group that has helped the Landers cope. So has Lander's unflagging humor and his commitment to a healthier way of life. (After suffering a mild heart attack in 1994, he began exercising regularly and lost 20 pounds.) "You can't just go, 'Oh, I've got this. Now I'll be depressed for the next 50 years,' " says Lander's friend and former Laverne costar Penny Marshall. "I'm very proud of David. He's a survivor."
Over the past several years, one of the sustaining joys of Lander's life has been his love of baseball. A former part-owner of the Portland Beavers, at the time a minor-league franchise affiliated with the Pittsburgh Pirates, Lander was invited in 1996 to become a part-time scout for the Angels. Although Lander has yet to spot any future Mark McGwires ("Real scouts are looking at things that I don't even know to look for," he cheerfully admits), he hunts for prospects at schools in the Los Angeles area and has unlimited access to ballparks. "I love going to the games. It still has that magic for me," says Lander. "To me, baseball is like the great dime novel. There are so many stories and subplots I can hardly wait to read it."
These days Lander is even more anxious to see how the next chapter in his life unfolds, now that he has decided, as he jokingly puts it, "to fall out of the closet." Recently, and for the first time, he won an acting role even after disclosing his condition (he'll be playing the king in a production of the musical Once Upon a Mattress in Ogden, Utah, next month). But he remains concerned that people will look at him differently. "Will they stare at me?" wonders Lander, who cherishes hopes of reviving Squiggy for a sketch with McKean at the fund-raising Dinner of Champions, where he is to be honored by the Southern California Chapter of the National MS Society in September. "Will yesterday's pratfall become, 'Was he trying to be funny—or was that the MS?' "
Still, the overwhelming feeling inside the spacious home in Agoura Hills, northwest of Los Angeles, that Lander shares with Kathy and daughter Natalie, now 16 and an aspiring actress, is one of relief. "Now that it's in the open, I'd like to make a difference in somebody's life, to really talk to people who are going through the same fears I was going through," Lander says. "In a way it feels tremendously liberating."
Pam Lambert
Lyndon Stambler in Agoura Hills
Contributors:
Lyndon Stambler.
David Lander didn't know what was wrong. The announcer at a taping of Hollywood Squares in late 1983 had just introduced him, and it was time to run onstage. Only suddenly, as it sometimes had during the past summer, his right leg felt like jelly. So rather than bounding onstage—as Squiggy, the frenetic character he had played on Laverne & Shirley for the previous seven seasons surely would have—he wobbled around comically, all the while wondering if he would ever make it to host Peter Marshall. He did. But then he had to climb into his square. "If you've got MS," says Lander, 51 (who wasn't aware that he did at the time), "and you've got to climb up to that box, I'm telling you, it ain't easy."
Advertisement
Today's Photos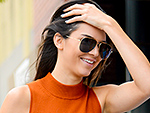 Treat Yourself! 4 Preview Issues
The most buzzed about stars this minute!