Archive Page - 12/1/12 39 years, 2,080 covers and 53,257 stories from PEOPLE magazine's history for you to enjoy
On Newsstands Now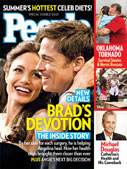 Brad's Devotion: The Inside Story

Oklahoma Tornado: Heroic Rescues

Michael Douglas on Catherine's Health
Pick up your copy on newsstands
Click here for instant access to the Digital Magazine
People Top 5
LAST UPDATE: Wednesday May 22, 2013 11:10AM EDT
PEOPLE Top 5 are the most-viewed stories on the site over the past three days, updated every 60 minutes
Guard Duty
Precilla Wilkewitz, the First Woman to Run a Statewide Vfw Unit, Defends Her Veterans' Interests Like a Hawk
Wilkewitz, 51, will surely be honored in death as she has been in life—as the first (and only) woman ever elected a state adjutant-quarter-master of the Veterans of Foreign Wars. As such, she's a ceaseless advocate for the unsung men and women who, she says, "have fought so hard" for freedom. And she's an advocate in a hurry. Within two weeks of ascending to the Louisiana VFW's top job in 1985, she had computers installed; in her first year, she took the chapter's savings to Merrill Lynch and made $33,000 in the stock market. Then she found permanent digs for the organization in a Baton Rouge industrial park. "When my feet hit the floor in the morning," she says, "I'm working."
But there's more to Wilkewitz than a tendency to charge ahead like a Patton tank. The level of compassion she brings to her work—making the rounds of the state's 157 VFW posts and its VA hospitals, organizing disaster relief, overseeing drug and alcohol programs—is deeply appreciated. "You're looking at someone who takes care of business," says Jim Westbrook, a Navy frogman in World "War II, "and who takes care of us."
Wilkewitz grew up the oldest of seven kids in a close-knit Cajun family in Iowa (eye-oh-way), La., a speck on the prairie. Her parents, Harris and Elvern Landry, were sharecroppers. "We were just poor old farmers," she says. "Mother took in ironing. She went without so we children could have things."
On Saturdays, Precilla and her pals swam in irrigation canals and flirted with boys. There were also barn dances and fais-do-dos (house parties). But mostly, life was given over to work. "As a child I set hair for a quarter," she says. "By 13, I was cooking and washing dishes in Gable's Cafe for 50 cents an hour."
In 1966, at age 18, she joined the Women's Army Corps for the usual reason: to see the world. She didn't know where Vietnam was. "We got off that plane, and it was just intense," she says. "There was no war zone. It was everywhere." A file clerk in Long Binh, she handled paperwork for the My Lai massacre. "We had a lot of My Lais, but on a smaller level," she says. Wilkewitz does not condone war crimes, but she defends the Army's conduct in Vietnam. It is hard, she says, for noncombatants to understand what it was like to fight a war where "children were sometimes strapped with grenades."
Vietnam took its toll on her. She lost 40 pounds, and much of her hair fell out. But the tour of duty was not all bad. She and Army Sp5c. Ken Wilkewitz met on a blind date. ("I thought, 'Wow! Beautiful young woman,' " says Ken, now 51 and an engineer with Xerox.) They married two years later in 1970 and now live in Zachary, La. Justin, their only child, born July 4, 1977, is now a college student.
The war taught Wilkewitz lessons she never forgot. "You learn that it's not about how much education you have or where you are from or what race you belong to," she says. "It's about what you are inside."
She joined the VFW in 1979, shortly after women were admitted, and began her climb to the top. Even now, people sometimes don't catch on to who she is. "I'll go to the VA hospital and I'll ask what kind of treatment the patients are getting," she says, "and they'll look at me a little strange. Then I'll pull out my VFW cap, and they know who I am."
Her voice rising, she continues, "This country that calls their people to war should take care of them when they come home. I will not let the VA hospital, or anyone else, make our veterans feel like second-class citizens. You will not treat them like welfare patients when I am in the building! If someone serves overseas and does not come back whole.... Don't get me started!"
Too late. She's rolling thunder.
William Plummer
Donna Buchala in Houston
Contributors:
Donna Buchala.
It happens every Memorial Day and Fourth of July. Precilla Wilkewitz starts thinking about friends and colleagues who made the ultimate sacrifice, especially the eight women who served in Vietnam, as she did, but never came home. When she says a prayer, as she did May 31 with World War II veterans in Gonzales, La., she wonders if she will be remembered. "Will I have a flag draped over my coffin, or will I be forgotten?"
Advertisement
Treat Yourself! 4 Preview Issues
The most buzzed about stars this minute!