People Top 5
LAST UPDATE: Tuesday February 10, 2015 01:10PM EST
PEOPLE Top 5 are the most-viewed stories on the site over the past three days, updated every 60 minutes
Joke and Dagger
Mike Myers Leaves the Schwinging to His Alter Egomaniac, Austin Powers
"He was doing this dialogue and just sort of driving Robin crazy," recalls Myers's friend Jay Roach. "I think she just got sick of it and said, 'Instead of doing this to me, why don't you just write a movie based on it?' "
And thus was
Austin Powers: International Man of Mystery
born. As any student of pop culture (not to mention Myers's long-suffering spouse) can attest, the comedian's vision has long produced vivid icons of supreme silliness. There was his "farklemt" mother-in-law, Linda Richman on
Saturday Night Live
; the hugely popular
SNL
character Wayne Campbell, the teenage heavy-metal freak with the hormonally charged catcall "Schwing!"; and now Powers, who broke box office records last month with a second Austin outing that earned nearly $55 million its first weekend—more than the original grossed in its entire domestic run. In the two years since introducing "moviegoers to his superswinger superspy, Myers, 36, has single-handedly put the sex appeal into bad hair, bad teeth and bad lines. Indeed, so prevalent has Austinspeak become that the next edition of the Encarta World English Dictionary will include a favorite verb: shag.
These days that randy Briticism has come to mean sex with a smile—better make that a belly laugh. "Once Mike knew what amused me, he used to behave disgracefully on the set, knowing that he'd soon have me snorting and wheezing with laughter," says Elizabeth Hurley, Powers's lust object in the first film. "It got to the stage where I banned him from looking at me in the eye because he'd make me weep with mirth, which would then necessitate a mammoth makeup job." But it's the absolute absence of "yeah, baby" bravado that defines Myers himself. An avid reader (favorites range from Kurt Vonnegut to Kafka) who probably qualifies as the Toronto Maple Leafs' most polite rabid fan, he is, friends say, serious, philosophical and so shy that, according to this month's
Rolling Stone
, he actually told
The Spy Who Shagged Me
's Kristen Johnston she was touching his tush too much during one love-making scene. "He is not touchy-feely," Johnston says with a laugh. "You know, don't hug him." Unless you are his wife of six years, Robin Ruzan, 35, the Queens-raised actress-writer (credits include
SNL
) whom he calls his "muse." Let Powers travel back in time to find his lost mojo (Austinspeak for one's "essence"). As Myers told PEOPLE: "Robin rejuvenates my mojo."
In more ways than one, his current hit—like the first, a loving send-up of the spy film genre and groovy-'60s culture—is a deeply personal film. I He plays not just Powers but the swinger's nemesis, Dr. Evil, as well as the flatulent spy Fat Bastard—all products of his imagination, all in tribute to his father, Eric, an encyclopedia salesman with a passion for British humor who died of Alzheimer's in 1991 at age 69. "He used to wake me and my brothers up at 12:30 in the morning to watch shows like Monty Python and Benny Hill. I think he would have loved [Austin Powers]," says Myers. "I hope so."
There can be little doubt. Myers's zany worldview came straight from his father, a Liverpool native who met his mother, Alice, a retired data processor, when they were both involved in amateur drama. After moving to the Toronto suburb of Scarborough in 1956, Eric set the tone for the household: No friends allowed if they didn't have a sense of humor; no eating pineapple because, he told them, the Hawaiians killed Captain Cook. "A quiet boy on his own," says one family friend, "Mike was always up to something when he was with his older brothers." Probably in the basement rec room, where Myers, his brothers Peter, now 40, who works for Sears in Canada, and Paul, 37, a musician in San Francisco, watched spy movies and waged fantasy battles between the countries of Snotavia and Roughnicia. Outside the house, Myers was just another "Scarberian," says his Toronto-based friend and former Second City castmate Debra McGrath: "He drove around with his buddies, wearing baseball caps and crooning Queen."
In other words, rehearsing for
Wayne's World
. Myers knew he wanted to be an actor by the time he was 4, when he started appearing in I commercials for the likes of Datsun and Wrigley's gum and performing on Canadian TV programs such as the kiddie dance show
Boogie Junior
. But it wasn't until he attended Toronto's Stephen Leacock Collegiate high school in 1980 that he found his own voice. Recalls his vision broadcast teacher Howard: "He was witty and did a lot schtick"—including the time he encouraged classmates to dress up in oil while he lip-synched to David Bowie's Space Oddity.
On the day of his final high school exam, he was hired by the Toronto branch of Second City. With the troupe, he toured Ontario in a tiny van, amusing his colleagues by "pulling his underwear up his bum and running around," says McGrath, and annoying them, she adds, by being a sloth. "We had to yank him by the ear to show him the broom." Says Bruce Pirrie, who directed Myers on the road: "He needed tons of practical advice. I had to always remind him: 'Make sure you have money and food.' "
Myers took his act to London in 1984 and was beginning to establish a reputation in local clubs when, in 1986, he realized something was off with his father. He moved back to Toronto, where the following year Eric was diagnosed with Alzheimer's. "I felt like I'd been hit in the chest with a pile driver," Myers told PEOPLE. "I never used that phone again." A couple of years later, in his confusion, Eric drew himself a bath of scalding water and spent the next year in the hospital trying to recover from third-degree burns. "It was one of the bleakest periods of my life," Myers recalled. "From then on it was the daily disintegration of [Dad's] personality."
Eric, who had lost much of his cognizance by 1989, never witnessed his son's stardom. But Myers has said that he is even more saddened by the fact that his father never got to know Robin, whom he met on a 1987 trip to Chicago, where she was a budding actress. "He fell desperately in love," says Joyce Sloane, a producer emeritus at Second City. "He said, 'I have to be with this girl.'"
He moved to Chicago—and they have been together ever since. Today, Robin is his greatest supporter—and critic. "She has a comic mind. If she doesn't like something, she tells him," says Myers's friend Pirrie. "He values her opinion implicitly." Except, perhaps, when she gives him a hard time about watching reruns on the History Channel. But that is how Myers spends his free time: watching old war footage while painting toy soldiers. "It's very relaxing," he defends—and beneficial to a friend's son. "I play with [the soldiers] for about an hour, and then I give them away. I absolutely give them away."
Maybe not forever. While filming
The Spy Who Shagged Me
, Myers always found time to play with the 4-year-old son of his friend Jay Roach, who directed both
Austin Powers
films, and Roach's wife, Bangles singer Susanna Hoffs. "It was incredible how he would include him and make him laugh," recalls Hoffs. And will there soon be his own Mini-Me? "I'm sure that's part of their plan," says Hoffs. "There's just so much love there." And for now that seems to be enough to keep Myers feeling groovy. Says Roach: "There's no happier man alive than Mike when he has Robin laughing out loud."
Karen S. Schneider
Julie Jordan and Tom Cunneff in L.A., Natasha Stoynoff in Toronto and Joanna Blonska in London
Contributors:
Julie Jordan,
Tom Cunneff,
Natasha Stoynoff,
Joanna Blonska.
Advertisement
Today's Photos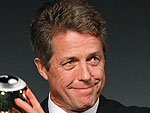 Treat Yourself! 4 Preview Issues
The most buzzed about stars this minute!