People Top 5
LAST UPDATE: Tuesday February 10, 2015 01:10PM EST
PEOPLE Top 5 are the most-viewed stories on the site over the past three days, updated every 60 minutes
Picks and Pans Main: Tube
Talking With...
David E. Kelley, the creator of
Ally McBeal
,
The Practice
and
Chicago Hope
, has finally spread himself too thin. In fact, it's hard to imagine a flimsier enterprise than this new detective series. Written by Kelley with a bare minimum of inspiration, the
Snoops
pilot (Sept. 26) is just the kind of slick, empty television you'd like to think he would shun.
Gina Gershon, who plays most of her scenes as if she were modeling lip gloss, portrays the head of a Los Angeles private-investigations agency that blithely specializes in unlawful and/or improper activities—wiretapping, breaking and entering, high-tech invasions of privacy. In the first episode, Gershon hires a new detective with a police background (Paula Marshall from the late, lamented
Cupid
) and they probe a murder case that's even less interesting than their constant disagreements over tactics. (Marshall: "You can't just bug somebody's phone line." Gershon: "Yes, we can.") Gershon's team also includes a cool young guy (Danny Nucci) with a hot set of wheels. He drives so fast in one scene that Marshall, stuck in the backseat, is seized by acute car sickness. Could mean this vehicle's wrong for her.
Bottom Line:
Snoops
doggy-dog
NBC (Saturdays, 8 p.m. ET)
Show of the week
Grown-ups, I hear you groaning: "Oh, noooo. Not another high school show." But this new series, set in 1980, does the old teen-angst bit with heart and humor.
The opening hour (Sept. 25) focuses on sophomore Lindsay (Linda Cardellini) and her freshman brother Sam (John Daley) as they wend their way through the McKinley High caste system. The intelligent Lindsay finds herself gravitating toward the antiestablishment "freaks," though a smarmy counselor (Dave "Gruber" Allen) pressures her to stick with the "brains." Sweet, undersize Sam pals with a couple of "geeks"—gawky Bill (Martin Starr) and Neal (Samm Levine), a fast-talking sci-fi fan—but he might take a social step up if he wins the affection of a cheerleader (Natasha Melnick) who's not only pretty but nice. The young actors are natural and convincing, and the high school characters manage to be funny without too much
Dawson's Creek
glibness. "These shorts aren't very flattering, are they?" Bill observes, studying his legs before gym class. You'll laugh because this kid would say that.
Bottom Line: Back to school, everybody
CBS (Tuesdays, 10 p.m. ET)
What is it with disillusioned professional women and their New England hometowns? Last season NBC had a hit with
Providence
, the one about the doctor who chucked L.A. and went back to R.I. This new series concerns Amy Gray (Amy Brenneman), a lawyer and single parent who quits New York City, accepts a family-court judgeship in her native Hartford, Conn., and moves in with her mother (Tyne Daly), a semi-retired social worker inclined to meddle and argue. Daly's prickly character may prove wearing, but Dan Futterman is likable as Amy's younger brother. Though her 6-year-old daughter (Karle Warren) is annoyingly precocious, the Sept. 21 episode has the honesty to acknowledge the kid's flaw. The main problem is Amy's fluctuating competency level. In the pilot she floundered as if she'd never been inside a courtroom. She starts strong the next time, then yields to feelings of inadequacy before her mother gives her a jolt of tough love. Come on, get a grip on that gavel.
Bottom Line: Jury's out
PBS (Tues., Sept. 28, 9 p.m. ET)
No papal portrait could hope to win the blessing of every viewer. Some will be disappointed that this
Frontline
special doesn't canonize John Paul II; others will think it gives him too much credit. The 2½-hour documentary achieves an admirable balance, faulting the Pope in a number of areas but keeping an open mind on the question of whether his rigidity is founded on the rock of eternal truth.
Producer Helen Whitney's film is at its best in showing how the Pope's actions and attitudes have been shaped by the history he lived through as Karol Wojtyla, Polish citizen and priest. His personal knowledge of the Holocaust spurred him to seek reconciliation between Catholics and Jews; his experience with Communist rule led him to throw his weight behind the Solidarity movement. But the program points out that this man who learned so much from his past often seems appalled by the present and dead-set against the future.
Closing with an exploration of the mystery of faith, the film becomes not just a life story but a stimulant for religious dialogue.
Bottom Line: Biography with cardinal virtues
Showtime (Sun., Sept. 26, 8 p.m. ET)
Complaints against the police for targeting minorities and using excessive force have been much in the news lately. But this TV movie's topicality doesn't compensate for its lack of credibility and coherence. Dana Delany stars as a white business executive in Cleveland who unwisely chooses her car as the place to have sex with her ex-husband, a black college professor (Vondie Curtis Hall). A leering cop (Keith Carradine) happens along, orders the couple out of the vehicle and winds up shooting Hall to death. When the system clears Carradine, Delany vows to see justice done.
Rebuffed by a TV reporter who says the story wouldn't grab ratings (oh, sure, it has nothing going for it but sex, race and homicide), Delany has no choice but to turn sleuth—hacking into police computer files, going undercover as a bimbo (amazing how a trashy wig changes her image) and becoming intimately involved with Carradine's partner (Justin Theroux). Meanwhile, the film peeps at Carradine's sordid sex life—as if he weren't guilty enough.
Bottom Line: Right time, wrong drama
Sunday, Sept. 26 A SONG FROM THE HEART CBS (9 p.m. ET) Cue the violins: Amy Grant stars in this TV movie as a blind cellist falling for a famed pianist.
Monday, Sept. 27 BECKER CBS (9:30 p.m. ET) It's unfiltered comedy as Ted Danson's character tries to kick cigarettes.
Tuesday, Sept. 28 ALLY FOX (8 p.m. ET) She's still Ms. McBeal, but this is the premiere of a half-hour version made of old scenes and outtakes.
Wednesday, Sept. 29 GARTH BROOKS...IN THE LIFE OF CHRIS GAINES NBC (8 p.m. ET) Imaginative Garth sings the noncountry hits of a fictional superstar.
Thursday, Sept. 30 ER NBC (10 p.m. ET) Alan Alda and Rebecca De Mornay guest-star as the emergency-room doors open for a sixth season.
Friday, Oct. 1 DATELINE NBC (9 p.m. ET) John Hockenberry is the correspondent for a full-hour report on the heart-transplant unit at a New York City hospital.
Saturday, Oct. 2 12 MONKEYS ABC (8 p.m. ET)
Bruce Willis
and
Brad Pitt
star in Terry Gilliam's complex 1995 sci-fi film.
Keri Russell
Her wildly curly mane may not have inspired as many copycat cuts as
Jennifer Aniston
's "The Rachel," but
Felicity
star Keri Russell was clearly one of last year's best-tressed TV stars. On Sept. 26, The WB drama returns for its sophomore season on a new night, Sunday—and after a few episodes, its hero sports a new, drastically shorter do. What gives?
The suggestion for a fresh look actually came from a producer, but Russell, 23, willingly submitted to the scissors on Aug. 21. "It's so short," she says. "But it's so liberating. It's so quick for me to get ready. I don't know what I did before."
Much has changed for Russell, a former
Mickey Mouse Club
Mousketeer and star of 1996's washed-up
Malibu Shores
. As last year's It Girl, she says, "I felt nervous, tense and bewildered." These days, notes the actress, who shares an L.A. apartment with beau Tony Lucca (a fellow Mousketeer and
Malibu Shores
costar), "it's easier to relax."
Fans, however, might be a bit tense about last season's cliffhanger: Did she choose brawny Ben or nice-guy Noel? Russell won't even give a hint. "All I can say is, I think everyone will love it," she teases. Of course, she's easy to please. "They were both," she declares, "such good options."
Contributors:
Monica Rizzo.
Advertisement
Today's Photos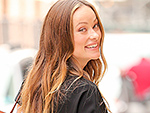 Treat Yourself! 4 Preview Issues
The most buzzed about stars this minute!