People Top 5
LAST UPDATE: Tuesday February 10, 2015 01:10PM EST
PEOPLE Top 5 are the most-viewed stories on the site over the past three days, updated every 60 minutes
Picks and Pans Main: Song
Talking With...
Whether covering old Elvis and Little Richard tunes with the Beatles or screaming his own rockers, McCartney has always had a winning way with the '50s songs he was weaned on. But when he sings Ricky Nelson's "Lonesome Town"—one of 12 R&B and early rock chestnuts he re-imagines on Run Devil Run, along with three new tunes—Paul wails like never before. Soul-baring was always partner John Lennon's forte, yet here, on the first studio album he has recorded since the death of his wife, Linda, last year, Paul sings as if his heart is peeling: "In the town of broken dreams, the streets are filled with regret/ Maybe down in Lonesome Town, I can learn to forget." Elsewhere, McCartney is full of Gene Vincent rock and roll swagger. "Turn off the waterworks baby," he snarls (on Johnny Burnett's "Honey Hush"), "they don't move me no more." With such sidemen as Pink Floyd's Dave Gilmour helping him re-create the joy-filled, lo-fi sound of the originals, he finds a cure for heartbreak in the songs that first inspired him.
Bottom Line: Paul, in pain, gets back to where he once belonged
Paula Cole Band (Warner Bros.)
Album of the week
A passionate, classically trained singer and poet of postadolescent angst, Cole enthralled Lilith Fair crowds two years ago with her ironic ode to macho men, "Where Have All the Cowboys Gone?" Her career picked up even more heat when "I Don't Want to Wait" (another single from This Fire, her top-selling '96 sophomore disc) became the theme song for The WB soap Dawson's Creek. This album, full of potent message songs and thoughts on life, death, love and social responsibility, could easily provide the entire soundtrack for Dawson's older-sister show Felicity, whose college-student characters grapple with exactly the sort of questions Cole raises in these nine well-wrought, jazz-and-funk-flavored tunes. Among the best are "God Is Watching," "Rhythm of Life" and "Be Somebody," a plea for sanity in a world gone violently wacko. That theme is revisited in the standout title tune, on which Cole escapes to a hilltop from the "shouting misery" of the city and watches a meteor shower while pondering the meaning of life. Her conclusion: "We are all leaves on this great big tree."
Bottom Line: Brainy beauty, with feeling
Everything but the Girl (Atlantic)
Elegance and poise never go out of style. For more than 15 years, Ben Watt and Tracey Thorn, the real-life couple behind this popular British partnership, have consistently proven this while still exploring musical trends. Though they emerged from the early-'80s new wave scene, their first single was a cover of Cole Porter's "Night and Day." Later they experimented with lush orchestrations reminiscent of late-'60s Phil Spector and, just as convincingly, with a stripped-down folk sound. These days the electronic blips and trancelike tempos of club land appear to have captured their fancy. The result is a tuneful, vibrant and up-to-the-moment CD. Thorn's silky voice will appeal to those who enjoy Sade and Annie Lennox, while Watt's jazz-inflected music is edgy without being grating.
Bottom Line: Stylish pop from a timeless duo
Matthew Sweet (Volcano)
He's a happily married man now. But that hasn't swayed Matthew Sweet from his running quest to score a new Girlfriend. That 1991 album was one of the best pop records of the decade, a plaintively melodic and rocking cycle of songs about love lost and never found. Recorded at a time of romantic despair for Sweet, Girlfriend was steeped in hurt, remorse and longing. Here on his seventh album his emotions are more tempered, less nakedly exposed. Now wearing his epic rock ambitions—if not his heart—on his sleeve, Sweet has fashioned a juggernaut sound. The fury is provided by a 17-piece backup band that includes Motown studio veteran Carol Kaye on bass and Pamelia Kurstinin on theremin (the electronic, sound-wave-manipulating instrument that enhanced mid-'60s recordings by the Beach Boys) as well as a loud supergroup of five guitarists, two bassists, two drummers and two horn players. In Reverse won't break your heart. But it will definitely rattle your head.
Bottom Line: Sweet's revenge
>Carlos Santana
Thirty years after he introduced Woodstock Nation to the seductive sounds of Latin rock, guitar czar Carlos Santana is back with a Top 5 single ("Smooth") and CD (Supernatural). This time, Santana, 52, a stranger to the pop charts since such '60s hits as "Black Magic Woman," gets a lot of help from white-hot friends like Lauryn Hill, Dave Matthews and Matchbox 20's Rob Thomas.
How did you land this all-star cast for your album?
I suppose I'm an elder now, and people came to me. With Lauryn Hill, I played on her album. She told me that when she was growing up, she would cry when she listened to "Samba Pa Ti" [from Abraxas]. Eric Clapton called and said if there was room for him, he wanted to be part of it.
How does it feel to have a hit at this stage in your career?
I'm really grateful. It's a great opportunity to address issues.
What kind of issues?
Education. In most movies, Latinos are portrayed as dope dealers and drug addicts. We need to change that.
How has Latin music advanced in the last 30 years?
The main thing is, people like Ricky Martin and
Jennifer Lopez
are taking the place of Elvis Presley and the Beatles. Unfortunately, Elvis never helped any of the people like ["Hound Dog" author] Big Mama Thornton that he got his music from. He didn't give them his props. Ricky Martin pays his respects.
Is Latin music here to stay?
I know in my heart we aren't going to just be the flavor of the month. We'll be sticking around for a while.
Contributors:
Steve Dougherty,
Alec Foege,
Joseph V. Tirella.
Paul McCartney (Capitol)
Advertisement
Today's Photos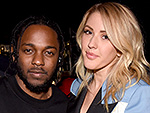 Treat Yourself! 4 Preview Issues
The most buzzed about stars this minute!