People Top 5
LAST UPDATE: Tuesday February 10, 2015 01:10PM EST
PEOPLE Top 5 are the most-viewed stories on the site over the past three days, updated every 60 minutes
Single Minded
Flexing Her Muscles, the Spice Girls' Melanie Chisholm (Sporty) Tackles the Music Game on Her Own
Britney Spears
playing at Lollapalooza). But there she was last August, by herself, onstage before 50,000 rabid fans gathered for the V99 festival, an independent, rock jamboree in Chelmsford, England, where she sang tunes from her new solo album Northern Star. "You didn't think you'd see me up here, did ya?" Chisholm hollered to the stunned audience, there to see the likes of Kula Shaker and Manic Street Preachers. "Some people might not want to see me up here, but I don't give a [expletive deleted]."
These days her language is more Vice Girl than Spice Girl, and that's fine by Chisholm, 25, who even flashes a gangsta-rapper-style gold front tooth. The image transplant coincides with the release of her new album, a mix of angry, ranting songs with pop-style ballads she wrote herself, due Nov. 2. She'll flog the CD on a world tour that kicked off Oct. 1 in New York City. "It's what I wanted to do," says Chisholm of going solo. "I'm expressing how I feel. I've got to do what makes me happy."
Chisholm's chances for success are promising. Critics often praise her as the most talented of the Spice Girls. "She hits the ground running with this record," says Jim Irvin, an editor at the British music magazine Mojo. "Mel is not the pop chick she was a couple of years ago. She's Indie Spice now."
Her efforts do not mean Chisholm has abandoned her Spice Girlfriends. The group is recording its third album even as the bandmates all work on other projects. Newly married mom Posh Spice, Victoria Beckham, 25, wants to pursue acting. Baby Spice Emma Bunton, 23, performed in Hyde Park, London, in July and new mom Melanie Gulzar (Scary Spice), 24, recently scored two Top 20 hits in the U.K. As for Geri Halliwell, 27, who quit the group last year to pursue a solo career of her own, Chisholm says, "I think [Geri's] album
Schizophonic
is pretty good. But I never thought she was a strong vocalist, and that's the honest truth. I hated the first single [Look at Me]. I thought it was awful." She adds, "There are still days when I feel sad and I miss [Geri], but on other days I couldn't care less."
Chisholm's road to becoming a cultural icon began in a suburb of Liverpool, where she was born to Joan, a pub singer, and Alan Chisholm, a travel agent. The couple divorced when Melanie was 3, and Joan married Den O'Neill, a bassist who now performs with her in a Tina Turner tribute band called River Deep. "I used to go to gigs and watch her," recalls Chisholm, who grew up in the industrial town of Widnes. "I'd sit there at the front miming every word she sang."
After high school, Chisholm attended the Doreen Bird College of Performing Arts, where she trained in theater and singing. Following graduation in 1993 she auditioned for work in London and, unemployed and hungry, sometimes stole food from grocery stores. A year later she saw a flyer seeking auditions for a new girl pop group. "I went, 'This is it. This is definitely it,' " she says.
The group, of course, became the Spice Girls. Two albums, one movie and countless sponsorship deals later, Chisholm is worth an estimated $20 million. But mindful of those early days, she is tight with a buck—or a pound. "I always make sure I've got some money in the bank, because you don't know what's going to happen," says the singer, who did splurge on a large suburban house in the upper-class section of Widnes for her mum and a London apartment and BMW for herself.
She's just as careful with her time, usually working out in the morning, recording in the afternoon and crashing at midnight. That leaves little room for a love life, though Chisholm has been linked with singer Robbie Williams and Anthony Kiedis of the Red Hot Chili Peppers. "They're just friends," she says. Besides, she teases, "boys are boring." And a girl does not live by love alone. "I'm living off adrenaline," says Chisholm. "It's perfect at the moment. Touch wood it will stay that way."
Sophfronia Scott Gregory
Joanna Blonska in London
Contributors:
Joanna Blonska.
I'm so nervous," says a pale s Melanie Chisholm, sitting in her trailer and fussing with her shorn, newly streaked blonde hair. She should be. Better known as Sporty Spice, part of the '90s bubblegum phenom quartet the Spice Girls, Chisholm could not have chosen a more atypical setting from which to launch a solo career (think
Advertisement
Today's Photos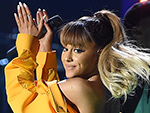 Treat Yourself! 4 Preview Issues
The most buzzed about stars this minute!