People Top 5
LAST UPDATE: Tuesday February 10, 2015 01:10PM EST
PEOPLE Top 5 are the most-viewed stories on the site over the past three days, updated every 60 minutes
Picks and Pans: Pages
Talking With...
by Edmund Morris
Commissioned to write the official biography of Ronald Reagan, the author says he was so stymied by his subject's blandness and lack of self-reflection that he had to invent an imaginary alter ego—one whose life allegedly intersected with Reagan's at numerous critical points—to create the prodigiously peculiar Dutch. Throughout the book, Morris (who won the 1980 Pulitzer Prize for his bio of Teddy Roosevelt) weaves the reflections and experiences of this other "Edmund Morris" into the facts of Reagan's life and career. And as if this weren't confusing enough, he also adds snippets of screenplays, poems and genuine (or are they fabricated?) interviews and conversations. On rare occasions the real Edmund Morris makes a cameo appearance, mostly to boast about his career or literary honors.
The result could hardly be more unsettling. Dutch dares its readers to distinguish (with the unhelpful aid of extensive footnotes on both the historical and fictional material) history from fantasy, or even to figure out what precisely is happening at any given moment. Many will be tempted to skip the "Edmund Morris" parts, screenplays and flights of fancy, to try to piece together a coherent life of the former president from the copious data and sweeping—if vague—insights that the book offers.
There are some interesting assertions here: In 1938, Morris writes, Reagan nearly joined the Communist Party. His first wife, Jane Wyman, threatened suicide unless Ronnie married her, Morris claims (citing Nancy Reagan as his source) But Dutch is finally an elaborate, maddening guessing game, constantly posing a query: What's real and what's not? The more compelling question is: Why bother? (Random House, $35)
Bottom Line: Bizarre bio
by Walter Mosley
Book of the Week
Best known for his Easy Rawlins mysteries (such as 1990's Devil in a Blue Dress), Mosley here brings back the massive Socrates Fortlow, first encountered in 1997's Always Outnumbered, Always Outgunned. In 12 linked stories we follow the progress of the nearly 60-year-old ' ex-con, who lives in a shack in the Watts section of Los Angeles. Socrates has a job; he's a box boy in a supermarket. His boss wants him to run the produce department. Women are eyeing him for marriage, and he has taken a wayward youngster, Darryl, under his wing. Socrates, in short, is on the verge of becoming respectable. Trouble is, he still "carried prison around in his pockets like a passport or a small bible." The man did 27 years for murder; he still feels hate seething within him. And the cops roust him at every turn.
Through the quiet magic of Mosley's writing, we empathize as Socrates struggles to become part of the community and do the right thing. At one point he is forced to kill a young giant who mugs him in an alley. He then has to weigh confessing to the boy's mother against the knowledge that doing so would surely put him back in prison. And what would become of Darryl? He'd be absorbed by the gangs. Like his Athenian namesake, Socrates is a man of subversive views and moral courage. (Little, Brown, S24.95)
Bottom Line: Another compelling Mosley creation
Skating Toward Life's Victories
by Peggy Fleming with Peter Kaminsky
She has captured Olympic gold (in 1968), remained happily married to her teenage sweetheart and successfully combined motherhood with a career at ABC Sports. But Peggy Fleming's life hasn't been all clean skating. Growing up "without a whole lot of money," she says she later identified with the scrappy Tonya Harding (who was not a "villain," she writes, but rather someone who "surrounded herself with the wrong people"). But unlike Harding, the highly disciplined Fleming is no whiner. Her nose can turn purple (as it did while filming in Leningrad in the teeth of a minus-40-degree wind chill), she can battle infertility or breast cancer or learn that her 21-year-old son has gotten his girlfriend pregnant. Still, Fleming will find the sunny side and soldier on. Call it resilience or call it denial, it's a quality that renders this chatty biography both intimate and distant. Which, given Fleming's standing as our most enduring ice princess, makes perfect sense. (Pocket, $24.95)
Bottom Line: Another smooth performance
(That Every Woman Should)
by Ronda Rich
Charm disarms. Pretty is as pretty does. And a good attitude is like kudzu—it spreads quickly and never quits growing. Such are the tenets of belledom that Georgian Ronda. Rich says all women should embrace. And she engagingly makes her case with hilarious anecdotes about Dixie chicks who have succeeded in life and love by applying their Steel Magnolia principles. But this 224-page book eventually starts to feel as long as General Sherman's march. Apparently Rich forgot one more thing southern women know: Sometimes less is more. (Putnam, $19.95)
Bottom Line: Long-winded wit
>HARD TIME Sara Paretsky After five years in absentia, the brassiest broad in the private-eye racket, V. I. War-shawski, finds herself the No. 1 suspect of a puzzling murder. (Delacorte, $24.95)
OUT OF PLACE Edward W. Said
This engaging and touching memoir—by a brilliant, controversial professor—recalls his sad, privileged coming of age in the Middle East and the U.S. (Knopf, $26.95)
HOME COMFORTS Cheryl Mendelson Subtitled The Art & Science of Keeping House, this exemplary 837-page compendium of domestic minutiae out-Marthas Martha in its thoroughness. (Scribner, $35)
>Toni Morrison
Children may like Toni Morrison'snewest book, The Big Box (Jump at the Sun, $19.99), precisely because their parents do not. The subversive story—for ages 8 and up—tells of a boy and two girls locked in a box with toys, gadgets and pictures of the outside world. The adults think the kids can't handle freedom, but the kids chafe. Says Morrison, 68, who raised son Slade (the book's coauthor) and his brother Ford as a single mother: "It's so much easier to provide things for the happiness and care of our children. It's much harder to be imaginative, to listen or have conversations in which the parent is vulnerable."
Written in the mid-'70s, Box (now illustrated by Giselle Potter)—the Nobel laureate's first book of verse—languished for more than 20 years before she decided to publish it after seeing it staged by choreographer Jacques d'Amboise. "It was enchanting," she says, "and the children loved the story." Now, Toni Morrison—children's author—says laughingly, "Wait till you see the next book. It's called The Book of Mean People."
Contributors:
Francine Prose,
William Plummer,
Deborah Waldman,
Cynthia Sanz,
V.R. Peterson.
A Memoir of Ronald Reagan
Advertisement
Today's Photos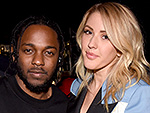 Treat Yourself! 4 Preview Issues
The most buzzed about stars this minute!