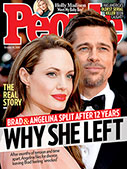 This Week's Issue!
People Top 5
LAST UPDATE: Tuesday February 10, 2015 01:10PM EST
PEOPLE Top 5 are the most-viewed stories on the site over the past three days, updated every 60 minutes
Emotional Rescue
No Longer Able to Ignore the Signs of Her Daughter's Eating Disorder, Singer Anne Murray Curtailed Her Career, Confronted Her Marital Problems and Managed to Put Her Child on the Road to Recovery
In May 1997, Murray was forced to snap out of her denial. "Dawn came in, lay on my bed and said, 'There's something wrong with me,' " she recalls. By then listless and distracted with a sallow complexion and dark circles under her eyes, Langstroth could no longer bear keeping her secret. "I was sick of not talking, of exercising compulsively and not eating anything," says the 5'10" Langstroth, whose weight had dropped to 120 lbs. "It was one of those days when I was so exhausted I felt like I had died."
The next day, Murray set up an appointment for Langstroth with a Toronto psychologist specializing in eating disorders. Her diagnosis was unequivocal: Langstroth was suffering from anorexia nervosa, the potentially fatal illness in which people literally starve themselves in a quest for thinness. Anorexia afflicts mostly women—an estimated 5 to 10 million of them have the disease compared with 1 million men. Fortunately, Dawn was not suffering from secondary conditions such as hair loss, muscle atrophy or irregular heartbeat. Even so, "when someone gives you that [diagnosis], it's like being kicked right in the stomach," says Murray, who, despite her shock, knew there was little time to waste. "I thought, 'Okay, let's face it. Let's see what we can do.' "
Two weeks later, in early June 1997, Langstroth and Murray were on a plane bound for Willough at Naples, an eating disorder treatment center in Naples, Fla. "When you first get the call from a big star's family, you really wonder what the chances are of the patient getting well," says Dr. Virginia Condello, the center's medical director. "But Anne was back and forth every time we needed her and was very responsive and receptive. The father and brother came down. The family put Dawn's recovery ahead of their own needs."
Today, mother and daughter are sitting shoeless beside the pool at the spacious five-bedroom house they share in Thornhill, Ont., just outside Toronto. They are strumming guitars and singing a duet, "Walk Right Back," which was written by a local songwriter after she learned of Dawn's struggle. Indeed, the title testifies to the triumph over an ordeal that included three hospitalizations for Langstroth and months of painful therapy for the entire family, including Dawn's brother Will, 23. They are still coping with the fallout. Exploring the dynamics that contributed to her daughter's illness exposed the fault lines in Murray's marriage to her ex-manager Bill Langstroth, 69. Eighteen months ago, after 24 years of marriage, the couple legally separated. Murray, 54, has also taken her first hiatus from her rigorous touring schedule to ensure that Dawn, who is still coping with her disease, stays healthy. On this sunny autumn afternoon, though, the two are just happy to harmonize and revel in their renewed relationship. "Mom helped save my life," says Dawn, who this fall dropped out of Toronto's University of York in hopes of achieving some of the singing success her mother has enjoyed. "She was a great support and saw me through everything." Says Murray: "She could have died from anorexia. She stopped it, but I helped. I was there for her at every turn. That's what you do as a mother."
Still, Murray was, by her own admission, often an absentee mother. With the phenomenal success in 1970 of her album
Snowbird
, Murray, the only daughter of a surgeon and a nurse from the coal-mining town of Springhill, N.S., became a crossover star in both Canada and the U.S. Married to Langstroth in 1975, she would go on, over the course of her three-decade career, to win four Grammys and sell some 40 million records worldwide. But success meant that she was constantly on the road, separations that were especially distressing for Dawn. "She would sob and beg me not to go," Murray recalls. "It was so hard on me, I'd say, 'Please don't do this to me.' And Dawn would just bury her feelings and stop crying." Says Marion Murray, Anne's 85-year-old mother: "Dawn loves her mom and does not seem to be able to get enough of her, and I think this is because she was gone a lot."
With Murray touring, Bill Langstroth played househusband, driving the kids to and from school and participating in their choir and drama activities. At age 10, Dawn began to show signs of an eating disorder when she became obsessed with having the same food—a peanut butter or grilled cheese sandwich—for a particular meal every day. The following year she grew five inches, and figuring she had stopped growing, eventually eliminated fatty foods from her diet. "I decided to eat things that wouldn't make me gain weight, like bran cereal that goes through you real fast," she recalls. In hindsight, she realizes, "I was trying to deal with my mom's schedule and her being away. I couldn't control that, but I thought controlling my eating would help." Dr. Condello agrees: "Anorexia is a way to learn how to control things. If I can control my hunger then I can control feelings. If I control my need for food, I can control my need for love."
Langstroth's obsession with her weight intensified at age 16 when she went to a modeling agency and was told she needed to pare 15 lbs. off her 130-lb. frame. She stopped eating altogether. Her day began with a 45-minute swim and no breakfast, then a 75-minute gym class at school and a long walk at lunch; going home at 4, she would collapse on the couch and either sleep through dinner or leave the house when the family ate. She also discovered that starvation distracted her from her feelings and had a numbing effect. "By not eating," says Langstroth, "you get a buzz because you're so light-headed, and after a while your mind doesn't work at all."
Yet some part of Dawn wanted help. In her junior year, she told a teacher about her behavior, and the teacher went straight to Murray. Confronted by her frightened mother, however, Dawn downplayed the severity of the problem. "She'd say there was nothing wrong and she'd eat for a couple of weeks," says Murray. "Then I'd go on the road, and she would stop." When asked how much she weighed, Dawn would simply lie. Even after she finally disclosed the awful truth, she insisted she didn't need to see a therapist. That's when Murray realized she had to take charge. "You want to bet you're not going?" she recalls saying. "It was horrible. Dawn was wailing, but we went."
When she arrived at Willough, recalls Dr. Condello, "Dawn was curled up in a ball, didn't make eye contact, never stood up to her full height and never had her chin up." During her $75,000, two-month stay at the 64-bed facility, Langstroth gradually acclimated to her new environment. Her days were spent in intensive counseling sessions that her family would sometimes also attend. When alone, Langstroth participated in group therapy and workshops that addressed body image issues, nutrition and spiritual healing. She was put on a diet high in protein and fiber and low in fat and carbohydrates. "They didn't force-feed us," says Langstroth, who shared a room with another girl. "If we did not eat, we'd get a supplement like Ensure. But it was amazing food." To help curb her obsession with weight, Langstroth was not allowed to get on a scale and see how many pounds she had gained.
The 90-minute family-therapy sessions with Dr. Condello were far more wrenching. Families afflicted by anorexia tend to "hold things in instead of letting it all out," she says. "Outside, things appear normal, but everyone is suffering. Sometimes, treating a single patient is a way to rescue the whole family." In therapy, Langstroth was terrified of revealing her flaws because, Dr. Condello says, she felt pressured "to keep up appearances—especially with a famous, larger-than-life mother who is also competitive and a perfectionist."
Still, Dawn found the courage to blow the whistle on her parents' long-troubled marriage. "When I was sick, I'd just swallow it," she says. "But in therapy I got p----d off enough to talk about it." The fragile union unraveled immediately when both husband and wife acknowledged they had stayed together only for their children's sake. "Once we established our family, it became clear we weren't really cooking on the same stove," says Langstroth, who says he has received a "generous" settlement from Murray and lives less than a mile away from her and the children. "We had different agendas—different places to go, different things to do." Murray agrees. "Bill had to be Mr. Anne Murray for all those years and that is tough." Also, she adds, "I'm away all the time and you lose touch." (Before the legal separation, there was yet another family reckoning when Will confronted his father about his alcoholism. In the fall of 1997, Langstroth completed six weeks of rehabilitation at Homewood Hospital in Guelph, Ont.)
For her part, Dawn continued to struggle with her anorexia, and two months after her treatment ended, she relapsed into her old patterns. In early November 1997, she checked herself back into Willough. "The first time I went was for my mother," says Langstroth. "This time I needed to do it for myself." After a four-week stay, Langstroth returned home, her condition much improved. She has since joined a support group in town, phones fellow members whenever she has a problem and sees a therapist weekly. Last April, she went back to Willough for two weeks to recharge by attending more workshops. "They'll give a good boot to your butt," says her mother approvingly.
And while Langstroth understands she is not cured, she has learned to enjoy eating a balanced diet. A typical day consists of four meals that include meats, fruits, vegetables, dairy products and, yes, fat. "I don't really worry about my weight because I don't weigh myself," says Langstroth. "There is no focus on numbers."
Musical numbers are another matter. For the first time ever, she feels healthy enough to pursue her dream of being a singer. In July 1998, after her second stay at Willough, Langstroth went to a local karaoke bar and belted out the Bonnie Raitt hit "Something to Talk About." She made a tape and told her mother to listen to it. Murray was stunned. "I was hyperventilating and the hair was standing up on the back of my neck," she says. "I thought, 'My God, where did her voice come from?' " Last January, when Murray was asked to do a benefit concert for Sheena's Place, an eating disorder support center in Toronto, she asked Dawn to join her. Towering over her 5'5" mother, Dawn sang two duets with Murray, who, acknowledging her daughter's height, told the audience, "I watered her well."
The irony of his sister's career choice hasn't been lost on Will, a sophomore at the University of Guelph, who plans to become a physician and join Doctors Without Borders, the humanitarian medical-aid group. "Dawn needs a challenge, but I'm not a friend of the music industry because—to put it in the most childish terms possible—it stole my mom. It's harsh and impersonal and will likely end up being a boot in the head instead of a positive experience."
Murray disagrees: "If Dawn wants to sing, so be it." As for being in what she calls the twilight of her own career, Murray doesn't seem to mind. "I don't get played on radio anymore. Once you're over 40, forget it. It's hard for performers to grow old gracefully, but I'm trying." That includes a lot of golf: Murray is a member of Chicks with Sticks, a group of 12 friends that hits the links regularly and on occasion travels as far as Scotland. "Anne is fun to be with," says Cynthia McReynolds, 57, a member who brought Murray into the fold. "But first and foremost she's a mom. Anne and Dawn have an amazing attachment to each other. She's a strong lady, but all this has been a devastating struggle, and she's still working at it."
Bill Langstroth, who speaks with Murray often, believes that life is better for both of them after the emotional upheaval they've gone through. "I can't tell you how good it is that we are talking," he says. "It brought a whole lot to the surface which is nobody's business but ours, but it made us look at each other in a new way. The experience has given Anne a focus on what's important. She'll find what she needs to fulfill herself."
Right now, it's furthering her daughter's fledgling career. "Dawn doesn't have an agent or a record contract—so there's only one way to go and that's up," says Murray, laughing in her velvet alto. "My only concern is that she get well and be happy. I just came off the road the other week and I looked at her face, and she was just beaming. This is the healthiest she has looked in 10 years."
Paula Chin
Giovanna Breu in Toronto
Contributors:
Giovanna Breu.
Advertisement
Treat Yourself! 4 Preview Issues
The most buzzed about stars this minute!