People Top 5
LAST UPDATE: Tuesday February 10, 2015 01:10PM EST
PEOPLE Top 5 are the most-viewed stories on the site over the past three days, updated every 60 minutes
Picks and Pans Main: Screen
Spotlight On...
Denzel Washington
,
Angelina Jolie
,
Queen Latifah
, Ed O'Neill
A New York City police detective who specializes in forensics, Lincoln Rhyme (Washington) uses his head to solve cases. It's all he can use: Four years ago, while trying to rescue a downed cop in a subway tunnel, our hero was struck by falling debris and has been a near quadriplegic ever since. "One finger, shoulders and brain—that's all I have," he says.
It proves enough for him to close in on a particularly sadistic serial killer as well as to lift this intense and moderately gory suspense thriller a notch or two above the average.
The Bone Collector
, directed by Phillip Noyce (
The Saint
), works best when showing Washington applying the latest high-tech wizardry to analyze criminal evidence (his hospital bed is surrounded by computers he operates via voice commands and a mouse) and when he and Jolie, the street cop he drafts to serve as his eyes and ears at murder sites, are jousting over his autocratic ways. The film goes disappointingly slack at the end, seeming almost to pluck the identity of its killer out of a bingo caller's letter shaker.
Restricted to acting mostly from the neck up, Washington manages to create a vivid portrait of a complicated man who is alternately depressed, self-mocking ("Tell him I'm skiing," he says, begging off a phone call) and obsessed with his job. The talented Jolie (HBO's
Gia
), all sharp edges and attitude, proves a worthy match. (R)
Bottom Line: Solid to the Bone
Documentary
Featured attraction
After the success of
The Blair Witch Project
, made for less than $50,000, Hollywood's version of pocket change, everyone in America seems to think they can—and should—make a movie. Mark Borchardt, 33 and a would-be filmmaker living in Menomonee Falls, Wis., didn't need
Witch
to spur him. By the time it opened, he had already spent three years making
Coven
, a cheesy 35-minute gorefest starring friends and family and financed with a $10,000 loan from his ailing, elderly uncle. Borchardt's stubborn and quixotic quest for cinematic glory is the subject of
American Movie
, a sprightly documentary directed by Chris Smith. Its title could just as easily be
American Dreamer
, since Borchardt doesn't let the fact that he's a high school dropout, an unwed father of three, a drinker (he has since stopped) and deep in debt keep him from his goal. One is caught between laughing at Borchardt for his pretentiousness and, finally, coming around to a grudging admiration. After all, he finishes his film. It's not much good, but at least he can say he did it. (R)
Bottom Line: Amusing look at a life lived at 24 frames per second
Don McKellar,
Sandra Oh
, Sarah Polley, Genevieve Bujold, Callum Keith Rennie
If the world were about to come to an end and you only had a few hours before the Big Bye-Bye, how would you spend it? That's the question posed by this low-key, touching Canadian drama by McKellar, who wrote, directed and stars in it. You won't find
Bruce Willis
-rides-to-the-rescue heroics here. Rather,
Night
begins with the premise that the planet is going kaboom at midnight and its characters, some of whose paths will cross, are each facing the end in their own way. McKellar hopes to spend the night alone with his memories. Oh is trying desperately to get home to her husband for one last shared meal. Rennie is panting his way through a sexual checklist (bed a virgin, try gay sex) that includes scoring with his ex-French teacher (Bujold). Clearly, it's still love, in all its forms, that makes the world go round, even when the world is on the verge of no longer spinning. (R)
Bottom Line: Not quite apocalypse wow but still affecting
Cipriano Garcia, Silvia Goiz
The common thread running through the multiple stories of
The City (La Ciudad)
, a compelling, documentary-like drama, is that the characters are all poor, speak little English and came to New York City from Central or Latin America for a better life. Their tales are different in the particulars—a man can't enroll his child in school because he lacks a required document, a woman can't get the boss at her sweatshop to pay her—but similar in their suffering. Shot over five years by director-writer David Riker (in lustrous black and white), City recalls the socially conscious work of postwar Italian neorealism
(The Bicycle Thief and Open City)
but without the comfort of distance. (No rating)
Bottom Line: Scorching look at the melting pot
Geoffrey Rush, Taye Diggs
A tycoon, to please his young wife on her birthday, rigs an elaborate party. Five guests are invited to pass the night in an old psychiatric hospital, now restored but still humming with bad karma: In the '30s, a mad doctor butchered patients left and right there. The guests are about to be haunted (and hunted) by an uninvited spectral force. The catering doesn't look great either.
This House is scarier than the cheesy 1958 original, but so is
Scooby-Doo
. The special effects depict shocking mutilations, and the spirit of the place, when it uncorks itself, looks like a three-dimensional Rorschach test. Rush, as the host, flexes more acting muscle than did fey, sly Vincent Price. But fun-house thrills? No. Just the painful picking off of victims, one by one, like night-clubbers at the mercy of a stand-up comic. (R)
Bottom Line: Hill of beans
>
THE STRAIGHT STORY
Hard to believe, but odd man out David Lynch directed this lovely, heartfelt tale of an ailing codger (the redoubtable Richard Farnsworth) who rides his tractor mower on a long haul to visit his estranged brother. Based on a true story. (G)
THE LIMEY
Revenge is a dish best served cold, and they don't come chillier than steely-eyed Terence Stamp as an English ex-con who arrives in sunny Los Angeles bent on avenging his daughter's death. Peter Fonda and Lesley Ann Warren also star. (R)
THE BEST MAN
Director-writer Malcolm D. Lee, Spike's cousin, proves that talent runs in the family with his first film, an amiable romantic comedy about differences among a group of old college chums who gather for a wedding. Taye Diggs stars. (R)
>Rod Steiger
Don't look for Rod
Steiger to start cashing those Social Security checks any time soon. "Listen, when you're 74, you like being busy," says the veteran of over 100 films and TV shows. "I'm lucky I have a lot of my energy left."
Steiger, who won a Best Actor Oscar for 1967's
In the Heat of the Night
, may be making up for lost time. After depression limited his work for nine years in the '80s, he's now starring as an eccentric judge in
Crazy in Alabama
and later this month will appear as a Satan-battling priest with Arnold Schwarzenegger in the thriller
End of Days
. That will be followed by another udge role in December's
The Hurricane
, starring
Denzel Washington
. And while the four-time divorce says he has a "friendship but no romantic thing" with Elizabeth Taylor, he does cop to a two-year romance with former
General Hospital
star Joan Benedict. "She sent me a little letter and we had dinner," says Steiger. "We've been having dinners ever since."
As for his roles, "I'm very happy because I have yet to start doing a string of grandfathers," says Steiger. "That would kill me, because they're so dull!"
Contributors:
Tom Gliatto,
Tom Cunneff.
Advertisement
Today's Photos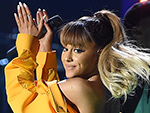 Treat Yourself! 4 Preview Issues
The most buzzed about stars this minute!