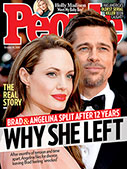 This Week's Issue!
People Top 5
LAST UPDATE: Tuesday February 10, 2015 01:10PM EST
PEOPLE Top 5 are the most-viewed stories on the site over the past three days, updated every 60 minutes
Picks and Pans: Pages
Worth a Look
Book of the week
Unencumbered by the gimmickry that sometimes embellishes her witty portraits of Hollywood's elite, Leibovitz lets her ambitious subject—an entire gender, no less—speak for itself in this coffee-table portrait collection. And it does so eloquently. Leibovitz's perceptive lens documents one of the century's great sea changes—the liberation of women—at once celebrating and commenting on what remains an unfinished revolution. Her striking pictures of prominent women—an astronaut, a senator, a CEO—inspire us even as they remind us of their continuing, if lessening, rarity. (The test: A book highlighting men in such positions would seem silly.) There are other portraits—of coal miners, showgirls, soldiers, artists, a girl gang, a waitress, a maid—and the effect is to create a kind of time capsule of women today, revealing them, as Sontag puts it in her accompanying essay, to be "as different, as varied, as heroic, as forlorn, as conventional, as unconventional as this." (Random House, $75)
Bottom Line: Picture perfect
Lessons and Laughter on Breast Health and Cancer
by
Rosie O'Donnell
and Deborah Axelrod, M.D.
They make an odd couple, but Axelrod, head of the breast cancer center at Manhattan's St. Vincent's Hospital, and the inimitable O'Donnell share a common cause: the fight against a disease that claimed 44,0.00 lives in the U.S. last year. Together they have come up with a valuable resource—one that women especially can't afford to overlook—that both informs and, believe it or not, entertains. With health reporter Tracy Chutorian Semler translating much of the medicalese, Axelrod dispels myths, clarifies risk factors, explains new treatments and covers breast health comprehensively—from the correct way to perform a self-exam to caring for a mastectomy wound after surgery—in a user-friendly Q&A format. O'Donnell, whose mother died of breast cancer when Rosie was 10, lightens the load with smart-lipped quips ("Q: Should I prepare for my mammogram in any special way? A: Marinate them in teriyaki sauce overnight") and silly ditties: "You may think you're sitting pretty/ But here is the real nitty-gritty/ You're in for a whammo/ If you don't get a Mammo/ Take care of your left and right titty!" These make surprisingly effective rest stops along the way through all that heavy material. There are testimonials from famous breast cancer survivors (among them Peggy Fleming and Diahann Carroll), and all profits go to breast cancer charities. But beyond the trimmings,
Bosom Buddies
delivers the knowledge women need to take control of their own health. (Warner, $12.99)
Bottom Line: Laughter is indeed the best medicine
The Mystery Solved
by Elgen M. Long and Marie K. Long
And the truth is...Amelia Earhart was done in by poor communications and an empty fuel tank.
She was the most famous and accomplished aviatrix of her time, but according to this plodding account of her fatal around-the-world attempt in 1937, Earhart went down in the South Pacific because neither she nor navigator Fred Noonan knew Morse code. They ran out of fuel before making contact with a ground crew that could have guided them to a runway. No enemy capture, no
pot-au-feu
for cannibals.
Sorry we spoiled the ending? You should thank us. The Longs—he is a retired pilot, she a former consultant with the Western Aerospace Museum in Oakland—spent more than 25 years collecting an ocean of facts. If they had given nearly as much attention to dramatic pacing as they did to how many miles Earhart flew on a given day and the speed of head winds and tailwinds, perhaps their story would read less like a series of math equations and more like the thriller implied by the title. (Simon & Schuster, $25)
Bottom Line: Historical mystery tale never gets off the ground
Edited by Richard H. Minear
Before the Cat in the Hat, there was Hitler on a camel. The 1941-43 editorial cartoons of Dr. Seuss (real name: Theodor Seuss Geisel), newly published with essays by historian Minear and an introduction by
Maus
author Art Spiegelman, are a revelation. Drawn on deadline for the liberal—"We are against people who push other people around"—New York daily PM, the whimsical Seussian bestiary is instantly recognizable: No one could stretch a dachshund more becomingly. But there's nothing genial about Dr. Seuss's use of his fantastical zoo to howl against European fascism, American isolationism and racism at home and abroad. Above all, it is Hitler who really animated Dr. Seuss's imagination, and these cartoons foreshadowed the political bite of many later Seuss books—especially
Yertle the Turtle, The Lorax and The Sneetches
. Dr. Seuss was not without his own blind spots; there is a regrettable 1942 cartoon supporting the government's internment of Japanese-Americans. But Seuss's brilliant artistry was much more often on the side of the angels. (New Press, $25)
Bottom Line: How the Führer (Almost) Stole Christmas
>
THREE WOMEN Marge Piercy
Three generations—a career-driven lawyer, her absent mother and a self-destructive daughter—struggle, cope and eventually learn how to tolerate one another. (Morrow, $25)
GALILEO'S DAUGHTER Dava Sobel
The moving letters of the famed scientist's illegitimate daughter, a cloistered nun, form the basis for this intimate true-life portrait of a relationship. From the author of the bestselling
Longitude
. (Walker, $27)
Contributors:
Anne-Marie O'Neill,
Deborah J. Waldman,
Harry Bauld.
by Annie Leibovitz and Susan Sontag
Advertisement
Treat Yourself! 4 Preview Issues
The most buzzed about stars this minute!