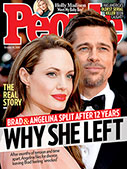 This Week's Issue!
People Top 5
LAST UPDATE: Tuesday February 10, 2015 01:10PM EST
PEOPLE Top 5 are the most-viewed stories on the site over the past three days, updated every 60 minutes
Writer in Chief
In His Personal Correspondence, George Bush Reveals a Sentimental Side That Most Americans Never Suspected He Had When He Was President


No more. If his new book, All the Best, George Bush: My Life in Letters and Other Writings, hasn't modified that misconception, his appearances to promote it sure have. On Larry King Live Nov. 2, the 41st Commander in Chief wiped away tears as King read from a letter Bush wrote to his mother five years after his 3-year-old daughter, Robin, died of leukemia: "She'd climb in to sleep with me.... Silently and comfortable, she'd put those precious, fragrant locks against my chest and fall asleep."

The collection begins in 1942, when Bush was an 18-year-old Navy pilot in training. Through hundreds of loving and often goofy missives to his family and friends, the inner George is revealed. "For a Yalie WASP he is surprisingly and sweetly emotive," says Christopher Buckley, author and former Bush speech-writer. "It's hard to imagine a better father figure. He's the dad we all want."

Will there be a sequel to the Bush letters? "No," he says, emphatically. "I use e-mail now. I push the delete button, and it's gone." Too bad.

FIRST KISS
"I kissed Barbara and I'm glad of it. I don't believe she will ever regret or resent it, and I certainly am not ashamed of it.... I've never felt towards another girl as I do towards her.... Whether the feeling is mutual, I cannot say.... I have never kissed another girl...."—letter to his mother, Dorothy Walker Bush, in 1942 (Left: Barbara and George in 1948)

GULF WAR
"What I want you to know as a father is this: Every Human life is precious. When the question is asked 'How many lives are you willing to sacrifice'—it tears at my heart. The answer is none—none at all.... I shall be strengthened every day by our family love, which lifts me up."—to his children, George W., Jeb, Neil, Marvin and Dorothy, Dec. 31, 1990

HIS DAUGHTER
"There is about our house a need.... We need someone who's afraid of frogs. We need someone to cry when I get mad, not argue. We need a little one who can kiss without leaving egg or jam or gum. We need a girl."—to his mother ca. 1958, five years after his daughter Robin died (Opposite: Bush with Robin and George W., 1953)

WORLD WAR II
"I'm afraid I was pretty much of a sissy about it 'cause I sat in my raft and sobbed.... It bothers me so very much. I did tell them, and when I bailed out I felt that they must have gone, and yet now I feel so terribly responsible for their fate. Oh so much right now.... I kept reliving the whole experience. My heart aches for the families of those two boys with me."—to his father, Prescott Bush, and mother, in 1944, after his plane was shot down over the Pacific, killing crewmen Ted White and John Delaney (Above: Delaney, left, with Leo Nadeau and Bush, 1944)

FAMILY
"This summer, one or two of you, I am sure in an effort to be helpful, said, 'get a hearing aid,' or 'try listening....' I don't expect to be on the A team anymore; but I want to play golf with you. I want to fish or throw [horse]shoes.... I want to rejoice in your victories be they political, or business, or family happiness.... Remember the old song, 'I'll be there ready when you are.' Well, I'll be there ready when you are, for there's so much excitement ahead, so many grandkids to watch grow.... If you need me, I'm here."—to his kids in 1998 (Top: The Bushes at home in Kennebunkport, Maine, 1991)


Who knew that beneath George Bush's buttoned-up propriety pulsed the warm heart of a prolific and occasionally poetic writer with a wacky sense of humor? Well, he did, for one. "There is a misconception of me out there," says the 75-year-old former President, "which I probably contributed to, about what my heartbeat really is."
Advertisement
Treat Yourself! 4 Preview Issues
The most buzzed about stars this minute!