People Top 5
LAST UPDATE: Tuesday February 10, 2015 01:10PM EST
PEOPLE Top 5 are the most-viewed stories on the site over the past three days, updated every 60 minutes
More Mary Tyler
With Harder Times Behind Them, Mary Tyler Moore and Valerie Harper Land Back on TV
A moment earlier, Moore had been animatedly discussing
Mary and Rhoda
(airing Feb. 7 on ABC), her TV-movie reunion with former
Mary Tyler Moore Show
sidekick Valerie Harper (see review, page 30). Now she instantly turns into a smitten mother, baby-talking to her pooches. "Sweetie," she chides Dudley, "you've got that frog breath, don't you? Have you been eating frogs?" Then, as frisky Shadow pokes his nose into the closet, Levine admonishes him: "Shadow, careful, no shoes! Shadow, that's wardrobe, buddy!"
If a movie set is unfamiliar terrain to the pup, so it is for his mistress these days. Except for an occasional memorable turn (like the neurotic New Yorker she played in 1996's
Flirting with Disaster
), Moore, 63, can usually be found ambling about the 150-acre farm that she and Levine, 45, share in rural New York. "You say to yourself, 'Well, this is good,'" says Moore. "'I have a lovely home in the country, and I have gardens and horses, and charities that I care deeply about'"–especially the Juvenile Diabetes Foundation, of which Moore, herself a diabetic, is international chairman. Yet, she says, she harbors the nagging fear "that I'll never act again."
That yearning to perform was rekindled two years ago, when both Moore and Harper were booked as guests on
The Rosie O'Donnell Show
. It turned into a nostalgic love fest for
The Mary Tyler Moore
Show (1970-77). The former Mary Richards and Rhoda Morgenstern were stunned. "The audience," says Moore, "had smiles on their faces that you usually see only at weddings." Afterward, recalls Harper, 60, "we said, 'You know, we should really work together.'"
Their idea–a sitcom catching up with Rhoda and Mary some 20 years later–was a lot easier to conceive than to hatch. ABC considered ordering a pilot, then passed on it, finally agreeing last March to back a one-shot TV-movie version that has Mary, now a congressman's widow, reconnecting with the twice-divorced Rhoda. For the actresses, it's as if they'd never been apart. "They have a verbal language and a body language," says their director, Barnett Kellman, "and a friendship that just kind of oozes out of their pores."
Which is a revelation to their fans. "People notice us walking to the set and they go
berserk
!" says Harper. A former Manhattanite, she would often take aerobics classes with Moore. At lunch, the two would dish about their husbands. ("I mean, not in a bad way," says Harper, "but they're another species.")
Even after Harper and her husband, producer Tony Cacciotti, 60, moved to L.A. last June, Moore would visit for an occasional shopping spree. But they have also shared grim times. "I've been to a lot of her dear family's funerals. Four," says Harper, including a 1980 service for Moore's son Richie, by her first husband, food salesman Richard Meeker. Richie, then 24, had died of a self-inflicted gunshot wound that was later ruled accidental. "I miss him," says Moore. "Mostly what I miss now is being a grandmother." And she regrets not having been a full-time mom. "I would do it very differently today," she says.
"I think she was a better mother than she gives herself credit for," says Harper, who helped raise first husband Richard Schaal's daughter Wendy, now an actress, from 1967 to 1977. Cristina, Harper's daughter with Cacciotti, "is 16, and we have a great relationship so far." Harper can be a mom even to strangers. "She talks to everyone at the supermarket," her husband says, "listens to their problems and tries to solve them." Adds Moore: "It doesn't matter if a guy is yelling out of his truck, 'Hey, Rhoda!' She'll ask him his name, does he have a wife, does he have any children?"
These days, though, Harper and Moore are mostly nurturing their pet project. "The audience, I think, will be pleased to see us together," says Harper, "if only to check out how old we look or how we're holding up. They'll say, 'Oh, she's fat again!' Or 'Mary's too thin!' Who knows?"
Michael A. LiptonNancy Matsumoto
and
Sharon Cotliar
in New York City
Contributors:
Nancy Matsumoto,
Sharon Cotliar.
There's a knock on Mary Tyler Moore's Manhattan dressing-room trailer. The door swings open, and in trots Shadow, the actress's golden retriever puppy, followed by Dudley, her elderly petit basset griffon vendéen, and Moore's cardiologist husband, Robert Levine, who has brought the dogs from the couple's Fifth Avenue apartment.
Advertisement
Today's Photos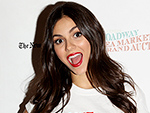 Treat Yourself! 4 Preview Issues
The most buzzed about stars this minute!