Archive Page - 12/1/12 39 years, 2,080 covers and 53,257 stories from PEOPLE magazine's history for you to enjoy
On Newsstands Now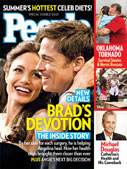 Brad's Devotion: The Inside Story

Oklahoma Tornado: Heroic Rescues

Michael Douglas on Catherine's Health
Pick up your copy on newsstands
Click here for instant access to the Digital Magazine
People Top 5
LAST UPDATE: Thursday May 23, 2013 08:10PM EDT
PEOPLE Top 5 are the most-viewed stories on the site over the past three days, updated every 60 minutes
Gentle Genius
The World Says Goodbye to Charles Schulz, the Sensitive Soul and Shy Spirit of Peanuts
Peanuts
cartoonist, weakened by chemotherapy to treat his colon cancer, to merely go skating last Friday with his daughter Jill Transki and her 1-year-old, Kylie, at the Snoopy-themed Redwood Empire Ice Arena in Santa Rosa, Calif. "He did six laps—better than usual—but still he was frustrated and talked about how only two years ago he scored the winning goal at the hockey tournament," says Jill, 41, an extreme sports-events producer. "Everyone at the rink was smiling, but they knew he didn't want them to come over and cheer him on. So they went about their business and told him it was great to see him out there again."
The following day, Feb. 12, Schulz, a passionate sports fan, watched the Buick Invitational golf tournament on TV with a few friends before spending the afternoon at Jill's, where he played with his granddaughter and watched a hockey game with son Monte, 48. When Schulz's wife, Jeannie, 60, called to say she was back from running errands, he asked Jill for a ride home. In the car he told her he "was just not feeling right" and later complained of chest pains. Alarmed, Jill summoned Monte, but after a doctor paid a house call to check Schulz's blood pressure and pulse, they left around 9 p.m. "I went over to Dad and said I loved him, like I always do," she recalls. "And he said, 'I don't think I'm going to make it.' He'd said this before, so we didn't take it too seriously. But something told me it was different this time."
Less than an hour later, Schulz died peacefully in his sleep—the very night before the last original
Peanuts
comic strip was to run, in the Sunday papers. The timing was "prophetic and magical," says close friend and fellow cartoonist Lynn Johnston, 52, the creator of
For Better or for Worse
. "He made one last deadline. There's romance in that."
And as some 355 million daily readers in 75 countries read Schulz's goodbye panel that morning—a "Dear Friends" letter—there was plenty of grief, none of it good, over the mirthful moralist who had brightened the world for nearly half a century with hapless Charlie Brown, tart-tongued Lucy, sage Linus and the rest of the lovable
Peanuts
gang. Fans flocked to Schulz's studio in Santa Rosa, leaving bouquets, balloons, flickering candles and loving notes. Visitors to the Schulz exhibit at the International Museum of Cartoon Art in Boca Raton, Fla., shed tears over his drawings. Tributes ran in papers across the country and in cities from Paris (where a 1990
Peanuts
exhibit at the Louvre was a smash) to Jerusalem to Tokyo.
The tremendous outpouring of affection unleashed last December by his disclosure of his illness and retirement took Schulz by surprise. "He was overwhelmed," says friend and cartoonist Kevin Fagan (
Drabble
). "He couldn't believe how much he had touched people's lives." As creator of the most widely syndicated comic strip in history, Schulz added "security blanket" to the popular lexicon; his quote "Happiness is a warm puppy" is in Bartlett's; and Snoopy, perhaps his most enduring icon, was stenciled on the helmets of American soldiers in Vietnam.
Sensitive, introspective and even insecure, Schulz also broke ground by depicting love, hope, pain and loss—with laugh-out-loud humor mixed with compassion. "There used to be so many taboo things in cartoons, and he blasted that to smithereens by discussing literature, philosophy, psychiatry and all that," says Rheta Grimsley Johnson, author of the 1989 biography
Good Grief: The Story of Charles M. Schulz
. "But in a larger sense he showed there was a market for innocence. People may by seduced by glitter, sophomoric stunts and shock radio, but deep down we all yearn for something simple and profound that will endure. He gave it to us."
The wit and wisdom in
Peanuts
was forged from a lifetime of slights, hurts and hard lessons. "He used the strip as therapy," says comic-strip artist Chris Browne (
Hagar the Horrible
). "He reached into the muck of his own soul and came up with diamonds."
The only child of Carl, a barber, and his wife, Dena, in St. Paul, Charles Monroe Schulz was a shy, skinny teenager with a bad complexion who flunked algebra, physics, English and Latin. He learned his art through a correspondence course, only to see his drawings rejected for his high school senior yearbook. "I was a bland, stupid-looking kid who started off badly and failed everything," Schulz once said.
Drafted into the Army at 21, he entered boot camp just before his mother died following an excruciating bout with cancer; the loss and loneliness, he said, scarred him for life. Serving as an infantryman in France and Germany, Schulz became a good, if sentimental, soldier. He once refused to toss a grenade into an enemy artillery bunker because he saw a little black mutt run into it. "He told me, 'Well, I can't kill a dog. So I just put the grenade away and left,' " recalls Amy Lago, his longtime editor at United Media.
But it was after World War II that Schulz suffered the unkindest cut. Working as an art instructor at the Minneapolis correspondence school in which he had once en rolled from afar, he fell hard for Donna Johnson, an auburn beauty in accounting. Schulz proposed after a long courtship, and when Johnson said no (only to marry fireman Allan Wold), the rejection sent him reeling. "It is a blow to everything that you are. Your appearance. Your personality," he told Rheta Grimsley Johnson. He never quite got over it. Years later, when Schulz, who married Joyce Halverson in 1949, saw Donna walking down the street, the pain was so deep, he said, "it was like not a day had passed." About a week before Schulz died, the two spoke again, according to Wold's daughter.
Schulz, of course, would immortalize Johnson as Charlie Brown's unrequited love—the Little Red-Haired Girl— in
Peanuts
. Begun in 1950, the strip soon made Schulz a wealthy man. An admitted workaholic, he was also a doting father to the five kids he had with Halverson. "In Minnesota he used to go out in the backyard and make an ice rink by spraying a hose on the snow," says son Craig, 47, now a pilot in Santa Rosa. In 1958, when he moved the family to the Coffee Grounds ranch near Sebastopol, Calif., the kids had horses and dogs, a miniature golf course and their own private baseball diamond. "We'd drop into his office and ask him to play baseball, and he'd put down everything and play with us," says Craig.
Not that Schulz didn't occasionally use the family as grist for his mill. Once, when he hushed daughter Amy (now 43 and a mother of nine in Alpine, Utah) at the kitchen table, she picked up a slice of bread and asked, "Am I buttering too loud for you?" The line found its way into the cartoon. "A lot of the strips stemmed from what we were doing at one time or another," says Craig. "When I started to fly helicopters, he started drawing Snoopy's ears spinning around like rotors."
By 1969 the family had settled in Santa Rosa, where Schulz bought and built the Redwood arena. It was there, after his 23-year marriage ended, that he met Jeannie Forsyth, a gregarious divorcee and mother of two daughters, whom he married in 1974. Every day for years, Schulz would drive his maroon Mercedes (license plate WDSTK1, for Woodstock) to the Redwood rink's Warm Puppy coffee shop, where he sat at the same table, ate the same breakfast (coffee and an English muffin with jelly), then walked the same path to his stone-and-redwood studio at One Snoopy Place. "
Peanuts
was the success it was because he was chained to his drawing board," says Johnson. "And he was unhappy if he got too far away."
Schulz once said that "a cartoonist is someone who has to draw the same thing every day without repeating himself"—and he made the job look deceptively simple. He did all the artwork and lettering himself, with no assistants to darken blacks or erase pencil marks. Says longtime friend Mell Lazarus, 72, the creator of
Momma and Miss Peach
: "He once asked me, 'Why should I hire someone to do my letters? Does Arnold Palmer hire someone to chip the green for him?' " Even when Schulz began suffering tremors in his drawing hand following heart surgery in 1981, he persevered.
Still, he got writer's block—and wasn't above commiserating with junior colleagues. "Sometimes he would call and say, 'I can't think of any ideas,' " says cartoonist Cathy Guisewite, 49 (
Cathy
). "It meant that even the greatest of greats runs out of ideas and has to face the same blank page as I do. I found that to be the most encouraging and supportive thing he could say."
A strict Christian and lifelong teetotaler, Schulz was prone to melancholy and to panic attacks (he once said he felt like a dog frantically chasing the family car thinking "he is being left alone forever"). But he could also be peevish, crabby and brutally candid. Cartoonist Mort Walker (
Beetle Bailey
) will never forget the time Schulz responded to a suggestion Walker made at a cartoonists' convention by saying, "That's the stupidest thing I've ever heard!" Later, says Walker, Schulz came oyer to him. " 'I'm sorry,' he said. 'That was Lucy speaking.' "
Schulz, who had been feeling unwell for weeks before undergoing the emergency abdominal surgery that revealed his cancer in November, found his illness unbearable. A series of minor strokes had affected his speech and vision. "He told me he was thinking faster than he could get it out," says daughter Meredith Hodges, 50, a horse and mule trainer in Loveland, Colo, (and the inspiration, Schulz once said, for the ornery Lucy). "He cried some too—he was feeling the pain of knowing he had cancer and was going to die."
But he was still the proud papa. Visiting him in the hospital, Meredith says Schulz introduced her to doctors as "the foremost authority on the contemporary saddle mule today. He'd always motivated us to have a career we could put our heart and soul into. It makes me happy knowing he thought I was the best at something."
As his depression worsened in recent weeks, Schulz fought back. "He was out and about, trying to play golf and things," says Monte, a writer who had hoped to finish his second novel before his father's passing. Schulz had planned on flying to New York in his Cessna (with Craig in the cockpit) to receive a Lifetime Achievement Award from the National Cartoonists Society in May. But it was not to be. "He didn't want to feel bad all the time, and he just decided to let go," says Monte. "His characters died, and he went with them."
After a private burial the family plans a public memorial service on Feb. 21. In Schulz's hometown the St. Paul College of Visual Arts will create a scholarship for fledgling cartoonists in his honor, and to mark
Peanuts
' 50th anniversary in October, Santa Rosa will dedicate a 4-ft.-high bronze sculpture of Charlie Brown with Snoopy. "Some residents wanted to name a street after him, but Sparky was a very private person," says Santa Rosa Mayor Janet Condren. "He didn't want to be in the spotlight."
It's doubtful that the accolades would have gone to Schulz's head. "All his life he just wanted to be witty and carefree like Snoopy, but despite all the success he still felt like Charlie Brown," says Amy Lago. "He had more layers than a vidalia onion," concludes Johnson. "You can't be that kind of genius and just be simple." His children, however, have memories as sharp and clear as the lines Schulz once drew. "He was the only person I ever met who never said a swear word to anybody—for him, cursing was 'Good grief!' and 'Aaugh!' " says Craig. "If I had to sum up my feelings about Dad it would be this: He was the finest example of a human being I ever met."
Paula Chin
Ken Baker in Santa Rosa, Ulrica Wihlborg, Vicki Sheff-Cahan and Karen Grigsby Bates in Los Angeles, Margaret Nelson in St. Paul, Lori Rozsa in Boca Raton and Joseph V. Tirella and Ting Yu in New York City
Contributors:
Ken Baker,
Ulrica Wihlborg,
Vicki Sheff-Cahan,
Karen Grigsby Bates,
Margaret Nelson,
Lori Rozsa,
Joseph V. Tirella,
Ting Yu.
Advertisement
Treat Yourself! 4 Preview Issues
The most buzzed about stars this minute!