People Top 5
LAST UPDATE: Tuesday February 10, 2015 01:10PM EST
PEOPLE Top 5 are the most-viewed stories on the site over the past three days, updated every 60 minutes
Picks and Pans Main: Tube
Talking With...
All this emotional TV movie needs is Ray Charles singing "Georgia on My Mind." Gena Rowlands plays a widow named Georgia who lives in fictional Sweet Creek, Ga., and is happily active in a women's club called the Georgia Peaches. But her southern comfort doesn't last past the first commercial. Georgia gets word that Lily-Joe, her long-estranged daughter in California, lies seriously hurt after an auto accident. At a San Diego hospital, Georgia learns that Lily-Joe has died; that Lily-Joe's husband, also killed, was a black man from Sweet Creek; and that the couple had a 6-year-old child, Jacey (Penny Bae Bridges), whom Georgia reluctantly brings home on the assumption that no one else can care for her. Enter Lou (Louis Gossett Jr.), Jacey's paternal grandfather, who insists on raising the girl in California, far from the Sweet Creek bigotry he recalls bitterly.
It would be easy—and pretty accurate—to label The Color of Love a racial soap opera. Despite some clunky dialogue, Rowlands and Gossett are dependable pros who know how to make Georgia and Lou sympathetic even in their narrow-minded moments. But the drama is too timid in treating the possibility of romance between the two main characters, and it resorts to a freeze-frame ending that suggests the filmmakers simply weren't sure how to resolve the situation. "Georgia broke my heart once before," Lou says. "I'll never let that happen again." What a state to be stuck in.
Bottom Line: Stars are strong but script's not peachy
UPN (Tuesdays, 9 p.m. ET)
Show of the week
This new drama from executive producers Barry Levinson and Tom Fontana (Homicide: Life on the Street) is a sort of police pastiche. Like the departed Homicide, it has a gritty look and camera work that's both jerky and arty. Like NYPD Blue, it's set in lower Manhattan. Like the failed Brooklyn South, it focuses on uniformed officers rather than detectives. And when partners Mike Dorigan (Derek Cecil) and Zane Marinelli (Mark Ruffalo) deal with everyday urban flare-ups—particularly in those scenes that switch from film to videotape—you may think you're watching Cops.
So The Beat isn't breaking new ground, but the series patrols its turf with style and a welcome touch of humor. In the March 21 premiere, Mike and Zane get a talking-to from a captain (Tom Noonan) who calmly waters his plants while laying down the law. In the second episode, Mike gets credit for dissuading a suicidal citizen from jumping off a roof, when all he really did was remind the guy to heed nature's call. In episode three, a coffin found in the river turns out not to contain a great mystery. "Damn," says Zane, "I thought it was gonna be somethin' scintillating." Life on these streets is unpredictable but infrequently sensational—just as in the real world.
Regrettably, the show stretches for the unusual in Zane's personal life. His girlfriend (Heather Burns) is a sexy psycho who torches his apartment, and his father (Joe Grifasi) is in prison—perhaps unjustly—for murdering his mother. Mike's relationship with his med-student fiancée (Poppy Montgomery) is more believable, if more mundane.
Bottom Line: Try walking this beat
>Sunday, March 19 THE GHOST AND THE DARKNESS NBC (8:30 p.m. ET) Rrrroar! Michael Douglas and Val Kilmer hunt lions in this 1996 adventure.
Monday, March 20 A TALE OF TWO BUNNIES ABC (8 p.m. ET) In a TV movie set in the '60s, small-town cuties find work and fun at Chicago's Playboy Club.
Tuesday, March 21 RIP VAN WINKLE HBO (8 p.m. ET) Calista Flockhart and Tom Arnold lend their voices to a hip animated tale that won't put you to sleep.
Wednesday, March 22 BEING FRANK DECARO Comedy Central (11:30 p.m. ET) The Daily Show's out-and-about movie critic hoots at the Oscar hopefuls.
Thursday, March 23 DADDIO NBC (8:30 p.m. ET) Michael Chiklis (The Commish) is the domestic god in a new sitcom about a stay-at-home pop.
Friday, March 24 MAKING THE BAND ABC (9 p.m. ET) Hey-hey, they're called O-Town. This new series chronicles the creation of a real-life pop group.
Saturday, March 25 SLING BLADE ABC (8 p.m. ET) Billy Bob Thornton is a mentally challenged ex-con in this fine 1996 film.
>Barbara Walters
It's a television set-piece: Put Barbara Walters in a room with an interview subject and soon enough the tears begin to flow. Yet when Walters sat down with John and Patsy Ramsey last month for an in-depth talk about daughter JonBenét's brutal 1996 murder, the tissues remained in the box. "There was no sobbing," says Walters. "This was not an interview in which I made anybody cry or tried to."
No one, that is, except for her competitors, who were scooped yet again by the ABC News veteran. Walters, 68, won't divulge whether she thinks the Ramseys, who have written a book, The Death of Innocence, to be released March 17, are guilty of the murder (a Boulder, Colo., grand jury declined to indict them last October) but says that in the interview, which airs March 17 on 20/20, "they seemed to be very credible. We confront them with every possible motive, like that he [perhaps] sexually abused the child or JonBenét was wetting her bed and Mrs. Ramsey snapped, and they answered every question." Admits Walters: "It's difficult to find a motive that makes sense. But it's also very hard to believe an intruder could have come in and written the ransom note in advance."
Walters says her journalistic coups may soon come to an end or at least be scaled back. "It's too much!" she says of juggling 20/20 with The View and her celebrity-interview specials. So will she retire? "I think about it every day, but what you think and what you actually do is not the same. I really have to sit down one day and decide."
Contributors:
Jason Lynch.
CBS (Sun., March 19, 9 p.m. ET)
Advertisement
Today's Photos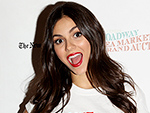 Treat Yourself! 4 Preview Issues
The most buzzed about stars this minute!