People Top 5
LAST UPDATE: Tuesday February 10, 2015 01:10PM EST
PEOPLE Top 5 are the most-viewed stories on the site over the past three days, updated every 60 minutes
Her Final Answer
At War with the Tabloids but at Peace Again with Frank, Kathie Lee Gifford Leaves Regis for Her Family—and Countless Projects Close to Her Heart
Her news flashes are equally surprising. On Feb. 29, Gifford stunned the entertainment industry and Live!'s millions of viewers when she announced that she's quitting the show after her $6 million contract (including her quarter share of syndication rights) expires in August. Emboldened by strong reviews of her recent Broadway debut in the Stephen Sondheim revue Putting It Together, she won't just be sleeping in: Kathie Lee wants to record (her Born for You CD is due next month), act (in the ABC TV movie Model Behavior, airing March 12, she plays a stage mom to son Cody) and expand her successful Wal-Mart clothing line to include children's outerwear and—heads up, Martha Stewart!—home furnishings. She just signed on for five more years to pitch Carnival Cruise Lines and needed barely 10 minutes on QVC recently to sell 11,000 kits of her Natural Advantage skin-care line at $44 a pop. For Gifford, who mulled quitting after daughter Cassidy's 1993 birth, and three years later when she was accused of running sweatshops in Honduras for her clothing line, the end could not have come too soon. "I am bored with it all, except the host chat," says Gifford with a sigh. "I never got tired of being with Regis. I'll miss him." She adds that a liberating nine-month burst of creative energy—writing lyrics and recording the CD, making the movie, doing a cabaret gig—led her to a dead end at Live! "It was thrilling," she says of her renaissance. "A joy I'd long forgotten was still possible. I can make some changes now, before regrets set in. I'm ready."
More than her colleagues or fans could ever have known. The show had become, she says, "a formula, predictable. I'd get to where my goal every day was, How fast can I get an audience to laugh—two seconds, three? That's what I would live for. I was just amusing myself. About a year ago I was interviewing Lily Tomlin for probably the 10th time and thinking, I don't want to do this one more time."
There is another reason for her to leave her high-profile perch: to protect her children. Last week she planned to file a multimillion-dollar lawsuit against American Media, Inc., the company that owns tabloids such as The National Enquirer and Star, for a recent article in The National Examiner in which Cody, who turns 10 on March 22, was called "a monster." Says Gifford: "People say, 'Well, you put your children out there.' But these stories are libelously, patently untrue. If we don't make a stand now and put an end to this, there is no end to the distress in the future for my children." Scott Price, the attorney representing American Media, disagrees. "Cody is a public figure in his own right. [Gifford] has caused public interest in his life by how often she talks about him on the show." He adds, "The story is solidly sourced."
But one of the more sensational tabloid accounts involving her family, of course, had nothing to do with her children. Kathie Lee now admits that Frank's 1997 rendezvous with former flight attendant Suzen Johnson very nearly ripped the family apart. The tryst occurred in a Manhattan hotel after the Giffords, then married 11 years, had lunched together at tony Le Cirque. Frank's afternoon romp—allegedly arranged, paid for and caught on tape by the Globe—was, says Kathie Lee, wiping away tears, "horrendous, devastating. Frank didn't tell me the truth. You expect to be brokenhearted by your enemies, not by the person you trust the most, love the deepest."
Frank, just five months short of 70 and remarkably fit in snug jeans and a sweatshirt, is pained to recall any of it. "This is like picking on a scab," says the football legend angrily. "I did something really stupid, and we've paid an enormous price. I love Kathie very much. It's a blip in my life, a blip in hers, a major blip in yours and the people in [the press]. I'm just sick of it." Did Kathie Lee have trouble forgiving? "I would have been the lowest human being on the face of the earth not to forgive," she says. "When you love someone and see them in the deepest pain in their life, you kick them when they're down? That's not love. But we still had to do the work to get back."
For a year, Gifford focused on holding her family together. She and Frank tried couples' counseling, and both still attend individually. "I was busy just dealing with my dignity each day," she says. "It was just survival. Circle-the-wagons time. I knew how crushed Frank was and didn't want to hurt him in public. I can't describe the depth of his pain. Being so stupid and coming so close to losing everything that truly matters—for one hour of really lousy sex—is really dumb. And he knew it."
To this day, insists Kathie Lee, Cody and Cassidy know nothing of the strain between their parents at home. "Nothing. They never saw us argue, never saw an angry moment. Never saw us sleep in separate rooms. They never saw Daddy leave."
Gifford thought about leaving herself, then reconsidered. "It wasn't me that was going to leave," she says. "And he refused to leave too. He said, 'I love you, love this family, I'm not going anywhere. We're going to get through this.' "
To do so meant reinforcing deep bonds of trust and intimacy and, says Gifford, "falling in love again. There's no magic formula. We stayed home, we stayed in the word of God, we stayed in bed. I'm being very specific. It's the best thing in the world when somebody's truly asked forgiveness. Because each time you make love, that person feels forgiven, and you feel restored and loved again. Let me just smile and say I have no complaints." Gifford says her husband is a "transformed man. He has become more sensitive to my feelings and how capable he is of hurting me—how damaging his actions and words can be to me. The marriage will probably never be the same, but that doesn't mean it can't be better."
The same can't necessarily be said of Live! after Gifford. The impact of her departure is still unclear. Live! executive producer Michael Gelman, who sometimes expressed displeasure with her Cody chronicles, says, "We may tweak the format, but the show will go on. You're never going to have Regis and Kathie Lee, but hopefully we will have something else that is equally entertaining."
That may be easier said than done, says Washington Post TV critic Tom Shales. Those who have filled in for Gifford in the past, including Joy Philbin, Mrs. Reege, "didn't have the same sparkle and insouciance," he says. "Somehow it was fun watching [Regis and Kathie Lee] get on each other's nerves."
In moving on, Gifford won total support from her friends and loved ones, especially Frank. "All of us realized she had really had it," he says. "It was building to a crescendo. Fifteen years of getting up before the sun will do it." Philbin, whose red-hot Who Wants to Be a Millionaire Kathie Lee claims to have watched only once, tried to get her to stay when she told him of her decision a couple of weeks ago. "He said, 'Just sign for another year, suck it up, let's not rock the boat. We got a good thing goin',' " she recalls. "That's Regis—a peacemaker. He doesn't like conflict or change." Then, the night before her announcement, she called Regis with her final answer: "He said, 'You gotta do what you gotta do.' "
For her part, Gifford says her 68-year-old colleague's game-show grind concerns her. "He's keeping a schedule that worries me," she says. "He comes in some mornings and I just know he's not there. We can both do this in our sleep. That's the bad part. Our audiences deserve better. I worry because I love him. He's tired." But their personal relationship, she maintains, hasn't suffered. "There is deep affection and respect for one another," says Gifford. "Reege is fine. He'll be terrific with the right person. I'm replaceable."
Still, it was their zinger-rich chemistry that rocketed both to career peaks. Kathie Lee Epstein had grown up in Bowie, Md., the second of three children of Aaron and Joan, who have run a bed-and-breakfast on the Delaware shore for over 30 years. A born-again Christian by the age of 13, Kathie Lee won the Maryland Junior Miss pageant at 17 and went on to sing gospel at Oral Roberts University, where she studied drama and music. Heading to L.A. in the '70s, she met—and recorded with—her first husband, gospel composer Paul Johnson. The marriage ended after six years. In the late '70s she appeared on Name That Tune and The Hee Haw Honeys and then landed a job as a correspondent on Good Morning America. She stayed for several years before hooking up with Philbin, a TV journeyman who had broken in as talk show host Joey Bishop's TV sidekick in the late '60s. Recalling their fateful first week as a local duo on WABC-TV in New York City in June 1985, she says, "I called him a jerk—affectionately—and we were off and running."
The sweetest payoff for punching out at Live! will be time spent with Frank—whom she met in 1982 while at GMA and married four years later—and the kids, says Gifford. Cody, a lanky athlete who can wear out his father at squash, also plays Bach and "Boxcar Rag" on piano. He was eager to play the boy in Adam Sandler's raunchy Big Daddy until his mother read the script and declined. Referring to the movie's ads of a boy urinating in public, Gifford says, "I told my agent to tell Adam, whom I like, that Cody pees at home, not on walls."
Long criticized for making public figures of both her children, Gifford remains unrepentant. "I gladly did, lovingly did that," she says. "But a sweet story I tell today is made into garbage, something sick and prurient, next week. I didn't want to talk about my family for a living anymore. My family is my life."
That life won't likely suffer from her daily-TV departure. She calls Frank a stock market "wizard," and the couple have waterside retreats on Key Largo, Fla., and Nantucket, Mass., as well as a Colorado ski condo. Then again, Kathie Lee may not be straying that far from the show that made her a star. She not only vows to stay on Live! until August (there's a highlight-heavy send-off show already in the works), but she may also be plotting an eventual reunion with Reege. "This show has been amazing to me," she says. "I'd love it if they asked me to come back when the new cohost goes on vacation."
Cynthia Wang in New York City
Contributors:
Cynthia Wang.
She may be retiring, but no one can call Kathie Lee Gifford shy. The lame-duck diva of morning talk is sitting in the library of her Mediterranean-style mansion in Greenwich, Conn., explaining how she has not, contrary to speculation, spiced up her look on Live! with Regis & Kathie Lee since husband Frank's infidelity scandal three years ago. On her hair: "I've changed it 50 times. You show me a woman who hasn't, except for Janet Reno." And those whispers about going braless on the air? "Ridiculous! It's extremely cold in our studio, so you could be wearing a steel harness and you'd still have a little action, if you know what I mean. I do not like industrial-strength push-up bras. I wear very flimsy things. Besides, what 46-year-old woman who's nursed two kids goes braless?" Then, to prove her point, Gifford lifts her mohair sweater to her neck, revealing a sheer low-tech number leaving little to the imagination. "Just to show you," she says. "Okay?"
Advertisement
Today's Photos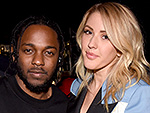 Treat Yourself! 4 Preview Issues
The most buzzed about stars this minute!