People Top 5
LAST UPDATE: Tuesday February 10, 2015 01:10PM EST
PEOPLE Top 5 are the most-viewed stories on the site over the past three days, updated every 60 minutes
A Lion in Winter
Gen. Vo Nguyen Giap, the Renowned Military Strategist Who Vanquished the French and the Americans, Reigns as His Nation's Greatest Living Hero
And indeed the brilliant and ruthless general who accepted horrific casualties among his own forces (more than a million troops killed in the two wars) to achieve military objectives remains a beloved icon of his country's struggle for independence. Even today, his signature triumph over the French garrison at Dien Bien Phu in 1954, during which his ragtag forces mounted a ferocious 55-day siege, is honored as the crucial turning point in that earlier conflict.
Not surprisingly, Giap has earned the respect of many onetime enemies. "I never met him," says Gen. William Westmoreland, 86, who commanded U.S. forces in Vietnam. "But I must say, I admire his capabilities. He was an outstanding soldier." Yet, adds Westmoreland, "an American commander who suffered losses of the magnitude of Giap's probably would have been relieved of duty."
Giap, father of three daughters and two sons, all of them engineers or scientists, lives near central Hanoi with his second wife, Dang Bich Ha, 70, a researcher in Southeast Asian studies, in a colonial villa with an acre of gardens that is certainly luxurious by Vietnamese standards. Each morning he does yoga and sometimes goes for a swim. Giap, who speaks fluent English, regularly watches CNN and listens to BBC radio broadcasts and says he enjoys surfing the Internet: "I use it to find out about all kinds of international news." He still travels the country giving speeches, but prefers to spend quiet evenings at home listening to classical music. He also confesses that he has a taste for American movies about the war. "Most are accurate," he observes wryly. "But some don't fully represent Vietnam properly."
According to friends, Giap bears no ill will toward the French or the Americans—despite the fact that his first wife and his father were both arrested by the French and died in prison and that he holds the United States responsible for much of the damage that still hobbles his country economically. "I have never heard him comment badly on anyone," says Huu Mai, a writer and historian who worked with Giap on his memoirs. "He doesn't get angry."
Which is not to say he has completely given up his adversarial role. Ask him about the well-documented accounts of torture and mistreatment of American POWs and Giap scoffs. "They received good treatment," he insists. "I met U.S. prisoners when they came back [to visit Vietnam], and they said the treatment was good." He goes so far as to say former POW Sen. John McCain "didn't tell the truth" about his years in captivity. (McCain, who is scheduled to make his seventh trip to Vietnam this week, and whose own story appears on page 116, declined to respond to Giap.)
Still, Giap seems to have no interest in wallowing in the past. He fervently hopes for a complete normalization of relations between the United States and Vietnam, in part because he would like to see more American money to aid in his country's reconstruction. Giap has been an outspoken proponent of blending some aspects of capitalism with the socialist system that he played such a key role in helping to install. "We need to unleash the productive forces to allow all sectors to do business," he says. "The private sector needs a chance to develop, and so does the farming economy."
His sentiments shouldn't come as much of a surprise. After all, adapting to circumstances was the key to his success on the battlefield. His collaborator Mai recalls one time when Giap was asked about his military strategy. Ever the cunning general, he replied, "My strategy is peace."
Bill Hewitt
Joanne Fowler and Linda Kramer in Hanoi
Contributors:
Joanne Fowler,
Linda Kramer.
Time has turned his cropped hair to white, but it has hardly diminished the authority and mystique that surround him. Striding into a press briefing in Hanoi recently in his pressed olive drab uniform, four stars glinting on each shoulder, 88-year-old Senior Gen. Vo Nguyen Giap still looked like the storied military commander who humbled French and American forces over the course of two wars and more than 30 years. Yet in a rare, one-on-one interview with PEOPLE shortly after his meeting with the press, Giap sounded more like the teacher of history he once had been. "I study, I write, I exercise, I see my grandchildren," he says, when asked how he spends his time these days.
Advertisement
Today's Photos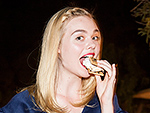 Treat Yourself! 4 Preview Issues
The most buzzed about stars this minute!