People Top 5
LAST UPDATE: Tuesday February 10, 2015 01:10PM EST
PEOPLE Top 5 are the most-viewed stories on the site over the past three days, updated every 60 minutes
Action Jackson
Shaft's Samuel L. Jackson Dotes on His Family and Golf Game. Got a Problem with That?
That's true in Hollywood too, where Jackson, 51, has been a major player for years, blasting his way to accolades in Pulp Fiction, Jackie Brown, Die Hard with a Vengeance and The Negotiator. In Shaft, in which he plays an Armani-clad detective, he grabs big-time leading-man billing, building on a 28-year movie career heavy on character roles (he was a dinosaur hors d'oeuvre in Jurassic Park, target practice for Joe Pesci in GoodFellas and shark supper in last summer's Deep Blue Sea). Jackson has always been a leading man at home, though: For 30 years he has been with actress LaTanya Richardson, 50, his wife since 1980. "He loves his wife," says their friend Star Jones of ABC's The View. "I already told LaTanya, 'Girl, find me his brother.' " Says Pam Grier, who costarred with Jackson in Jackie Brown: "He enjoys what he has because it wasn't given to him."
Even at a reported salary of $10 million for Shaft, Jackson still takes nothing for granted. He made more than 30 films in the '90s, more than any other actor, and continues to make several each year. "The average person goes to work every day except for maybe two weeks of vacation a year," Jackson told the Los Angeles Times Magazine in June. "I do it, and everybody says I'm a workaholic." Says another Jackie Brown costar, Robert Forster: "He's got a universe of characters inside him." That's because "his preparation," says Rules of Engagement costar Tommy Lee Jones, "enables him to create the illusion of absolute spontaneity." Yet ego is never an issue, says Deep Blue Sea director Renny Harlin. "When they were designing the poster, I said, 'Sam, are you sure you don't mind not being on the poster?' He said, 'I am on the poster. I'm inside the shark.' "
He wasn't always so easy-going. Raised in segregated Chattanooga by mother Elizabeth, a retired clothing buyer (his absentee father died years ago), Jackson became an activist at Atlanta's historically black Morehouse College after the assassination of Martin Luther King Jr. Demanding a black-studies program, he and a group of students locked in the college's trustees, one of whom was Martin Luther King Sr. King was quickly released, and the dispute was resolved peacefully. "They fed [the trustees] and took care of them," says Morehouse Prof. Clark White, a classmate and friend. "They weren't trying to hurt them."
Cooling down, Jackson joined the theater program at Spelman, the nearby women's college, where one student, LaTanya Richardson, would become his girlfriend and, later, his wife. But as his career moved from theater roles to bit parts in films in New York City, he had another constant companion: drugs. "I had never been onstage without a substance in my body," Jackson told Essence last year. "Alcohol, reefer, acid, something." Crack cocaine nearly destroyed him in the late '80s. "I made a promise to God that I would be there," LaTanya added. "I wasn't going to let him die."
Jackson went to rehab, which he hated, but the addiction informed his breakthrough role as a crackhead in Spike Lee's 1991 Jungle Fever. Today, he and LaTanya, who lived in Harlem when Jackson was establishing his career, are raising college-bound daughter Zoe, 18, in an art-stuffed Tudor house in Encino, Calif. "They did something that a lot of other people don't," says friend Kenneth Reynolds, a publicist who doesn't work for the Jacksons. "They honor their commitment to stay together, for better or worse." Zoe, Reynolds adds, "adores" her dad. "She is very much like Sam in her even keel." The best dig anyone could use on Jackson during on-set banter for Shaft, says director John Singleton, was when costar Busta Rhymes said lasciviously, " 'Your daughter's looking real fine.' Sam looked at him and said, 'You better stay as far away from her as possible.' " Other on-set arguments weren't so light-hearted. Jackson tangled with producer Scott Rudin over the direction of the script. Jackson is "smart and tough-minded, and he has opinions," says Rudin. "He was very concerned about getting the cop part right. And he didn't want Shaft to be doing anything stupid." Singleton concedes that Jackson is "opinionated" but wants to do a sequel with him.
That stubbornness comes from the same core that, Jackson has said, drives him to begin the day thanking God for giving him strength to not drink or do drugs. He's just as stub-5 born about refusing to put on airs. Says Jones: "He's been in some of the biggest pictures we've had in the past decade, but he'll still hop on the subway to go meet you." As Grier puts it: "He always fights for people, to help them do better. The sign of someone who always wants to do better is the sign of intelligence."
Kyle Smith
Michael Fleeman in Los Angeles, Ivory Clinton in New York City and Jill Westfall in Atlanta
Contributors:
Michael Fleeman,
Ivory Clinton,
Jill Westfall.
During filming in New York City last fall and winter for Shaft, Richard Roundtree, who played the sexy private eye in the 1971 original, and Samuel L. Jackson, star of the 2000 version, spent their down time at a nearby golf course. "There's a big sign that says, '10 and under handicap recommended.' I'm a 15 on a good day," says Roundtree, 57, who costars as the title character's uncle in the new film. "About the 13th hole, I wanted to cuss Sam out. He did great. You can tell a lot about a human being when you get him on a golf course. Sam knows what the game is."
Advertisement
Today's Photos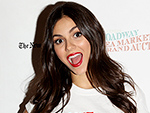 Treat Yourself! 4 Preview Issues
The most buzzed about stars this minute!