People Top 5
LAST UPDATE: Tuesday February 10, 2015 01:10PM EST
PEOPLE Top 5 are the most-viewed stories on the site over the past three days, updated every 60 minutes
Picks and Pans Main: Tube
Talking With...
The 1977 Bat out of Hell album hasn't taken off yet, and Meat Loaf (born Marvin Lee Aday) still lacks recognition. Starved for a compliment—but otherwise well-fed, it appears—the Meaty One (played by W. Earl Brown) gladly receives a favorable review from his little girl. "I like it," she says of his music. "It's loud."
Director Jim McBride (maker of Jerry Lee Lewis's screen biography, Great Balls of Fire!) pumps up the volume through most of this TV movie, as Meat Loaf fights with his alcoholic father, wails over his mother's coffin, tours with the stage musical Hair, performs the "explosive Wagnerian anthems" composed for him by Jim Steinman (Zachary Throne) and nearly loses himself in booze, lawsuits and depression. To Hell and Back, based on Meat Loaf's 1999 memoir, offers sufficient evidence that raging emotions give rise to roaring rock. But the protagonist has an oversize insecurity that makes watching his life story feel more than a little like a stint in purgatory.
Bottom Line: Too long in the oven
USA (Sundays, 9 p.m ET)
Show of the week
High temperatures make for lower TV expectations. Just give us something new and a little different.
This half-hour comedy series (premiering July 23) clearly derives inspiration from MAD magazine's "Spy vs. Spy" feature, but it's original enough to be a summer bright spot. Ex-CIA agent Kennedy Smith (Linden Ashby) tries to lead a quiet life as a suburban family man and salesman for the House of Dreams auto dealership. Then his old nemesis, the dastardly Kreigman (Damian Young), moves in next door for the express purpose of continuing their "eternal dance of death." Young is weirdly funny as the self-described "evil supergenius" who'll do anything—take a car on a dangerous test drive, use his "supervixen" wife (Tara Rosling) as sexual bait—to provoke Smith into battle. It seems doubtful that Kreigman can maintain the vital element of surprise for very long, but keep an eye on him for at least a couple of episodes.
Bottom Line: Spy on these guys
TNT (Sun., July 23, 8 p.m. ET)
It is now 2008, and the Supreme Court has established an "inalienable right to death." A single dad (Eric Roberts) can't afford a vaccine for his critically ill son, so he strikes a $300,000 bargain with a sinister health-care corporation: "You're buyin' my body; you give me a year, then you carve me up for parts." But the boy is pronounced dead before the ink is dry on the contract, and Roberts—after throwing down the dirty money—goes on the lam to save his own life.
Semi-serious sci-fi with something to say about medical ethics? No, simply a pulp thriller that will hold your interest with increasingly over-the-top action. The hero hooks up with an attractive bounty hunter (Sarah Wynter), and they foil the evil designs of the corporation's unscrupulous leader (Chris Sarandon) and his snide enforcer (Cary Elwes). Roberts and Elwes wind up duking it out in an elevator shaft, jumping from car to car and dedicating their punches ("This is for Alex!"—pow!). As for Sarandon's character, his name is Dr. Stofeles. The first name's not Mephi, but this devil is certainly going to hell.
Bottom Line: It moves, if nothing else
NBC (Mondays, 8 p.m. ET)
This average new drama runs on two creative tracks—a little X-Files, a little Touched by an Angel—so there's no reason why it shouldn't air on two networks. On July 24, Mysterious Ways starts what NBC calls a "multi-episode preview"; on Aug. 22, it premieres on the family-oriented PAX network, in which NBC has a financial stake.
"Declan Dunn—I investigate miraculous phenomena." That's how the main character (portrayed by Adrian Pasdar) introduces himself. Actually, Declan is an anthropology professor, but straight jobs are such a bore. In the pilot he forms a partnership of sorts with psychiatrist Peggy Fowler (Rae Dawn Chong), who will play Ms. Skeptical to Declan's Mr. Mystical. Though he seems nosy, rude and presumptuous, Declan has Peggy pretty well charmed by the end of the first episode, which finds them probing the case of a boy who miraculously—or not—escaped drowning in an icy lake. In what may be a bad sign, the opener yanks on our heartstrings when a gentle tug would do.
Bottom Line: Not all that phenomenal
>Sunday, July 23 ANNE OF GREEN GABLES: THE CONTINUING STORY PBS (9 p.m. ET) The last part of the trilogy finds the heroine swept up in World War I. Concludes July 30 at 9 p.m.
Monday, July 24 DOUBLE PLATINUM ABC (8 p.m. ET) Still-supreme Diana Ross mothers Brandy in this 1999 TV movie.
Tuesday, July 25 THEY NEST USA (8 p.m. ET) Sorry, too late to fumigate. Killer bugs attack a picturesque Maine island in this TV movie.
Wednesday, July 26 LAW & ORDER NBC (10 p.m. ET) McCoy goes after a gun manufacturer in this well-aimed repeat.
Thursday, July 27 'N SYNC LIVE FROM MADISON SQUARE GARDEN HBO (9 p.m. ET) The boy band comes to New York City with no strings attached.
Friday, July 28 JAG CBS (9 p.m. ET) This rerun's a Navy nightmare as Mac goes undercover in a witches' coven.
Saturday, July 29 NICK OF TIME ABC (8 p.m. ET)
Johnny Depp
is forced to turn assassin in a 1995 thriller that plays out in real time—if you zap those pesky commercials.
>Ellen DeGeneres
Three years after becoming the world's most famous lesbian, Ellen DeGeneres wants to be synonymous again with another L-word: laughter. "I needed to express myself again because my sexuality had overshadowed so much of my life," says DeGeneres, 42, of her eight-week stand-up tour, her first in six years. "I'm not trying to make you forget [about my being a lesbian], but I want my audience to come see me because I'm going to do a comedy show. It's not a rally." As she quips in her act, "Maybe I'll become the Artist Formerly Known as the Lesbian."
The 36-city tour is a warm-up for her upcoming HBO special, Ellen DeGeneres: The Beginning, airing July 23. "It's a grueling schedule," says DeGeneres, although she and girlfriend Anne Heche, 31 (who is filming a tour documentary that may eventually air on HBO), are traveling in style. "It's not like the Partridge Family bus," says DeGeneres, who next stars in a new midseason variety show for CBS. "It's a nice bus." Too bad about the views: "We thought we were going to see the country. It turns out we're driving at night while we're sleeping!"
Contributors:
Tom Cunneff.
VH1 (Wed., July 26, 9 p.m. ET)
Advertisement
Today's Photos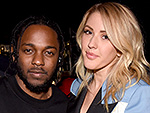 Treat Yourself! 4 Preview Issues
The most buzzed about stars this minute!