People Top 5
LAST UPDATE: Tuesday February 10, 2015 01:10PM EST
PEOPLE Top 5 are the most-viewed stories on the site over the past three days, updated every 60 minutes
Words to Live by
After Losing a Son to Suicide, a Colorado Couple Come to the Aid of Troubled Teens
In the days that followed, scores of the Emmes' Westminster, Colo., friends dropped by to pay their respects to Darlene (Dar to her friends) and Dale, 49. Many asked what they could do for the family. "Please," answered Dar, "if you're ever in this much pain, ask [someone] for help." It seemed such a simple thought. Yet the Emmes noticed that several of Michael's friends wrote down the words. Inspired, the Emmes had the message printed on bright yellow paper (in honor of their son's Mustang) to give out at his memorial. "Before long," says Dar, "the girls had yellow ribbons tied in their hair and the guys had yellow ribbons on their shirts."
Thus began the Yellow Ribbon Suicide Prevention Program and the Light for Life Foundation. Since their inception in 1994, 80 official chapters have been spun off in all 50 states and in 47 countries. The Emmes make presentations to children and parents about 10 times each week, but the cornerstone of the program is a business card with a yellow ribbon on the left-hand side and the words "This ribbon is a lifeline" across the top. The back instructs people what to do if anyone ever hands them the card: "This card is a cry for help! Stay with the person—you are their lifeline! Listen, really listen. Take them seriously! Get, or call, help immediately!" There are also two toll-free, 24-hour numbers. "The card gives kids the power to say, 'I don't really want to kill myself—because most kids don't," says Chris Dittman, principal of Michael's Westminster High School.
Suicide is the second leading cause of death among 15-to 19-year-olds, a large portion of them high achievers like Michael—a good student and member of the school jazz band, who apparently grew distraught over breaking up with a girlfriend. Judging from the more than 3 million cards the Emmes have distributed, their talks with 150,000 students and the 26,000 letters they have received, they estimate that they may have helped save the lives of as many as 1,500 kids—all with a slim $225,000 annual budget and just four employees.
Sadie Miller, 15, for one, can testify to the card's power. "I used a Yellow Ribbon card to save my life," says Miller, of Broomfield, Colo. "I took [15] Advil just to get rid of the pain and escape from everything. The card looked at me, and it was like, 'You don't have to do this. You can ask for help.' "
Even setting aside their son's death, the Emmes could have used a helping hand of their own along the way. Both Colorado natives, they first met in 1968, while volunteering for the local Civil Air Patrol. Dar, whose parents died when she was a young woman, did not finish high school. She had five children and took in foster kids before ending a 12-year marriage. Born to a home-maker and carpenter, Dale entered into a brief childless union shortly after high school.
Dale and Dar wed in 1975, and Dale, who adopted Dar's children, worked as a certified baker for 18 years before joining the foundation full-time. Dar, who is legally blind in one eye due to a 1965 car accident, at one time had her own gift shop. "We have really big bootstraps in this family," says Dar, who had two children with Dale—Michael and Michelle, now 25—"because we're really good at pulling ourselves up by them."
Their own salvation lies in their devotion to family (11 grandchildren have been added to the mix) and their resolve. "In the beginning," Dar says of her program, "people thought we were two grieving parents and that we would get it out of our system and go away. Well, we haven't and we won't."
Nick Charles
Vickie Bane in Westminster
Contributors:
Vickie Bane.
Having spent the evening bowling, Darlene and Dale Emme pulled into their driveway at precisely 11:52—the same moment their son Victor drove up. He hopped out of his truck, and that's when he saw his half brother. Michael, 17, lay in the backseat of his cherished yellow Mustang, having shot himself in the head with a handgun that was legally owned by Victor. "In that instant, I wanted my life to stop," Darlene, 58, recalls of that September night six years ago. As if the loss weren't heartbreaking enough, Michael had signed a suicide note at 11:45 p.m. "We missed him by seven minutes," she adds. "I stood in my driveway that night, screaming at the top of my lungs until I didn't have any voice left."
Advertisement
Today's Photos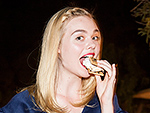 Treat Yourself! 4 Preview Issues
The most buzzed about stars this minute!