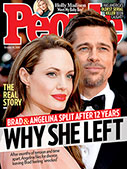 This Week's Issue!
People Top 5
LAST UPDATE: Tuesday February 10, 2015 01:10PM EST
PEOPLE Top 5 are the most-viewed stories on the site over the past three days, updated every 60 minutes
Picks and Pans: Pages
Darkest Fear
For women of color tired of trying to identify with the blonde Barbies of Harlequin-type romances, E. Lynn Harris has been a godsend. Since 1991 the former computer sales executive has been writing quick-read urban soap operas (If This World Were Mine and Abide with Me) that deftly explore love, loyalty and sexual identity. His latest follows two characters from previous books—ex-football hero and closeted bisexual John Basil Henderson and his fiancée, the it's-all-about-me Yancey Harrington Braxton—as they prepare for their obviously doomed nuptials. Once Yancey gets a whiff of Basil's past "switching lanes" life, she snarls, "I'm going to make Robin Givens look like Mother Teresa." But our protagonist is more cunning than even Mike Tyson, and Basil's machinations—much like this must-take-to-the-beach novel—have enough punch to score a KO. (Dou-bleday, $19.95)
Bottom Line: What's love got to do with it? Not a thing
by Jackie Collins
Beautiful celebrity journalist Madison Castelli, the plucky heroine of Jackie Collins's L.A. Connections series, makes a return appearance here, but this time all the news is breaking in Madison's own life. Her ex-boyfriend is back, begging forgiveness. Her new beau is mysteriously out of touch. Her best friend, Jamie Nova, thinks her husband is cheating on her. And her doting father is suddenly a man with a ton of secrets.
That's just the beginning of the intrigue in the latest bawdy, boisterous lustfest from Collins, Adding to the melodrama are Mob princess Rosarita Falcon, who's looking to off her sweet soap-opera-star hubby; Joel Blaine, the trust-fund playboy with a yen for public sex; and bighearted stripper Varoomba, who's looking to settle down with the mobster of her dreams. The kooky cast ultimately converges on a Las Vegas boxing match where all the gloves come off.
Collins has never been one to let reality get in the way of a good, juicy story. But her sex scenes are still riotous, and her wickedly warped worldview makes for laugh-out-loud summertime reading. (Simon & Schuster, $26)
Bottom Line: Far-fetched and foolish, but fun
by Tracy Tolkien
You don't have to be a collector to appreciate this glossy tribute to the styles of yesteryear. A visual feast filled with photos of everything from Coco Chanel's signature 1950s suits to Versace's 1990s dominatrix dresses, Tolkien's book also features neat historical tidbits: Who knew, for instance, that today's shoulder bags evolved-from the satchels that World War II-era European women held their gas masks in? Or that it was 1950s bouffant hairstyles that spelled the end for women's hats?
Along with her fashion history, the author—who owns a vintage clothing boutique in London and is married to a descendant of writer J.R.R. Tolkien—offers tips for telling the fakes from the finds at thrift shops; she also includes a list of more than 600 vintage clothing sources worldwide. And that's not counting your own closet. Remarking that a 1980s prototype pair of Nike Air Jordans recently sold for $22,500, Tolkien advises, "Before you clear out your sports locker, do check...to make sure you're not sitting on a slightly odoriferous gold mine." (Rizzoli, $35)
Bottom Line: Fun facts and photos of fashions gone by
Driving Mr. Albert
by Michael Paterniti
Albert Einstein got good grades (contrary to the myth that he flunked physics), became a U.S. citizen at age 61, suffered from severe diarrhea and vomiting in his later years and died at 76 of an abdominal aneurysm in 1955. Dr. Thomas Harvey, then 42, performed an autopsy and removed (many would say stole) Herr Doktor's brain. But, as an octogenarian, a semi-contrite Harvey decided to turn over the renowned noodle to Einstein's granddaughter Evelyn. With the author on board as chauffeur, this true-life tale describes Harvey's grand ride and his mission to find physical proof of Einstein's genius. (Dial, $18.95)
Bottom Line: Hop on
by Harlan Coben
Myron Bolitar has weathered some pretty bad breaks, such as the knee injury that ended his pro basketball career before it began. But nothing has come even remotely close to the news the struggling sports agent gets at the start of this, the seventh in Coben's winning series of sleuthing adventures. First, Myron's college sweetheart, who married his archrival, tells him he's the father of her now teenage son. Then he learns that the boy, who has a rare illness, will die without a bone marrow transplant. To make matters worse, the only matching potential donor seems to have disappeared.
The revelations definitely divert Myron from a brewing midlife crisis and launch him and his wrestling-' ring-ready cast of supporting characters—including Win, a blue-blooded portfolio manager and martial artist, and Zorra, a transvestite former Mossad agent—on a race against time (and crafty adversaries) that is both suspenseful and often surprisingly funny. A sample Myronism, con cerning his mother's culinary prowess: "The stove top saw less action ; than a Merchant-Ivory production." There's I likely to be a smile on your face even as you race to turn pages. (Delacorte, $23.95)
Bottom Line: Slam dunk for a smart-aleck sleuth
Contributors:
Nick Charles,
Cynthia Sanz,
Kim Hubbard,
David Cobb Craig,
Pam Lambert.
by E. Lynn Harris
Advertisement
Treat Yourself! 4 Preview Issues
The most buzzed about stars this minute!