People Top 5
LAST UPDATE: Tuesday February 10, 2015 01:10PM EST
PEOPLE Top 5 are the most-viewed stories on the site over the past three days, updated every 60 minutes
Picks and Pans Main: Song
Talking With...
Album of the week
This is the story of a band whose debut single, "Absolutely (Story of a Girl)," has become the sleeper hit of the summer. With its chunky hooks and irresistible, sing-along, stop-and-start chorus ("And while she looks so sad in photographs/I absolutely love her/when she smiles"), the song has sparked buzz about an obscure non-boy band from Long Island.
Five guys with no use for wardrobe consultants or choreographers, Nine Days boasts two highly talented singer-songwriter-guitarists. John Hampson, 28, author of "Absolutely" (as well as the group's second single, "If I Am," a catchy but more pedestrian, Oasis-like power ballad), shares co-frontman duties with fellow auteur Brian Desveaux, 29, who wrote "Bob Dylan," an homage that dares to sample the master's "It's All Over Now, Baby Blue." With a literate muse and an added layer of sound provided by Jeremy Dean's Hammond organ, Nine Days looks to be around a good deal longer.
Bottom Line: Absolutely (Fabulous)
Elastica (Atlantic)
It has been five years since Elastica put out an album, and their new postpunk disc can be seen as a collection of snappy rebuttals to those who had written them off. On the catchy opener "Mad Dog," the sextet's lead vocalist Justine Frischmann, best known for her "Connection" video, barks, "Don't need a credit card to make my charge complete/ Don't want you on your back I just got on my feet." Among her many attributes, Frischmann sports the gnarliest sneer this side of Billy Idol.
At times, Elastica may remind you of Chrissie Hynde or Blondie, but there are plenty of original touches: keyboards that sound like a hail of bullets, the otherworldly digitized tones on "My Sex," Frischmann's hushed confession to an old beau ("When you were poor/ And I just liked you more"). The group even covers Trio's quirky "Da Da Da" (which became a Volkswagen jingle). Although The Menace offers a hodgepodge of musical styles, it also signals Elastica's emergence as an improved, mature unit. And it took them only half a decade.
Bottom Line: Snarly fun well worth the wait
Julie Budd (Sin-Drome/ After 9)
Pop singer Julie Budd looks a little like Barbra Streisand and sounds a lot like her. So it's easy to think of her as Streisand Lite. This album is no exception. Like Streisand, Budd, 46, has a big voice and a rare clarity of diction that draws listeners into her lyrics. Also like Babs, however, Budd has a tendency to value histrionics over musicality, overdramatizing even such a basically straightforward song as "Let's Face the Music and Dance." And she goes stiff at times, shrouding her natural swing. The most entertaining aspect of this album is the imaginative choice of material, with tracks by Duke Ellington and Stephen Sondheim and one from Michael Jackson's Dangerous. Slightly flawed but always a pro, Budd has become a reliable big-time singer.
Bottom Line: Pop veteran delivers a polished program
>THE DOO WOP BOX III Various Artists (Rhino)
Once there was harmony on earth—and it rocked. Here are 101 tracks of joyful street-corner sound, including 26 faves picked by doo-wop fans like comic George Carlin, Keith Richards, Robert Plant and Paul Simon.
FORTRESS Sister Hazel (Universal) With a bluesy, folk-rock beat, this Gainesville, Fla., quintet is led by singer-lyricist Ken Block, who sounds like a cross between the Counting Crows' Adam Duritz and power pop rocker Matthew Sweet.
DONNIE McCLURKIN: LIVE IN LONDON AND MORE... Donnie McClurkin (Verity)
Resisting pop's rich temptations, Detroit soul stirrer McClurkin—whose "I Am" is featured on one of the Prince of Egypt soundtracks—sings truly inspired gospel.
>Joe Cocker
Joe Cocker isn't feeling his age these days. Sure, a considerable amount of time has passed since he dazzled the hippies at Woodstock with his soulful rendition of the Beatles' "With a Little Help from My Friends" (and his frantic stage antics). Or since he and Leon Russell, Rita Coolidge and pals barnstormed the U.S. in 1970 on the uproarious Mad Dogs and Englishmen Tour (later documented on a live double album and a concert-film). But Cocker, 56, insists he has plenty of performances in him yet. "Look at these blues cats, like Ray Charles, who have been going forever," he says. "As long as I can keep singing in the right key, I'll just keep bopping along."
And judging by his new album, No Ordinary World, he hasn't lost a step. Using his patented, gut-wrenching singing style to interpret songs by the likes of Leonard Cohen, Steve Winwood and Bryan Adams, Cocker doesn't hold back. "I can't do things halfway," he says: "I have to belt things out."
Since last year, he has been touring behind the album in Europe, and starting next month—with Tina Turner in tow—he'll be crisscrossing the U.S. Which will be a sort of homecoming for the Sheffield, England, native: Cocker and wife Pam have a ranch in tiny (pop. 275) Crawford, Colo. The couple like the quiet hamlet so much they opened an eatery there, the Mad Dog Ranch Fountain Cafe. However, soul music remains Cocker's first love, and he still draws inspiration from the masters. "When you listen to Marvin Gaye and Donny Hathaway," he says, "they stand out more than ever."
Contributors:
Steve Dougherty,
Barbara Kligman,
Ralph Novak,
Joseph V. Tirella.
Nine Days (Epic)
Advertisement
Today's Photos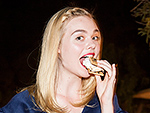 Treat Yourself! 4 Preview Issues
The most buzzed about stars this minute!