People Top 5
LAST UPDATE: Tuesday February 10, 2015 01:10PM EST
PEOPLE Top 5 are the most-viewed stories on the site over the past three days, updated every 60 minutes
Picks and Pans: Pages
Time to Say Good-Bye
Cindy Decker has some pretty big shoes to fill. For starters, the LAPD rookie's father is Peter Decker, an illustrious lieutenant with the department. On top of that, the senior Decker, along with Cindy's stepmother, Rina Lazarus, starred in several of Kellerman's popular crime novels. Though you might not want to share a squad car with Cindy, the headstrong know-it-all does make for an engaging heroine as she tries to track down the menacing person who appears to shadow her every move. But while Kellerman seems devoted to grooming the prickly Ivy Leaguer for her central role, the author has shortchanged her tale of some essentials. The plot's reliance on coincidence and its school of red herrings will likely leave readers feeling cheated. And the interminable yammering among Cindy and company makes one wish for Joseph Wambaugh to come out of retirement. Or even Faye Kellerman, on a better day. (Morrow, $25)
Bottom Line: Likable sleuth makes less-than-arresting debut
by James Lee Burke
In his 11th outing, New Iberia, La., deputy sheriff Dave Robicheaux is in tip-top form. Two cases come to obsess the veteran homicide detective. The first involves proving the innocence of a woman on death row convicted of murdering her neighbor—who happens to have been the state's official executioner. The other is more personal. As Robicheaux delves painfully into his own past, he finds that his long-dead mother was not quite the woman he thought she was. Along for the ride is Robicheaux's sidekick, the immense and impulsive Clete Purcell, who handcuffs a nasty perp inside his convertible and sends him through a car wash to clean up his act.
But comedy takes a back seat to character for Burke (Sunset Limited, Dixie City Jam). As with his contemporaries Walter Mosley and James Ellroy, the Edgar Award-winning Burke's literary ambition has moved far beyond the confines of the crime genre. His magnolia-soaked prose and hallucinogenic tales address a wider world of conscience and consequence. Beneath the placid surface of Burke's fevered bayou, dark shapes move with strange intent. (Doubleday, $24.95)
Bottom Line: A Road worth taking
by Adele Parks
At age 30 Connie Green has a handsome, loving husband, a good job, a fabulous home and a sweet, loyal bunch of friends. So what does she do? Ruin it all, of course, by falling for an oversexed rogue who reminds her of what it's like to be a party-hardy single gal again.
Through rosé-colored glasses, Connie mistakes her caddish coworker John Harding for destiny's dream man. Next to him her perfect husband, Luke, seems so ordinary. But the reader isn't fooled. In fact for a considerable chunk of her debut novel, Parks risks alienating some readers with a protagonist who is at best unsympathetic and at worst irritatingly stupid. Though amusing at times, with her wine-slurping and fat-obsession ("It can't be a bad thing if I'm losing weight," she says of her infidelity), Connie initially comes off as little more than yet another Bridget Jones clone—only she's married and not quite so funny.
Then, just in time, the balloon bursts—Connie finds her conscience, and the story takes a darker and more satisfying turn as she explores why it is that "nice girls have affairs too." Her soul-searching saves the day, if not the book. (Pocket, $23.95)
Bottom Line: Too little, too late
by Stewart O'Nan
Novelist O'Nan's true-life account of 7,000 people trying to escape a burning tent during a 1944 matinee of the Ringling Bros, and Barnum & Bailey Circus in Hartford is a gripping portrayal of humanity in selfless bravery—and mindless panic. The blaze, which spread with frightening speed, killed 167 people and injured nearly 500 in the biggest disaster in Connecticut's history. O'Nan interviewed dozens of survivors and families of victims to detail the fire's minute-by-minute horror. One unclaimed body, that of a little girl, became a symbol of the tragedy. As recently as 1990, investigators were re-examining the evidence in efforts to identify her body and determine the fire's cause. O'Nan, however, has refrained from trying to tie things up neatly. He has simply crafted an engrossing and uplifting narrative from the smoldering embers. (Doubleday, $24.95)
Bottom Line: Compelling real-life drama
You're Smarter Than You Look
by Judge Judy Sheindlin
Here's a tip for anyone contemplating buying the wit and wisdom of TV's rudest jurist: Read the three page summary near the front of the book. If her simple guidelines are a revelation to you, you probably need more help than you're going to find here. Judge Judy provides breezy descriptions of classic disputes between people in relationships and family dilemmas and follows these with recommendations. It's a great premise for a regular column (think Dear Abby and Ann Landers). But as a book, it seems little more than a way for Sheindlin to cash in on her TV fame. There is one surprise: She comes off as a real—even compassionate—human being. Sure there are barbs, but she also hands out plenty of common sense. One example: Even in the throes of a great relationship, she advises, don't give your beloved a loan without getting repayment terms in writing. And to divorced parents: Love your kids more than you hate each other. "My father once said to me when I was contemplating divorce from my first husband," she writes, " 'two innocent people shouldn't suffer for what two guilty people did.' " (Cliff Street/HarperCollins, $23)
Bottom Line: We find Judge Judy guilty of restating the obvious
by Judith Gould
Beach book of the week
Looking for something light and trashy to round out your summer reading, but something that also tugs seriously at your heart? You might want to try on this latest romantic confection from bestselling author Gould (Rhapsody).
Life seems perfect for chic, confident, 32-year-old Joanna Lawrence. She has a beautiful home on California's Monterey coast, a thriving orchid business and a gorgeous, devoted husband named Josh. But Joanna has a dire secret: She has been diagnosed with inoperable brain cancer. In an ultimate act of selflessness, she locates a young woman, designer April Woodward, with whom she hopes her soon-to-be widowed husband will fall in love. And, obligingly, April and Josh do just that. Meanwhile the Lawrences' financial well-being is threatened when ruthless competitors, aided by Joanna's grasping sister, sabotage the flower stock. Fueled by a speedy (if predictable) plot, delicious Dynasty- style details and some lusty sex scenes that will surprise—peril haps even shock—the earthiest of readers, this yarn delivers. (Dutton, $23.95)
Contributors:
Pam Lambert,
J.D. Reed,
Anne-Marie O'Neill,
Amy Waldman,
Erica Sanders.
by Faye Kellerman
Advertisement
Today's Photos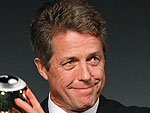 Treat Yourself! 4 Preview Issues
The most buzzed about stars this minute!