Archive Page - 12/1/12 39 years, 2,079 covers and 53,260 stories from PEOPLE magazine's history for you to enjoy
On Newsstands Now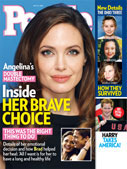 Angelina: Inside Her Brave Choice

New Details on the Ohio Three

Prince Harry Takes America!
Pick up your copy on newsstands
Click here for instant access to the Digital Magazine
People Top 5
LAST UPDATE: Monday May 20, 2013 11:10PM EDT
PEOPLE Top 5 are the most-viewed stories on the site over the past three days, updated every 60 minutes
A Body to Die for
In An Endless Quest to Slim Down, Image-Obsessed Americans Try Surgery, Pills and Starvation—Sometimes with Fatal Results
Instead, on March 17, 1997, Judy Fernandez died following extensive cosmetic surgery, a casualty of the all-too-common pursuit of the perfect body. "The premium for women on physical beauty over intelligence is on the order of 100 to 1," psychologist Dr. Rex Beaber says bluntly. "A woman with an IQ of 180 who is not lovely is likely to marry ugly, be paid modestly well and secretly despise herself until the day she dies. A woman with an IQ of 100 and beauty in the 99th percentile is likely to marry a physician or an investment banker, have a maid and be admired by all her neighbors." Strong words—however, according to the American Society of Plastic Surgeons, their board-certified members treated more than 1 million Americans last year. Liposuction was by far the most popular surgery: More than 230,000 procedures were performed, almost 30,000 of them on men, a 350 percent rise since 1992.
And therein lies a cautionary tale, for Judy Fernandez was no fluke. A 1998 study showed that over the previous four years the fatality rate for liposuctions was one in 5,000. "To put it in perspective, the incidence of death from liposuction is two to three times higher than that of dying from a normal pregnancy," says Dr. Robert del Junco, former president of the California State Medical Board. "Liposuction is the only cosmetic surgery with this level of risk." Most fatalities occur in doctors' offices or unaccredited outpatient clinics, which are not held to the same standards as hospitals, and are generally caused by blood-clotting, complications from anesthesia or errors by practitioners who may be doing cosmetic surgery only as a lucrative sideline.
Indeed, in many states a medical license entitles a doctor to practice any kind of medicine. "Can a psychiatrist take a weekend course and on Monday start doing cosmetic surgery?" asks del Junco, who helped spearhead efforts in California to tighten regulations on outpatient procedures. "The answer is yes."
Of course liposuction is but one potentially fatal manifestation of the cult of thin. According to the National Association of Anorexia Nervosa and Associated Disorders, roughly 7 million American girls and women and 1 million boys and men struggle with eating disorders. The mortality rate from anorexia—estimated between 10 and 20 percent—is the highest of any mental disorder. Plus, there are diet pills that offer another supposedly quick and easy way to lose weight. In August a federal judge approved a $3.75 billion settlement of claims stemming from 9,000 lawsuits against American Home Products, the maker of fenfluramine, part of the diet drug fen-phen, which was pulled from the market in 1997 after a study linked it to heart-valve damage.
In addition, the U.S. Food and Drug Administration is studying the herbal supplement ephedra, a stimulant used for weight loss that some studies have tied to strokes and heart attacks. (In 1994 Congress rendered the FDA essentially powerless to regulate herbal supplements unless the agency conclusively proves them dangerous.)
Horror stories notwithstanding, it is unlikely that Americans will renounce their desire to look good in a bathing suit. "Whenever human beings weigh the risks of something that might give them happiness," says Beaber, "they tend to ignore the risk." On the following pages are the stories of six people who, like so many, were consumed by the battle to lose weight. Three sought help from liposuction, two took pills, one starved herself—and all paid with their lives.
JUDY FERNANDEZ
'The easy way' proved to be deadly
When Cuban émigré Ruben Fernandez met Judy Blum in 1981, he fell fast and hard. "If you look at any of the pictures, it's the smile," he says. "She was just a very bubbly, lighthearted personality. She looked at life through undamaged eyes." Both divorced, with five children between them, the couple lived together for three years, then married in 1984 and built a thriving business refurbishing and reselling electric forklifts. Life was good. Still, at 47, Judy didn't like the signs of age she was seeing in herself. There were more and more new wrinkles, and at just 5'3", she weighed 147 lbs., about 30 more than when she'd met Ruben.
Then she saw a magazine ad for board-certified Irvine, Calif., plastic surgeon Dr. William Earle Matory Jr. "She liked the ad and then the people in his office, who were very friendly," recalls her husband. Judy put down $20,000 and signed up for a face-lift, brow lift and liposuction to her stomach, back, arms and legs.
"Why don't you just go to the gym?" Ruben asked. But Judy was comfortable with cosmetic surgery, having had her breasts enlarged years before. "This is the easy way," she replied. And so at 5:45 a.m. on March 17, 1997, they arrived at Matory's office. Ruben was concerned about the extent of the surgery but says that anesthesiologist Dr. Robert Hoo assured him, "Don't worry, it's within the ballpark." Just before 7, Ruben kissed his wife and left for work. "Honey," she said, "next time you'll see the new me."
As the day wore on, Ruben called several times to check on Judy, and each time, he says, he was told everything was going well. Only later would he learn through medical records that as early as 9 a.m. her blood pressure had dropped sharply. By afternoon her kidneys had shut down. At 5:30 Ruben, having been told Judy was in recovery, arrived to pick her up. An hour later Matory came out. "He looked at me very calmly, very peacefully and said, 'Ruben, the operation was a success. I just have a little concern about volume.' " Judy's blood had been dangerously diluted with several kinds of fluids.
At 8 that evening, Matory said they needed to take her to a hospital, at which point Ruben burst into the operating room and received a horrific shock. "She was dripping fluids from various parts of her body," he says. "She was swollen to about twice her normal size. She was a see-through color, the color of death."
At 10:20 p.m., Matory walked out of the ER at Irvine Medical Center, hands over his face. "Sorry," he told Ruben, "but we lost her." Judy's cardiovascular system had shut down—a consequence, according to medical records, of massive blood loss. Immediately Ruben filed a complaint with the state medical board, which investigated the case and in November 1997 revoked Matory's and Hoo's licenses. Ruben also settled a civil suit with the two doctors for an undisclosed sum. Matory's attorney Lloyd Charton calls his client "a victim," noting that Matory was not the one responsible for monitoring Judy's vital signs. "Should Hoo have spoken up? Absolutely," says Deputy Attorney General Steven Zeigen, who helped prosecute the doctors for the medical board. "But should Matory have said, 'By the way, how much fluid have you put in? We've been doing this for 12 hours'? Damn right."
Today, Ruben Fernandez keeps a gold-framed photo of Judy on his bedroom wall, a constant reminder of the brilliant smile that he will cherish for the rest of his life. "I don't know about that word a lot of people use, 'closure,' " he says. "If someone was part of your life, how do you close it? She'll still be part of me. It's just that I'll carry her in a different spot."
MERRICK RYAN
With so much to live for, she chose instead to die
An auburn-haired beauty from Alpharetta, Ga., who idolized Audrey Hepburn, she graduated with straight As from her private high school, where she was yearbook editor, a soccer player and a violinist. At Bates College in Lewiston, Maine, she excelled academically, cohosted a radio show and was socially active. Then last January, Merrick Ryan killed herself at 19.
What happened? Like so many young women, she began comparing herself to the ultrathin "ideal" equated with chic sophistication and saw herself as inadequate. It started when she spent the summer of 1999 with relatives in New York City. "She'd call and tell us about the women in Manhattan who were all size 2 or 4, and how she felt so fat walking down the sidewalk," says her father, Tom, 48, an executive for a cold-storage firm. That summer, Merrick lost 10 lbs. from her 5'7", 128-lb. frame and said, "I'm getting prettier, aren't I?"
But at some point she was no longer the normal girl longing for a new figure. She grew psychologically obsessed with her weight and trapped in the self-loathing and despair of anorexia. When her parents visited her at school in October, her weight had dropped to 88 lbs. "She was a mess, a human skeleton," says her mother, Helen, 44, a speech pathologist. Merrick saw a succession of specialists and in the course of therapy revealed that she had been the victim of a date rape during her New York stay. Describing the trauma to her mother, she cried, "Didn't he think I was pretty enough?"
After stays in two eating-disorder clinics, Merrick improved but then faltered. On the afternoon of Jan. 7, she promised her therapist and her parents that she would fight the urge to starve herself. But that night she discovered a bottle of antidepressants her mother kept hidden in a closet. When Helen found her at 7 a.m., Merrick was on the floor, barely conscious. She was rushed to the hospital, where her stomach was pumped. "I just can't live like this anymore," she told her mother, slipping in and out of consciousness. "I don't want to be fat. I want to die."
Hours later a series of seizures left her brain-dead, and she was taken off life support. Forty minutes later, as her father, sister Sara, 17, and grandparents stood by weeping, Merrick Ryan slipped away and died in her mother's arms. "Our daughter was sick," says Tom. "But part of what did her in was living in a society that is constantly telling adolescents that they need to starve themselves in order to look good. It has got to stop."
DOUG ALTSCHWAGER
A loving husband lost for the sake of a few pounds
It was the second time around for both when Doug and Connie Altschwager wed in October 1995. They were in their 40s but behaved like a couple of kids in the throes of first love. "He'd play kissy-face in restaurants," says Connie, 51, executive director of a trade association near her Grand Rapids home. "People would come up and say, 'You two are so cute.' I thought, 'This is too good to be true.' "
Tragically, their lives soon changed forever. A 6'1" 240-pounder who worked out regularly, Doug, managing partner of several manufactured-home communities, was frustrated because he couldn't lose weight and worried that it would endanger his health. For her part, Connie wanted to shave a little off her hips. So they consulted Dr. Randall Telman, 54, a local board-certified plastic surgeon, about liposuction. Connie concedes now that she and Doug should have read up on the risks: "We spent more time researching an SUV we bought six months earlier."
The couple planned to have their surgeries on the same day in January 1998, but a business meeting forced Connie to postpone. Doug, 50, kept his appointment and that morning wrote in his journal, "Please don't let anything happen to me today."
Doug was groggy after the operation, which didn't seem surprising, and when he arrived home Connie had to help him to the bathroom, where he began gagging. She got him to the couch and he fell asleep, snoring lightly while she stroked his hair. Then he fell silent. "I looked for his pulse," she says. "I couldn't find it." Doug was rushed to Butterworth Hospital and hooked up to life support, but to no avail. "He was brain-dead," says Connie, who waited a day before disconnecting the device so that their five children by previous marriages could say their farewells.
The cause of death was listed as fat clots due to liposuction. "My heart goes out to Connie," says Dr. Telman, who declined to discuss the case and whom Connie sued for wrongful death, the first suit against him in the 18 years he has been performing liposuction. (The case was settled out of court in May, and the terms of the settlement are confidential.) "Whatever inspired us to think it was okay to stick tubes in our bodies and suck the fat out?" Connie asks now. "When you think about it, it's so barbaric."
RHONDA DOBER
Despite her husband's pleas, she tried liposuction
Three years ago, John Dober thought he had life pretty well conquered. His third wife, Rhonda, "was a blonde, blue-eyed, beautiful woman," says Dober, 40, then of Lake Stevens, Wash. "I lived in Small Town USA. Brand-new car in the driveway, a nice house. All of a sudden, boom, gone."
The devastating end came on Dec. 31, 1997, when Rhonda, 33, died from complications of liposuction. The 5'7" homemaker weighed 220 lbs. and longed for the smaller shape she'd had in 1986 when she met John, then a manager at her parents' used-car lot in Las Vegas. "I have pictures of her in a bikini that would knock out
Playboy
," he says. Rhonda was married with three children at the time, but she later divorced. She and Dober wed in 1992, moved to Lake Stevens two years later and in 1995 had daughter Jhonna.
Rhonda's weight became problematic after pregnancy. Unable to take off the pounds, she grew desperate and as a last resort decided on liposuction over her husband's adamant protests. "It was a major argument," he says. "I said, 'This isn't healthy.' " But during a trip home to Vegas to throw a surprise 40th-anniversary party for her parents, Rhonda made a $7,000 payment to board-certified plastic surgeon Dr. William Wyatt. On Christmas Day 1997 she gave her "fat clothes" to her mother, Sandra Sass, 59, saying she'd no longer need them. The next morning, she entered St. Rose Dominican Hospital's outpatient surgery center in Henderson, Nev.
According to medical records, Wyatt removed between six and seven liters of fat from Dober's arms, thighs, knees, back, abdomen and buttocks—a high volume. Emerging from the operation, Rhonda, in agonizing pain, was sent to the hospital for observation. "Why did I do this?" she asked her mother. On Dec. 28 she was released, but at home she felt dizzy and experienced shortness of breath. Then she stopped breathing altogether.
Her daughter Lauri, then 15, performed CPR until paramedics arrived and took Rhonda to Las Vegas's Desert Springs Hospital. But the following evening doctors broke the news that there was no hope, and on New Year's Eve Rhonda's family agreed to disconnect life support. An autopsy revealed that surgery had caused severe brain swelling and a fatal lack of oxygen. Later that year her family sued, receiving a substantial settlement from Wyatt's insurer. Dober now lives with his daughter in Tampa but is still trying to get over Rhonda, whom he considers the love of his life. "I tried to get away," he says. "But I still haven't escaped."
LISA PETERSON
She had faith in a suspect herbal supplement
Her husband, John, by her side, Linda Peterson gently rocks Meeka, the mixed-breed shih tzu that belonged to their only child, Lisa, who died last fall at 26. "We think Meeka may have some of Lisa's spirit," says Linda, 52, a high school science teacher who lives in Ozona, Fla. A marketing specialist for a brokerage firm, her 5'9" daughter had a fondness for Picasso prints and Victoria's Secret catalogs—as well as burritos, chocolate and Brie, which helped push her weight to 180 lbs. In 1997 Lisa resolved to reduce. "My family is grossly overweight," says John, 52, a mattress distributor. "I think it concerned her." Adds Linda: "The self-image wasn't there. Being thin is important in business or meeting men."
Lisa devoted herself to a Jenny Craig diet and the gym. The regimen seemed to work. She lost 35 lbs. and in 1998 started dating. "I think she was starting to feel good about herself," says Linda. But in the weeks before her death, Lisa, fearful that she would regain the weight, also began to take an herbal supplement containing the chemical ephedrine, an amphetamine-like stimulant.
When Lisa's parents called her Clearwater, Fla., condo last Nov. 30, there was no answer. Worried, John drove over at about 10 p.m. "The TV was on, and Meeka was barking," he says. "I thought she was in the shower." So he went home. But when Lisa didn't show up for work the next day, John returned to find Meeka standing guard over his daughter, who lay dead on the floor, a banana in her hand, a cup of tea on the stove and blood running from her mouth. An autopsy showed that Lisa's left coronary artery had collapsed. Found in her system was ephedrine, from a supplement containing ephedra, a federally unregulated herb about which the FDA has received hundreds of reports of illness and which has been linked to more than a dozen deaths.
"There is nothing in this case that could lead you to believe ephedrine was related to Lisa's death," says Wes Seigner of the Ephedra Education Council, an herbal-supplement interest group. He maintains that several experts have reviewed Lisa's autopsy and come to the same conclusion. But after consulting dozens of cardiologists, the Petersons are considering legal action. "It looks like a pretty strong case," says Christopher Grell, their attorney, noting that ephedrine is known to induce hypertension, which he says can cause the heart condition that took Lisa's life. "We know something killed her," Linda says. "To try to find some reason is a way of working through it."
GAYLENE BONTRAGER
Her family believes fen-phen killed her
When Gaylene Bontrager of Spokane, Wash., began taking the diet drug fen-phen in 1996, her mother, a retired nurse, knew about the possible side effects, including hypertension. But she never mentioned her concerns. "You had to be extremely careful about what you said to her," Nan Baker, 72, says of her daughter. "If you told her not to do something, that usually made her all that much more likely to do it."
The consequences were lethal. In January 1997 Bontrager died at 45 after surgery to repair heart damage her family believes was brought on by the drug. A yo-yo dieter, Bontrager had tried weight-loss plans touted in health magazines, joined Weight Watchers and taken over-the-counter appetite suppressants. Nothing had a lasting effect, however, and in April 1996 the 5'8" teacher's aide tipped the scales at 225 lbs. That was when her doctor wrote Bontrager a prescription for the combined drugs fenfluramine and phentermine, known as fen-phen.
"It was working well and really seemed to curb her appetite," says her husband, Steve, 49, owner of a cabinet shop. "In just a couple of months she'd lost 25 or 30 pounds. But she'd done that 100 times in our marriage." By the fall of 1996 Gaylene, a softball player, bowler and swimmer who had rarely suffered so much as a cold, fell tired and weak. Soon she had trouble walking the halls at school.
In steady decline, Gaylene was diagnosed with heart-valve abnormalities. On Jan. 11, 1997, she underwent valve-replacement surgery, but it was too late. In addition to Steve she left behind two sons, Christopher, now 24, and Brian, 20. "This is a good woman who, because of diet pills, missed seeing her youngest son graduate from high school," says Steve. "Both boys will probably be married in the next couple years, and she won't be there."
In 1997 he and his sons filed suit against American Home Products for promoting fen-phen without advertising its dangers, but they dropped the suit earlier this year. They then joined the class-action suit against the drug manufacturer that was settled in August. "The only reason I dropped our suit was because I thought nothing would come of our individual claim," says Steve. "Still, we need to stand up and be heard."
Written by: Richard Jerome
Reported by: Lyndon Stambler, Mary Boone, Giovanna Breu, Jeanne DeQuine, Todd Foster, John Hannah, Kate Klise, Kimberley McGee, Jane Sims Podesta, Jill Sieder and Linda Trischitta
Contributors:
Lyndon Stambler,
Mary Boone,
Giovanna Breu,
Jeanne Dequine,
Todd Foster,
John Hannah,
Kate Klise,
Kimberley Mcgee,
Jane Sims Podesta,
Jill Sieder,
Linda Trischitta.
Advertisement
Treat Yourself! 4 Preview Issues
The most buzzed about stars this minute!