People Top 5
LAST UPDATE: Tuesday February 10, 2015 01:10PM EST
PEOPLE Top 5 are the most-viewed stories on the site over the past three days, updated every 60 minutes
Alive! Again
Peter Frampton, the Angelic Guitar Slinger Behind the Monster '70s Album Frampton Comes Alive!, Looks Back in Wonder at the Long, Strange Trip It's Been
Lately that anonymity has been in retreat. A cameo appearance in the coming-of-age saga Almost Famous has helped. So has slowly rebuilding a career that nowadays has him playing to packed concert halls. A new album, Live in Detroit, his 18th, may keep the mojo going; so may a second helping of Frampton Comes Alive!, which will be re-released in January. "It was almost lucky when my hair started to leave me," says the rock veteran, famous at his apex for silken locks and tight satin pants, "because if you can take me like this, then you're really here for the music."
It was the music that led writer-director Cameron Crowe to call on his old pal for Almost Famous. "Peter was the perfect guy to have around," says Crowe. "He showed us the noncliched version of a rock star." Frampton not only wrote two songs for the movie's soundtrack, he also gave actor Billy Crudup, who plays guitarist Russell Hammond, a crash course on the moves and mien of a rock idol. "In a strange but wonderful way," says Frampton, "it was like reliving the '70s."
That's something he avoided doing until recently—out of concern for his children. "When I thought they could understand," he says, "I told them, 'I drank. Too much sometimes. I did smoke pot. But it was the '70s. It was what we all went through.' " But few had Frampton's gift. "He does these amazing solos," says former Rolling Stones bassist Bill Wyman, an old friend, "and your eyes are just agog."
Frampton's talent was apparent early on. As a boy growing up in Beckenham, England, the older of two sons of a high school art teacher and his secretary wife, he studied classical guitar. But he preferred rock and jamming with schoolmate David Jones, now known as David Bowie. By his early teens Frampton had caught Wyman's eye. "He used to come knocking at my door to play guitar," Wyman recalls. "I took him to clubs. But it was like Cinderella. I had to get him home by 11."
At 16 Frampton left school to join the Herd, a rock group, and quickly gained attention for his pretty-boy looks. He downplayed those looks and honed his guitar skills with the band Humble Pie before going solo in 1971. He cut four albums, and then Frampton Comes Alive! rocketed his life into overdrive. Alive! stayed atop Billboard charts for nearly five months, selling a record 16 million copies, the most of any live album to date. "My life exploded," says Frampton, who was 26 at the time. Within weeks he and his band went from making $100 a week to filling stadiums. Livin' the dream, Frampton bought a Rolls-Royce, a plane and homes in L.A. and on Long Island. "We should've paced our success a little better," he says, but adds, "I enjoyed every minute of it."
Then, as in so many rock careers, came the banana peel. Just as his four-year marriage to high school sweetheart Mary Lovett came to an end, Frampton agreed to pose shirtless on the cover of Rolling Stone (as well as of PEOPLE). "People see a picture like that and say, 'That's not a serious musician,' " Frampton acknowledges. Critics also ripped his follow-up album, 1977's I'm in You, with its cover of Frampton swathed in satin. "I looked like Little Lord Fauntleroy," he says now. And his starring role in 1978's ill-fated Sgt. Pepper's Lonely Hearts Club Band movie didn't help.
That same year while vacationing in the Bahamas, Frampton fell asleep behind the wheel, crashed a car and broke several ribs, both feet, both hands and his right arm. During his recuperation he learned that his savings had dwindled due to poor financial management.
By 1986, Frampton was living in L.A. That year he got help from old pal David Bowie, who invited him to play on his Glass Spider tour. "He gave me a brotherly leg up," says Frampton, who hit rock bottom after the tour ended in '87. Living off dwindling record royalties and sporadic work as a session guitarist, Frampton was "on the breadline," he says. "I had a couple of very difficult years."
His luck shifted in 1992, when he began touring again. That year he also rekindled his relationship with Tina Elfers, now 41, an office manager he met 13 years earlier, and soon ended his failing 10-year marriage to second wife Barbara Gold. "What won me over is his tenderness, his romantic side," says Tina, who wed Frampton in '96. They now live in a sprawling brick home in Cincinnati, Tina's hometown, with daughter Mia, 4. Frampton's children with Gold—Julian, 12, and Jade, 17—visit during school breaks, as does Tiffany, 18, from Tina's previous marriage.
With family as his top priority " now, Frampton's attitude toward his tumultuous career is refreshingly self-deprecating. He appeared on The Simpsons as a "crusty old rocker" and, in a nod to his glory days, recently trotted onstage in Memphis in a blond wig, tight satin pants and an unbuttoned shirt. "A million flashes went off," he said. His enduring appeal is no surprise to longtime observers like Crowe. "There are so many doomed portraits of rock stars," he says. "But Peter didn't self-destruct. He took all the licks, but he's the greatest clock in town. His music just keeps ticking."
Joanne Fowler
Kate Klise in Cincinnati
Contributors:
Kate Klise.
What a difference a few decades and a mop of golden curls make. Crowned Rolling Stone artist of the year in 1976, guitarist Peter Frampton broke records with his megaselling Frampton Comes Alive! With rabid fans holding him virtual hostage at his 53-acre Westchester, N.Y., estate, his life became a blur of bodyguards, limos and private jets. So it was a far different scene that greeted the now-balding 50-year-old as he walked onstage one night last year during a six-month tour and most of the crew mistook him for just another roadie. "They were still waiting for Peter Frampton to come on," he says, laughing. "My anonymity was in full scream."
Advertisement
Today's Photos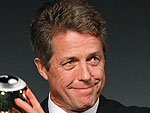 Treat Yourself! 4 Preview Issues
The most buzzed about stars this minute!