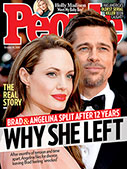 This Week's Issue!
People Top 5
LAST UPDATE: Tuesday February 10, 2015 01:10PM EST
PEOPLE Top 5 are the most-viewed stories on the site over the past three days, updated every 60 minutes
Bridge Builder
James Perkins Jr. Takes Over as the First Black Mayor of Selma, Alabama, Scene of the Bloody March He Has Never Forgotten
That day became known as Bloody Sunday, a pivotal moment in civil rights history. It was also a day that James Perkins Jr. will never forget—the day he saw the price that people are sometimes forced to pay for sticking up for what is right. He knew that he would be a part of that effort someday. Now ht he has his chance. On Sept. 12 Perkins, 47, unseated Joe Smitherman, the onetime segregationist who since 1964 had been mayor of Selma, where 65 percent of the city's 24,000 residents are black. "Blacks have won offices across the South, but none is as important a symbol as this one," says historian Frank Sikora. "Joe Smitherman had Martin Luther King arrested."
To cement his support over the years, Smitherman had abandoned racist politics, named blacks to head nine of 13 city departments and improved services to black residents, even though Selma remained an economic backwater. But Perkins, in his third attempt to supplant Smitherman, built a power base by registering 4,000 new voters and stressing racial reconciliation. An independent "Joe's Gotta Go" campaign and a heavy turnout pushed him over the top.
One of three children of Etta Smith Perkins and her husband, James Sr., an elementary school principal, Perkins's interest in community service started early. "He was very active in leadership roles growing up," says Sheyann Webb-Christburg, a friend who was jailed at age 9 on Bloody Sunday. As a teenager in 1970 he was among the first 50 black youths to attend Selma's previously all-white Parrish High. "It was tough being a guinea pig," Perkins recalls of the taunts and isolation the black students endured.
Perkins obtained a bachelor's degree in math from Alabama A&M University and did graduate study at Auburn University before becoming a computer programmer and systems analyst for Caterpillar Tractor in Illinois. Returning to Selma in 1980, he started a computer consulting business and taught math and computer sciences at Selma University. At a friend's house he met fellow teacher Cynthia Page. "Perk started talking about civil rights and family issues, all sorts of things," recalls Cynthia, 42. "He got so fired up." They married in 1984 and have three children: twins Tiffini Monique and Justin Rashad, 13, and Jarius Renard, 10. (Perkins also has a son, Reginald, 18, from a previous relationship.)
In 1984 Perkins's ability to captivate an audience landed him the job of campaign manager for Rev. F.D. Reese, the first black candidate to seriously appeal to Selma's black voters. Dejected by Reese's loss and worn down by the racial divide, Perkins moved the family first to Maryland, then to Birmingham. "I didn't want to rear my children in that environment," he says.
His business was doing well, so Cynthia was shocked in 1991 when her husband announced that he wanted to return to Selma to run for mayor. "I said, 'Have you lost your mind?' " she recalls. Then Perkins called his father and had him conduct a straw poll on his candidacy. "He said, 'Son, I'm not sure what's going on, but it's 50-to-l in support of you,' " Perkins says. "I told him it was something I just had to do."
Yet he lost in 1992 and again in 1996, both close elections marred by charges of voting fraud and intimidation. (In this year's election, firebombs destroyed two cars near his campaign headquarters.) Between elections he stayed active in community affairs, serving as a math tutor for elementary students, a Little League coach and cofounder of a foundation working to memorialize the path of the 1960s marches. He also planned his next campaign.
Taking office Oct. 2, Perkins vowed that his work has just begun. He plans to create jobs—the county's jobless rate is near 12 percent—and restore residents' trust in a city hall scarred by a recent financial scandal. "People used to ask me why I would ever want to run for mayor," he says. "Now they say, 'Why don't you run for Senate?' For now, just let me be mayor."
Florestine Purnell
Lori Rozsa and Nancy Wilstach in Selma
Contributors:
Lori Rozsa,
Nancy Wilstach.
The day his parents kept him home from the march, James Perkins Jr. was a picture of frustration. The 12-year-old, who had marched in previous protests in his hometown of Selma, Ala., had a feeling that this one, on March 7, 1965, would be the most important yet in support of voting rights for blacks. "I cried and cried that I wanted to go," says Perkins, "but they said no." Later that day his mother, a nurse, was called in from maternity leave as protesters streamed into Good Samaritan Hospital. They had been met on the Edmund Pettus Bridge by club-swinging mounted police. "I ran out the back door and down to Brown Chapel church, where the marchers were reconvening," Perkins recalls. "I saw them, tear gas in their eyes, beaten up."
Advertisement
Treat Yourself! 4 Preview Issues
The most buzzed about stars this minute!