People Top 5
LAST UPDATE: Tuesday February 10, 2015 01:10PM EST
PEOPLE Top 5 are the most-viewed stories on the site over the past three days, updated every 60 minutes
Brad Pitt
Those Eyes, Those Abs, That Ring! Who Knew Settling Down Could Be This Exciting? So Nice We Crowned Him Twice, This Poster Boy for Manhood in the New Millennium Is Older, Wiser—and Still Seducing with Manners and Magnetism
Brad Pitt
, who is so polite that he is loath to refuse anyone a simple request. Especially anyone named
Jennifer Aniston
. On a visit with his family in his hometown of Springfield, Mo., last Christmas, Pitt, 36, and his father, Bill, 59, returned from running errands to find the ladies—Aniston, 31, Pitt's mom, Jane, 60, and his sister Julie, 31—hunkered down at his parents' home for holiday pedicures. "He kept offering to get Jennifer something to drink and checking to make sure she was okay," says Debra Bradley, a local beautician whom Aniston hired for the private day of pampering. Still, there is a limit. "She kept trying to talk Brad into getting his toenails painted," says Bradley. "He wouldn't. He said he wanted to keep his 'manly feet.' "
Like he needs to worry. The fact is, in the five years since we first ordained
Brad Pitt
the Sexiest Man Alive—and despite a string of recent box office disappointments such as
The Devil's Own
and last year's
Fight Club
, for which he tried to dim his beauty by shaving his head and chipping a tooth—the actor's appeal has only grown stronger. Witness the rush of fans in August at the London premiere of Snatch, a jewel-heist caper due to hit the States early next year. The crowd was so overcome by Pitt's friendly handshakes that police threatened to arrest him if he did not hurry along the red carpet and get into the theater.
But it was a walk down another aisle that truly riveted admirers this year. On July 29, surrounded by some 200 guests, 50,000 flowers, four bands, a gospel choir and fireworks, the man who once wooed a high school crush by writing "Hi" in a heart in the snow outside her classroom window made the ultimate romantic move: He took himself off the market. And according to friends and fans, in his role as Adoring Husband, this Sexiest Man Alive has never been hotter.
"Marrying Jennifer was the pinnacle for him," says Marcia Gay Harden, who costarred with Pitt in 1998's
Meet Joe Black
. "Sexiness isn't just about the single bachelor and good looks. There's something gorgeous about his commitment."
No argument from the committed couple. Though careful to guard their romance from the public, Pitt and Aniston were every bit the cuddly newlyweds among friends such as David Spade and Melissa Etheridge at a fund-raiser for Bill and Hillary Clinton in L.A. in August; shivering in her lavender pashmina shawl while waiting for a midnight alfresco dinner, Aniston warmed herself in Pitt's bear hug. He was equally adoring at the Oscars in March and in September at the Emmy Awards, which the Oscar-" nominee (for 1995's
12 Monkeys
) proudly attended on the arm of his TV-star wife. And last year, while on a romantic getaway at Acapulco's swank Villa Alejandra, the two were seen "kissing everywhere," says local gardener Enrique Martinez.
The setting in England, where Pitt filmed
Snatch
last fall, was considerably grittier. To play the role of a bare-knuckled Gypsy boxer, he spent several afternoons punching bags in a dingy gym. And as one crew member says, "He sometimes didn't shower for days." That didn't bother Aniston, who flew in from L.A. between
Friends
tapings. "She turned up looking, as always, like the most beautiful thing on the planet," says another
Snatch
crew member. "The contrast between her beauty and Brad, who was four feet deep in mud with his nose made up to look broken and his fingernails torn, could not have been greater. As soon as they saw each other their faces lit up. They kissed each other really tenderly. It was obvious they were madly in love."
If countless others are also in love with the 6-ft. Pitt, it's not because he courts the attention. "He's not at all self-involved," says his
Fight Club
costar Helena Bonham Carter, whose heard-but-not-seen love scenes with Pitt involved mostly "jumping up and down on the bed like we were 5-year-olds. He's just a kind and easy and chivalrous gentleman. I know it sounds cliché, but what makes him really attractive is internal—his humor and caring and curiosity."
Pitt's curiosity doesn't stop with his career. Since college he has nurtured a passion for Arts and Crafts design and architecture of the early 1900s. On one occasion, after a long day's shoot, he labored over a pad of tracing paper, sketching the floor plan of the 85-year-old, 20-room Craftsman-style L.A. house he bought from campy movie vampiress Elvira for $1.7 million in 1994 and which he and Aniston are restoring. (Until the project is complete, the couple and their four dogs are living in temporary digs in the area.) Pitt's enthusiasm has evidently rubbed off on Aniston. For his 35th birthday, she arranged a surprise weekend stay at a privately owned Northern California home designed by the famous Arts and Crafts team of Greene & Greene. "Brad seems thrilled with the way Jennifer actively shares this interest of his," says architect Randell L. Makinson, who is helping the couple restore their home. "She is very supportive."
What's not to support? As folks in Springfield will tell you, she couldn't have landed a nicer guy. At Horace Mann Elementary School, "sweet little Brad" was remarkable not only for his "big old blue eyes and dimples," says his third grade teacher, Jan Woodland, but also for his polite reserve. "He didn't have to show off or be a smart aleck to stand out," says Woodland, now retired. "He was shy and laid-back, the kind of kid you wanted your little girls to like." They sure did. At Kickapoo High School, where Pitt was the student body's public relations officer, "he always had lots of dates," says former classmate Mark Swadley, now the minister of music at Little Flock Baptist Church in Shepherdsville, Ky. "He was a good leader, well liked in the school cabinet, where he promoted all the dances and spirit days." But in other areas Pitt remained less forceful. Although he acted in plays both in school and at the South Haven Baptist Church, where his family (including brother Doug, 34, a computer-company owner) worshipped, he never had a lead role. Says the family's former pastor (and Mark's father), Rev. Paul Swadley: "He didn't steal the spotlight."
Perhaps because he intended to earn it. In 1986, two credits shy of a journalism degree from the University of Missouri in Columbia, the Sigma Chi fraternity boy packed up his Nissan and headed for Hollywood, where he enrolled at Roy London's acting studio. "He had more pounds on him then, and he wasn't as good-looking," recalls Ivana Chubbuck, then an associate instructor. "But there was definitely something about him that was special." Indeed, during one of his first scenes, she recalls, Pitt had to play a naive young man having a picnic with a woman he had a crush on. "He was standing up offering her some wine and twisting the stems in a very sexual manner," says Chubbuck, who now runs her own acting school in L.A. "It was all subconscious. He was very unaware of what he had done, and when I told him, he just blushed."
Not surprisingly, his female classmates were eager to work with him. But, Chubbuck says, Pitt was "a loner in class" and had little interest in extracurricular fun. "Brad is a hard, hard worker," she says. "When his roommates would go off to parties, he'd be home working on a scene. Women were never a priority with him. I used to say, 'Isn't there someone you're interested in?' And he'd say, 'No, there's no one.' He was so unaware of that part of who he was."
In 1987, in between making money delivering refrigerators, dressing in a chicken costume outside an El Polio Loco restaurant and chauffeuring strip-o-gram dancers, Pitt landed a few acting jobs: He made his debut on
Dallas
, playing the boyfriend of Priscilla Presley's daughter, and later appeared on 2
1 Jump Street, thirtysomething
and, as actress Tracey Gold will never forget, ABC's top-rated
Growing Pains
.
"I saw his picture in the casting office and I said, 'You have to hire him,' " recalls Gold, now 31 and a mother of two. "It was just like, Hell-o, Hell-o, my God! If you hire anybody else, I will not do that episode." Gold, then 17, was doing more than throwing a star tantrum; she was preparing for her first onscreen kiss. "I remember Brad was very nervous about doing this in front of my mom," she says. "He said to her at the run-through, 'Are you sure this is okay?' I was dying! My mom, she still talks about it." While Gold never forgot Pitt's touch, she was equally taken by his grace. "He was probably the only guest star who ever sent us a card and a basket of goodies—muffins and cookies and things—to thank us," she says. "He was a good guy."
But Pitt was not all work and no play. The same year he took Gold's breath away, he happened upon an aspiring 18-year-old actress from Little Rock named Jitka Pohlodek working behind the Alamo rental-car counter at Los Angeles International airport. "He tracked me down and called me at home to ask me out," recalls Pohlodek, 31. After dinner and a movie (
Good Morning, Vietnam
), she says, "he just took me home. It was exactly the same the second time we went out. There was no kiss until the third date. He was very proper and sweet." The romance lasted less than a year. Pitt went on to date a succession of co-stars, including Robin Givens, whom he met in 1988 on the sitcom
Head of the Class
, and Juliette Lewis, with whom he starred in the 1990 TV movie
Too Young to Die
? and in the 1993 film
Kalifornia
.
Pitt and Lewis shared a home for three years. When they broke up, he rekindled his romance with Pohlodek. Within months the two were living together. Although his performances in 199l's
Thelma & Louise
and in 1992's
A River Runs Through It
transformed Pitt from a struggling actor to a rising star, "we didn't lead a typical Hollywood life," says Pohlodek. "We just hung out at home and watched TV and played with the pets." Although the romance ended for good in 1994, Pohlodek still considers Pitt a "good, good friend. I don't know if people realize what a down-to-earth person Brad is. Does he pick up the check on dates? Of course. Open doors for women? Of course. But he is also a very sexy man, very romantic. I'm not going to go there except to say that he was. Very."
Just how romantic, a 22-year-old
Gwyneth Paltrow
was about to find out. The two met on the set of the grisly 1995 thriller
Seven
—and fell for each other hard. When he accepted the Golden Globe Award for best supporting actor for 12 Monkeys, he called her "my angel, the love of my life." He even designed her engagement ring—but some six months after proposing to "Gwynnie" in December of 1996, the two called it off. Neither offered a public explanation. "This is just the real world, and I'm growing up," he later told
Premiere
. "Life is tough and it's crooked, but it's pretty fantastic."
But tough and crooked was then. Since meeting Aniston on a date brokered by their reps early in 1998, fantastic clearly has the upper hand. As Pitt told
Rolling Stone
last year, "She's complicated, she's wise, she's fair and she has great empathy for others...and she's just so cool." As far as friends can tell, there is only one real problem for the couple who, as an associate put it, already "finish each other's sentences." Between her $750,000-an-episode gig on the L.A.-based
Friends
and his $20 million-per-picture movie career, they have to speak too often only by cell phone. This past summer, after five weeks of filming
The Mexican
(due out in early spring) with
Julia Roberts
in remote Real de Catorce, producer Lawrence Bender says, "he was like, 'I gotta get back and see my girl.' They're just lovebirds," he adds. "There's nothing else you can say." Well, almost nothing else. Not long ago, Marcia Gay Harden saw her
Meet Joe Black
pal with Aniston at an L.A. restaurant. "I'd had a baby and they had to see the pictures," she says. As Aniston tells this month's British
Elle
of her own maternal urges, "Brad has said to me, 'Listen, I'm ready now. But I'll wait.'...If everything falls as it has done in the past, when the time's right it will just present itself." Harden, for one, is looking forward to that day. "I can't wait," she says, "to see one of their little babies."
Karen S. Schneider
Julie Jordan and Pamela Warrick in Los Angeles, Kate Klise in Springfield, Liz Corcoran, Caris Davis and York Membery in London
Contributors:
Julie Jordan,
Pamela Warrick,
Kate Klise,
Liz Corcoran,
Caris Davis.
Advertisement
Today's Photos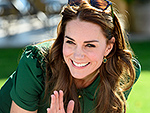 Treat Yourself! 4 Preview Issues
The most buzzed about stars this minute!