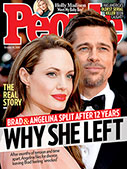 This Week's Issue!
People Top 5
LAST UPDATE: Tuesday February 10, 2015 01:10PM EST
PEOPLE Top 5 are the most-viewed stories on the site over the past three days, updated every 60 minutes
Picks and Pans: Pages
Worth a Look


From World War II casseroles your grandma used to make to old-time African-American gumbos, this season's cookbooks wallow in nostalgia for a simpler time. Amateur chef Max Alexander sampled the fare for our annual roundup.

by Isaac Hayes

Long before he was Black Moses or the voice of Chef on South Park, Isaac Hayes was a poor farm boy who was terrified by his first encounter with a flush toilet (at age 7), "wondering if something was going to reach up and get me." That's an unusual digression in a cookbook, but this is an offbeat collection of life stories and recipes. Besides his own fare, like Isaac's roasted crispy chick and "hot buttered" fried creamed corn, Hayes calls on his celebrity friends for help. But there's not much to John Travolta's hamburger royale with cheese (his special sauce is Russian dressing). And a recipe for Chef's South Park specialty, chocolate salty balls, is pure gimmickry. (Putnam, $27.95)

Bottom Line: Thin fillet of soul

by Richard Ruben

With farmer's markets thriving across America, cookbooks keyed to the local-food trend are sprouting like beans in May. Because crops vary from region to region (that's the point), the books tend to be impressionistic. Ruben's effort is no exception, although such pleasing recipes as yellow gazpacho and sweet potato soufflé make good use of market staples. Don't expect insight on agriculture: Ruben is a chef, not a farmer, and his prose is imprecise. Green tomatoes are usually harvested in the fall (not spring, as he suggests), when frost kills the vines. (Lyons, $22.95)

Bottom Line: Crop-shopping made easy

by Joanne Lamb Hayes

Long live goulash! Let's hear it for giant cheese hot dogs! No wonder we won the war! This look back at recipes from the World War II home front will evoke memories for those old enough to call pasta "noodles."

The author, a food historian, traces the origins of dishes such as chop suey, an exotic wartime treat from China—our ally. For emergency steak, mix ground beef with cereal, then shape it like a T-bone. And not just the enemy ate sauerkraut: Croquettes made of the plentiful pickled cabbage adorned many a Yank table during the war. (St. Martin's, $27.95)

Bottom Line: Our finest hour, with flour

by Aglaia Kremezi

Aglaia Kremezi won a Julia Child Award for her last book, 1993's The Foods of Greece. Now she sets sail for the country's fabled archipelagos—dozens of enchanting islands, each with its own distinctive cuisine. A succession of conquerors—from Venetians to Turks to mainland Greeks—shaped the island food, and Kremezi brings solid historical perspective to every recipe. She also includes helpful information on finding Greek products in stores nationwide and online. Kremezi's festive pork, currant and pistachio pie won't exactly transport you to Crete, but it will definitely make you wish you were there. (Houghton Mifflin, $35)

Bottom Line: Passport for the adventurous palate

by Su-Mei Yu

When most Americans think Thai food, they think restaurants. But Su-Mei Yu says the home-cooked stuff is better—and with key ingredients like fish sauce and lemongrass available in most American cities, it's not that hard to make. Yu owns the acclaimed Thai restaurant Saffron in San Diego, but at the end of a long day she likes to go home and crack a few cold ones—coconuts, that is. The milk (extracted from the coconut meat) is the basis for many Thai sauces and delectable dishes like chicken coconut cream soup. Yu shows you how to make your own in a food processor. (Morrow, $30)

Bottom Line: Thai to die for

by Mario Batali

Italians are big on holidays—and you would feel pretty big, too, after a Christmas Eve feast of three different pastas and seven fish dishes. New York City restaurateur (Babbo) and Food Network chef Mario Batali draws on travel and his own family's traditional recipes for these festive menus—everything from aperitifs like blood orange bellinis to the final walnut tart. Seafood selections such as sea bass ravioli with marjoram and potatoes are at the heart of this book, which includes full-page color photos of most of the dishes as well as Christmas scenes from around Italy. Batali is American, so the Felliniesque photos of him in Italy—hanging around green markets, riding a Vespa—seem a trifle contrived. But he knows Italian food. If you survive the sumptuous Christmas Eve menu, you can look forward to Christmas Day's baked crepes stuffed with cheese, turkey stuffed with chestnuts and prunes, and crisp almond rings. We're stuffed just thinking about it. (Clarkson Potter, $23)

Bottom Line: You can always diet after New Year's

by Maggie Glezer

Bread never looked so good as in this big, artsy cookbook, which highlights such gourmet bakers as Acme Bread Company in Berkeley, Calif., and adapts their recipes for home cooks. Author Glezer leaves nothing to chance, even touring experimental fields in Kansas with a wheat geneticist. Recipes are constructed with nuclear precision, but you're about as likely to try many of these at home—a sourdough cake that takes 33 hours?—as build a castle from a comic book. Enjoy the pictures. (Artisan, $40)

Bottom Line: More than you knead

>COOKIES UNLIMITED Nick Malgieri Baking cookies is a great way to get kids involved in the kitchen. In his fourth dessert book, sweet-tooth savant Malgieri offers a jarful of goodies, from classics like chocolate chip to his own creation, Sicilian fig pinwheels. (HarperCollins, $35)

THINK LIKE A CHEF Tom Colicchio Manhattan's Gramercy Tavern is a mecca for foodies, so chef Colicchio's first book is an event—a cookbook full of wisdom on how to escape the tyranny of recipes by learning to use complementary ingredients. (Clarkson Potter, $37.50)

THE MODERN VEGETARIAN KITCHEN Peter Berley Taking a somewhat severe tone, Berley addresses everything from the feng shui of your counter to the quality of your sponges—but his recipes are odd and elegant. Try hiziki caviar, made with a type of seaweed. (ReganBooks, $35)

THE HISTORICAL COOKBOOK OF THE AMERICAN NEGRO Compiled by the National Council of Negro Women This joyful reissue of down-home recipes brings back curiosities like mugwump in a hole (beef baked in batter) and Harriet Tubman's corn bread, plus a larder of stories and photos. (Beacon, $20)


Kitchen Medley
Advertisement
Treat Yourself! 4 Preview Issues
The most buzzed about stars this minute!