People Top 5
LAST UPDATE: Tuesday February 10, 2015 01:10PM EST
PEOPLE Top 5 are the most-viewed stories on the site over the past three days, updated every 60 minutes
Bringing Up Babies
A Mother Again Thanks to a Surrogate, Cheryl Tiegs, 53, Delights in Raising Her 4-Month-Old Twins, Jaden and Theo
On her way out, she decided to check her answering machine. Good thing: The hospital had called to say the babies were on their way. "When I got there, they had just come out," she says of Jaden Joseph (the elder by 10 minutes) and Theo Reid. "They were lying on this table. I had this rush of emotion. It was very scary but exhilarating."
Almost five months later those feelings still apply. At 53, Tiegs is facing double feedings and diaper changes at an age when many women are settling into their empty nests—and she wouldn't have it any other way. "I love the way my life has unfolded," she says, moving to the twins' bedroom to scoop up Jaden and pop a bottle of goat's milk (recommended by her nutritionist to prevent allergies) into his mouth while Stryker changes Theo's diaper. "I don't feel the urgency to be done with the children thing." Tiegs's pal Suzanne Somers jokingly predicts that might change. "When they're 2 years old and running around like crazy," she says, "you should check back in."
Actually, for Tiegs, the hard part came before the twins were born. She and Stryker, 43, who met in his yoga class in 1997, spent more than a year trying to get pregnant naturally and then undergoing fertility treatments and in-vitro fertilization. Then, last year, they found out that a friend was having a baby by a surrogate. "My whole world turned around at that point," Tiegs said afterward, "because I knew then there was a real possibility that we would have a baby."
A fertility expert put the couple in touch with a surrogate (whom Tiegs and Stryker decline to name), and the boys were conceived last October. "I was afraid I would lose my center of gravity," says Tiegs of the moment Stryker broke the news that they were expecting twins. "But I haven't lost it, and I think that I won't."
Not that they haven't had to make adjustments. According to Stryker, "Bonding has been a more gradual process, in part because bonding often begins for a woman while her body is changing and there's a communication with the babies in the womb. But lo and behold, now Cheryl is just like any mom." Then, two days after the babies were brought home, the boys' nurse abruptly quit. "Rod and I were both holding a baby at the time," recalls Tiegs. "My husband looked at me, and he said, 'I'm scared.'" But Tiegs sprang into action, asking her mother-in-law, Marion Gross, to move in for a few days. "Like in those old movies, we put the baby in the dresser drawer," Tiegs says. "We put one in the bassinet and let Rod's mother take it, then we put the other in the fluffy little bed we made out of this drawer and put it at the foot of our bed."
For a few weeks, with friends and relatives helping out and the washing machine running almost nonstop, Tiegs and Stryker winged it until they hired a live-in nanny. "I saw her shortly after she brought the babies home, and my hair would have been standing on end," says Tiegs's friend Alana Stewart. "She's so cool and collected it amazes me."
Tiegs credits her calm to an hour of meditation a day, yoga practice with Stryker three times a week and sticking to a routine. In the beginning, first-time father Stryker kept a doting vigil over the babies, letting them eat and sleep as they wished. But when he went out of town one weekend, says Tiegs, she and the nanny "put those babies on a schedule. In one day!" Now the twins are on a three-hour feeding timetable from 6 a.m. to 6 p.m. Then they sleep until midnight, when they're fed again before sleeping through the night. "I know there are people out there who believe in feeding infants on demand," Tiegs says. "But I tend to be an orderly, organized person, so I'm kind of putting that on the babies. And they're happy as clams."
The schedule also allows Tiegs to tend to her business ventures (including some modeling and managing several product lines under her name) and to spend time with Zack, who she says hasn't quite gotten used to his new siblings. "He's not into it, and you can't expect him to be," she says. "He kind of wants to put them into a closet until they get to be 8 years old."
Tiegs and Stryker, on the other hand, are savoring each passing day with Jaden and Theo. "I can't say that all women should become mothers after 50," Tiegs says. "Yet for me, it's great. It was the right decision."
Julie K.L Dam
Meg Grant in Bel Air
Advertisement
Today's Photos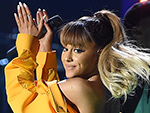 Treat Yourself! 4 Preview Issues
The most buzzed about stars this minute!