People Top 5
LAST UPDATE: Tuesday February 10, 2015 01:10PM EST
PEOPLE Top 5 are the most-viewed stories on the site over the past three days, updated every 60 minutes
Bitter Season
Marriage, Divorce, Babies—and Batches of Bad Press—Force the Spice Girls to Grow Up
"Where have we heard that before? After years of having their own brand of bubblegum pop similarly dismissed, the Spice Girls—Brown, 25; Chisholm, 26; Emma Bunton (Baby Spice), 24; and Victoria Beckham (Posh Spice), 26 (Geri Halliwell, 28, formerly known as Ginger Spice, quit the band in 1998)—have bounced back with Forever, their third CD. "It's much more adult, more sophisticated," London journalist and Spice insider Rick Sky says of the album's R&B rhythms. "To have some longevity they have to appeal to an older market. I think they realize they can't keep on doing cheesy songs."
So far the musical makeover is getting mixed reviews. USA Today called the songs "crisply funky, sweetly accessible nuggets," but in Great Britain, where Forever sold an anemic 20,000 copies in its first day of release (compared to 60,000 copies of Westlife's Coast to Coast, also released Nov. 6), the reception has been frosty. "Where once the Spice Girls were authors of music so brimming with joie de vivre," read a typically harsh assessment in the British music magazine Q, "they now sound pitifully one-dimensional."
With 35 million albums sold worldwide and nine No. 1 singles in the U.K. (one more than the Rolling Stones) since Spice, their titanic 1996 debut album, the Spice Girls take such barbs in stride these days. Indeed, it's not critical acclaim they seem to really, really want—it's solo careers. With no tour plans to promote their album, the four women, each of whom has a fortune estimated to be upward of $25 million, remain engrossed in their own musical projects. Beckham, Brown, Bunton and Chisholm (the first to record a solo album) have each released singles as independent artists within the last two years, but none has cracked the Top 5 in the United States. "They'll never be as big as the whole band," says Sky. "It's really only Mel C [Chisholm] who has solo recognition" for her double platinum Northern Star, released in October 1999. "That must be a worry for them because she's the only one with a [decent] voice."
Of course, that hasn't stopped Bunton, whose first solo CD is due next year. "I've cowritten all the songs," she says. "They're about breaking up, hanging out with girlfriends and being with your mum."
Melanie Brown, for whom the transition from Spice Girl to Spice Woman has been scary indeed, can relate to part one of that equation. Brown met Jimmy Gulzar during the 1998 Spiceworld tour, for which he was hired as a dancer. Engaged after only a 10-week courtship, Brown became the first Spice Girl to marry. The couple wed in an elaborate, much publicized Sept. 13, 1998, ceremony attended by 150 guests, all dressed in white, at an 800-year-old church near her home in Little Mariow, 30 miles west of London. On Feb. 19, 1999, Brown gave birth to their daughter, Phoenix Chi. But last June Mel B also became the first Spice Girl to divorce. Brown, who has since made no secret of her romantic relationship with 29-year-old British actor Max Beesley, reportedly accused Gulzar, 33, of neglecting her in bed. He in turn said that she, against his express wishes, underwent a breast enhancement operation in 1999 that prevented her from breast-feeding their baby. "I was too angry with Mel to even contemplate making love with her," he told The Sun.
Today, Gulzar, who lives in a Hampstead apartment in North London, reportedly receives $7,100 in monthly living expenses from his ex. He also enjoys visitation rights with Phoenix Chi, who lives with her mother in the $4 million mansion Brown purchased in 1998 in Little Marlow. As for her ongoing relationship with Beesley, Brown (whose debut solo album, Hot, is due in February in the U.S.) told Now magazine this month that he "treats me like I deserve to be treated. I think every woman deserves to be treated like a princess."
Or at least treated a little more gently than Victoria Beckham has been by the ferocious British press. Ever since she married soccer star
David Beckham
, 25, on July 4, 1999, in a glitzy $800,000 wedding during which the bride and groom were seated on gilded red-velvet thrones and guests danced to Spice Girls hits played by an 18-piece orchestra, the couple, whose now 20-month-old son, Brooklyn, was born four months before the wedding, have replaced Charles and Diana as the country's most covered couple. When the tabs are not razzing David, who plays for the top-ranked Manchester United team, for wearing his wife's thong underwear after she joked on television that he did, they are describing the blade-thin Posh as "Skeletal Spice." "She's a perfectly healthy new mum," her homemaker mother, Jackie, said in her daughter's defense last year. "She eats healthily. That is the way she is built." Now, in the aftermath of Diana biographer Andrew Morton's just published, unflattering profile of the couple, Posh & Becks, the Beckhams, who live with Victoria's parents in Hertfordshire, north of London, while their $3.6 million home nearby is being renovated, try to keep things in perspective. "When me and David look at 'Posh and Becks' in the paper," Victoria jokingly told Q, "we think, 'We bloody hate those two!' "
Like Posh Spice's, Melanie Chisholm's weight is also a matter of intense public scrutiny in England. Chisholm, who lives in a luxury flat in Hampstead, has gained weight since her heady days as the agile and lithe Sporty Spice. In April a noticeably heavier Chisholm was photographed wearing a bikini while on vacation in Barbados with her female trainer. In May a British newspaper reported that Chisholm "blasted claims she's a lardy lesbian." In October the paper called her "Sumo Spice." Chisholm, who reportedly dates musician Dan Williams, 23, of the band Tomcat, seemed more hurt by the references to her weight than to her sexuality. "I wish I was a lesbian," she said in last month's U.K. edition of Marie Claire. "Men are crap." In the same article she admitted that at the height of Spice mania, she was suffering from unspecified eating disorders. "I never thought I was good enough to be a Spice Girl," she said. "I got in a trap of thinking, 'I've got to be thin.' Now I am overweight, but I've got a healthy mind."
Meanwhile, Emma Bunton is of sound mind and body. It's her romance with boyfriend Jade Jones, 21, a singer with the Brit boy band Damage, that sometimes worries her. The couple have had an on-again, off-again relationship since they met in late 1997. During what turned out to be a temporary break-up, Jones told The Sun in July 1999 that Bunton "wanted to settle down, and I wasn't ready. She wanted a lot of commitment from me, and I felt couldn't give it."
Now Bunton, who moved into a chic three-story penthouse apartment in the same exclusive Hampstead building as Chisholm last year, is busy completing her solo album and contemplating her future as a Spice Girl. For hints of what a Spice afterlife might hold, the Girls can look to the success enjoyed by former partner Halliwell, who reportedly has been dating U.K. pop singer Robbie Williams, lives in a palatial converted monastery on 20 acres in Buckinghamshire, England, and released a solo album, Schizophonic, in 1999. "I followed the stories in the papers about their pregnancies and weddings," wrote Halliwell in If Only, her 1999 autobiography. "I hoped the girls were happy." For some of her former band-mates, who have said they felt jilted—"She did leave us in the middle of the tour," Brown complained in a recent television interview—life as a Spice is filled with uncertainty. "I don't know whether we do appeal anymore," Chisholm told Q. "I think there's a fascination now with the Spice Girls...but whether we'll continue to be successful is something that nobody knows, really."
Steve Dougherty
Liz Corcoran, Pete Norman and Caris Davis in London
Contributors:
Liz Corcoran,
Pete Norman,
Caris Davis.
Advertisement
Today's Photos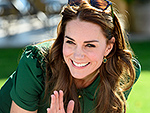 Treat Yourself! 4 Preview Issues
The most buzzed about stars this minute!