People Top 5
LAST UPDATE: Tuesday February 10, 2015 01:10PM EST
PEOPLE Top 5 are the most-viewed stories on the site over the past three days, updated every 60 minutes
Bad to Worse
Robert Downey Jr. Finds Himself in a Familiar Place: On Drugs and in Trouble. But Friends and Family Fear He Hasn't Hit Bottom yet
His next move, though, might have surprised some. "He went right to a meeting from there," says a longtime friend of the actor's, referring to Downey's addiction recovery program. "The temptation, being back in all that, was so great. It was just too much too soon."
Downey may have weathered that crisis, but he failed to resist the siren call of drugs for long. Just short of four months after he was released from state prison in Corcoran, Calif., amid a flurry of testimonials that sobriety had stuck, Downey, 35, was busted in his $500-a-night suite at Merv Griffin's Resort Hotel & Givenchy Spa in Palm Springs, Calif., on Nov. 25 for allegedly possessing cocaine and being under the influence of drugs. Downey had turned down several Thanksgiving invitations from friends and family and instead chose to spend the holiday weekend with strippers, barflies, limo drivers and other strangers, leading up to the arrest that seemed at once inevitable and surprising. "From talking to him, it seemed he was doing the legwork and trying to stay sober," says his friend Rob Lowe, the
West Wing
star who is in his 11th year of sobriety. "He said that he admired what I had been able to accomplish, and he said he really wanted to be able to lean on me."
Downey said and did enough good things to convince many he had truly turned a corner. "I'm coming from a place of total strength and humility now," he told Details magazine in an interview that ran just after his release. Downey appeared committed to spending time with Indio, his 7-year-old son by his wife, Deborah Falconer, 35, from whom he has been separated since 1996. He took the boy with him to the set of
Ally McBeal
, on which Downey has a 10-episode gig that is earning him critical raves and which has bumped up the show's viewership 11 percent over last year's. He was even helping or sponsoring other addicts as they struggled to stay sober. "He would put aside time for that like I've never seen," says a friend. "He'd tell me about this kid who called him and how he talked the kid through it and how he felt so good after it. He said, 'Can you imagine calling me for help?' "
In fact, some who know him could not. According to two sources, Downey's sobriety was, for the most part, an act. They claim he started using drugs at least six weeks before his Palm Springs arrest—and perhaps even earlier. "He has been getting loaded on and off," says someone who is close to Downey's wife. Alan Nierob, the actor's spokesman, says the allegations of Downey's drug use are "not true." But the person who is close to Falconer claims that two weeks before Downey's arrest, and during a weekend visit with his son, the actor left Indio at his home with an assistant and darted off in the middle of the night to score drugs. Daniel Brookman, one of Downey's attorneys, says, "There are aspects of his life which are and should remain private matters." Now staying in his Hollywood home, Downey is due in court Dec. 27 and could eventually face more time behind bars, a fate that terrifies his loved ones. "He needs serious psychiatric help, not punishment," says his cousin Stacy Sheehan, 44, who lives in Massachusetts. "He is such a puppy, he breaks your heart. Everyone just wants to hug him or shake him or love him back to health."
Perhaps not everyone. True, Hollywood continues to embrace Downey and hire him after each slipup. "He has never had a lack of supporters," says Lowe, who stresses that addiction is a disease. "You can't blame it on people not forgiving him." But Downey, like troubled baseball player Darryl Strawberry, is seen by some as spoiled and unsympathetic. "Even by the standards of the overindulged, overexposed celebrity community,"
The Washington Post
's Sharon Waxman wrote after the arrest, "Downey's self-destructive spiral has been notable in its resistance to rescue or punishment."
Sympathetic or not, Downey has additional problems: According to his stepmother, Rosemary Rogers Downey, 52, the actor was diagnosed a few years ago as having bipolar disorder, more commonly known as manic depression. "He's gotten no help for that," says Rosemary, an author who lives in New York City with Downey's father, Robert Sr., 64. (Downey's actress mother, Elsie, lives in Pennsylvania, as does his sister Allyson Downey, a writer.) "It's the reason he has a hard time staying sober. What hasn't been tried is medication and intensive psychotherapy." Dr. Manijeh Nikakhtar, a Los Angeles psychiatrist and the author of
Addiction or Self-Medication: The Truth
, says she received a letter from an imprisoned Downey in 1999 asking for advice on his condition. She reviewed his previous psychiatric evaluations and discovered "no one had done a complete evaluation," she says. "I asked him flat out if he thought he was bipolar, and he said, 'Oh yeah. There are times I spend a lot of money and I'm hyperactive, and there are other times I'm down.' " Yet instead of receiving treatment for that disorder, Nikakhtar says, Downey has invariably been referred to 12-step programs, which focus on his addictions.
Dr. Richard Frances, medical director of Silver Hill Hospital, a renowned rehab facility and psychiatric center in Connecticut, says that 60 to 80 percent of people who suffer from bipolar disorder also have addictions. Frances—who is not referring specifically to Downey—says bipolar disorder can cause drastic mood swings, and "in the midst of a manic episode, often people will relapse, and it's then that they're more likely to pick up a drink or a drug." The weekend after his most recent relapse, Downey checked himself into Cedars-Sinai Medical Center in L.A. for an intensive, 72-hour treatment for depression.
That move might strike some as too little, too late. In fact, Downey has suggested that he not only enjoys exploring his dark side, but also sees a link between his addictions and his creativity. "I don't discount the fact that addiction or alcoholism is a disease. But I still feel that, at every turn, I was choosing to keep going with it," he told Playboy in 1997. "I guess the issue for me is to keep things dynamic." Even so, some drug counselors caution against making too much of Downey's latest indulgence of that desire. Falling off the wagon, they say, can be part of getting straight. "Most addicts will relapse," says Chris Canter, a spokesman for Walden House, a San Francisco-based drug rehab program that provided Downey treatment in prison. "Many people who come to Walden House have lost everything. For many that's what it took [to finally quit drugs]." How much further Downey must fall before he hits rock bottom remains to be seen. "All we can do is say we're here for him," says his uncle James Downey, an author in Connecticut. "Going out there and grabbing him by the neck doesn't work. He's got to want it."
By now the details of Downey's descent into drug hell are more familiar than his movies: how his father, an underground filmmaker known mostly for 1969's
Putney Swope
, gave him a toke of marijuana when Robert was only 6 (an act Downey Sr. has said he now deeply regrets); how his drinking and drug use grew when he was a teen; how he eventually developed a fierce cocaine habit. Along the way, Downey—who was also knocking off star-making roles in films like 1987's
Less Than Zero
and 1992's
Chaplin
(for which he received a Best Actor Oscar nomination)—resisted all efforts to help him clean up. At one point, his friend Sean Penn broke down the door of Downey's home, forced him onto a private jet and checked him into a remote rehab center in Tucson. Downey simply escaped the clinic and hitchhiked into town. "This is a boy who really likes being high, as opposed to thinking, 'Oh, God, my life can't get any lower,' " Loree Rodkin, Downey's manager from 1983 to 1990, told PEOPLE last year. "He loves being on the edge."
Not even his 1993 marriage to model and aspiring singer Falconer—and the birth of their son that year—could straighten Downey out. The couple's separation in 1996 made matters worse. In one wild four-week period, police nabbed Downey with coke, heroin and an unloaded .357 Magnum in his car; he staggered into a neighbor's Malibu home and fell asleep in a child's bed; and he fled after four days from a detox center a judge had ordered him to attend. Placed on three years' probation, Downey violated it in 1997 by skipping a mandatory drug test and spent 113 days in a Los Angeles County jail. Another missed test in 1999 landed him in the California Substance Abuse Treatment Facility and State Prison in Corcoran.
For a while it looked like his nearly 12 months in prison had indeed scared Downey straight. After checking out of Corcoran on Aug. 2, he distanced himself from acquaintances who were using drugs and holed up in a sober living center in Huntington Beach, Calif. After that, he lived in several rented apartments around L.A., often with at least one friend from the Walden House program. Not wishing to leave this support system or his son, Downey rejected several film roles that would have taken him out of town. But he did listen when producer Pam Wisne called him one day after his release and offered him a part on
Ally McBeal
. He later accepted $80,000 an episode to appear on the show. Eventually, Downey settled into an apartment in the heart of Hollywood that was near Indio's school. According to a friend, Downey "was working hard to see his son" and liked to bring him along to the set of
McBeal
. "I often saw them playing together in the hallways," says Kathleen Detoro, a former
McBeal
costume designer who recently left the show. "Robert was very affectionate to his son."
Downey's wife, who by the couple's agreement has custody of Indio, allowed Downey to see him often as long as he stayed clean and sober. But the incident two weeks before Thanksgiving, when Downey left Indio with his assistant, "was like the final straw," says someone close to Falconer. "She just said, 'Until you get a certain amount of time clean you can't see Indio.' " Though Downey and his wife have been separated for four years and Falconer now lives with Victor Indrizzo, the drummer for pop musician Beck, Downey continues to be despondent over "the failure of the marriage," according to a longtime friend. Says Indrizzo: "I just hope that Robert does get it together, because it would be great if we all had a nice working relationship. Indio is an incredible child, and Robert is the one who's missing out."
Meanwhile, Downey was also apparently stressed by his rigorous taping schedule for
McBeal
, which, according to a longtime friend, the actor was fed up with doing. "He thought TV was a step down for him," says the friend. "And in some ways TV is harder than film. He had to be really disciplined, and he told me he wasn't going to renew." When the show's Thanksgiving break rolled around, Downey turned down three invitations to head East, says his stepmother, claiming he was too busy. Rob Lowe, whose offers to Downey to spend time at Lowe's Santa Barbara home were never accepted, says that "when you're new in sobriety, you really, really have to take care of yourself on holidays. And he didn't." Yet another problem was that Downey was neither on probation nor parole and thus not accountable to any authority for his whereabouts. "There was no one to tell him, 'You've got to do this or that,' " says one person familiar with Downey's post-prison drug program. "It was all up to him."
Downey's lost weekend began on Nov. 22, when he checked into the tranquil Merv Griffin's Resort Hotel & Givenchy Spa, signing himself in as C.J. Kim, the name of his travel agent. He inquired about attending the hotel's Thanksgiving dinner but never turned up. Instead, on Nov. 23, he went to Show Girls, a topless bar in an industrial area outside Palm Springs. There, he signed autographs for baffled fans and befriended exotic dancer Laura Burnett. who spent the next 24 hours with Downey. His holiday dinner, which Downey shared with Burnett, his friend, writer Mark Miller, two limo drivers and other new acquaintances, consisted of leftovers delivered to his hotel suite after 2 a.m. "The kitchen brought turkey, some sweet potatoes, regular potatoes, stuffing," says Burnett, 25, who left at 7 a.m. Friday. "It was all dry."
Burnett's impression of Downey was that "he was not happy. He really wanted to spend time with his son." Nevertheless, on Friday night Downey joined Burnett, Miller, and his friend, L.A. performance artist Cholla, for dinner at Las Casuelas Terraza, a Mexican restaurant in Palm Springs. At 1:45 a.m. Saturday Downey moved the party to a nearby nightclub, Pope's Nude Bar. "We stayed open an extra half hour for him," says manager Ken Barton, who adds that Downey paid $40, plus a $10 tip, for a lap dance. "He told me he was very depressed," says the dancer, Cameron Jordan, 30, who got Downey to sign a $5 bill. "It was only one song because he didn't have much money."
Downey spent a quiet Saturday at his hotel, indulging in some of the spa treatments. But later that day, at 7:30 p.m., police received an anonymous tip from a man—called in from a pay phone 10 minutes from the hotel—that someone in room 311 had "nearly an ounce of cocaine." (According to Miller, who asked Burnett and others to leave Downey's entourage at various times over the weekend, the man who ratted Downey out "was obviously someone we tossed out of the room.") Police officers, told by hotel staff that Downey was the occupant, knocked on his slightly open door and say they received Downey's permission to search the room. There, they found the now infamous Wonder Woman costume that belonged to a female who fled moments before police arrived. Officers also found 16 Valium pills and nearly four grams of cocaine, some of it in a tissue box, some of it in a pack of Camel cigarettes. "Don't do this to me," Downey told officers during the search. "You're going to ruin my life." He was released on $15,000 bail on Nov. 26 and later tested positive for cocaine and Valium. The Riverside County District Attorney's office, which is reviewing the officers' investigation report, could file charges as early as next week.
Downey—who turned up for work on the
McBeal
set the Tuesday after his arrest and is scheduled to finish his job there by the end of the year—might manage to avoid more prison time, if not more court-ordered supervised treatment. Either way his movie career may have been dealt a blow. Highly regarded as a versatile, magnetic actor—"transcendentally skillful," says director James Toback, who has worked with him on three films—Downey has been drawing Oscar buzz for his nimble turn as Michael Douglas's book editor in the recently rereleased
Wonder Boys
. On Dec. 4, Downey—fresh out of Cedars-Sinai—lunched with Mel Gibson at L.A.'s Four Seasons Hotel to discuss a production of
Hamlet
Downey intends to star in with Gibson directing. Still, plans for him to star alongside
Julia Roberts
in the romantic comedy
America's Sweetheart
, set to film in January, have been scotched because of his legal entanglements. Getting insurance carriers to cover the erratic Downey for big-budget movies will now be more difficult, though he could continue to find work in independent features, where the financial stakes are lower. "Even if he was doing drugs again, it wouldn't deter me from hiring him," says producer Michael Mailer, who cast Downey in last year's low-budget
Black and White
despite the fact that the film's insurance company refused to cover the star. "We would have had to eat the cost if he didn't show up," says Mailer. "But he's always been incredibly professional."
It is away from movie and TV sets that Downey is a mess. His on-the-edge lifestyle has left him in a financial bind, in debt to the IRS and on the hook for mounting legal fees. Perhaps most discouraging is that what appears to be the biggest motivating factor in his quest for sobriety—the desire to be a role model for his son—proved woefully inadequate. "It is about the kid," Downey told
Details
magazine shortly after his August release. "I take some pride in...representing myself exactly how I would like to have my son remember me to his kids." The tale that Indio will someday tell is thus far a terribly grim one. "The saddest part of this is what it will do to the relationship between Robert and his son," says Lowe, himself the father of two children. "Kids are really resilient and there's a lot of years to figure out the relationship, but this certainly can't help. And that's the real tragedy of it all."
Alex Tresniowski
Michelle Caruso, Meg Grant, Elizabeth Leonard and Lorenzo Benet in Los Angeles, Lyndon Stambler in Palm Springs and Jennifer Longley in New York City
Contributors:
Michelle Caruso,
Meg Grant,
Elizabeth Leonard,
Lorenzo Benet,
Lyndon Stambler,
Jennifer Longley.
Advertisement
Today's Photos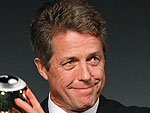 Treat Yourself! 4 Preview Issues
The most buzzed about stars this minute!