People Top 5
LAST UPDATE: Tuesday February 10, 2015 01:10PM EST
PEOPLE Top 5 are the most-viewed stories on the site over the past three days, updated every 60 minutes
The Miracle Worker
Dr. Brian Druker Fires a Magic Bullet That May Eliminate a Lethal Form of Leukemia
And so the rising oncologist got additional training to become a cancer researcher. Recruited by Oregon Health Sciences University in Portland in 1993, Druker set up a lab and set himself a prodigious task: developing a drug that would target and destroy cancer cells while leaving normal cells unscathed. "We've understood what the enemy is all about," says Druker. "And we're going right to the heart of it."
At last, it seems he may have reached his destination. Two and a half years ago, Druker began clinical trials on a medication that targets chronic myelogenous leukemia, or CML, a cancer that usually kills the patient within five years. The drug—called STI-571 and now labeled Glivec—works by annihilating a protein that causes the rampant overproduction of white blood cells. Early results have been astonishing. Within six months, all 31 CML participants had their cancer go into remission. "I thought it was too good to be true," says Druker. Colleagues, always wary of wonder drugs, cheered the results. "Usually drugs don't show that much success in Phase I trials," says Dr. Harold Varmus, president of Memorial Sloan-Kettering Cancer Center in New York City. "If we can help that many people stay alive for a normal life span, that's a huge triumph."
Now clinical trials of STI-571 have been extended to 30 countries and more than 2,800 patients. Over 90 percent of those in the disease's chronic phase have seen their white-blood-cell counts return to normal, and one-third in the same phase have no detectable traces of leukemia. Side effects of the drug—four mustard-colored capsules taken once a day—have been minimal: mainly mild nausea and muscle cramps. Glivec, which is likely to be approved by the FDA later this year, is also being tested on certain lung, abdominal and brain cancers and soon will be tried on prostate cancer. As Varmus notes, other forms of the disease may be harder to target. "This is not a cure for all cancers," he cautions.
But it's been a godsend for LaDonna Lopossa of Washington State. Stricken with CML two years ago, the 61-year-old retired nutritionist bought a burial plot, picked out a casket and chose the music for her funeral. Within a week of taking Glivec last year, she got out of her wheelchair to walk on her own. Her spleen, once swollen to the size of a small watermelon, shrank back to its normal size, that of a fist, in six months. "I was literally brought back from death's door," says Lopossa. "Dr. Druker is my angel of mercy."
The soft-spoken researcher grew up steeped in science. His father, Leonard, was a St. Paul chemist who, along with homemaker wife Jean, 79, insisted that one of their four children become a doctor. Leonard died in 1998, after an 11-year battle with another type of leukemia. Druker was at his father's side, removing tubes from his lifeless body and cleaning him up. "That was one of the hardest things I've had to do," he says.
A graduate of the University of California at San Diego, where he also earned his medical degree, Druker did his residency at Washington University in St. Louis before moving on to Dana-Farber. He says that long hours contributed to the breakdown of his 1990 marriage to English professor Barbara Rodriguez, 35—their divorce was finalized in 1999. Druker, who lives alone in a two-bedroom apartment a short jog from work, is a serious cyclist and runner; he ran the Portland Marathon in 1999. Though he loves work, sometimes he laments having too little time for leisure. But two-time Tour de France champion and cancer survivor Lance Armstrong—whom he has met—put the doctor's time crunch in perspective: "He told me," recalls Druker, " 'I think you have more important things to do.' "
Speculation about a Nobel Prize doesn't faze Druker, who says his true reward is the large bulletin board in his office adorned with pictures of surviving patients. There's also a note from one of his youngest successes, 7-year-old John McCaffrey. "Dear Dr. Druker," it reads, "I'm fine. How are you? I lost a tooth."
"This is what it's all about," Druker says. "I can leave here knowing I've done good."
Nick Charles
Alexandra Hardy in Portland
Contributors:
Alexandra Hardy.
Dr. Brian Druker was afraid he would burn out. As a young oncology fellow at Harvard's Dana-Farber Cancer Institute in Boston in the mid-1980s, he dreaded telling patients they had run out of options and having to write condolence letters to the families of those who had died in his care. The experience haunts him still. "I remember those patients. I can see their faces," says Druker, 45. "I promised them I was going to do something better."
Advertisement
Today's Photos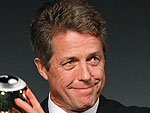 Treat Yourself! 4 Preview Issues
The most buzzed about stars this minute!