People Top 5
LAST UPDATE: Tuesday February 10, 2015 01:10PM EST
PEOPLE Top 5 are the most-viewed stories on the site over the past three days, updated every 60 minutes
Picks and Pans: Pages
Spotlight On...
When Britain's seventh Earl of Lucan went missing in 1974 after allegedly killing his children's nanny, it produced the sort of headlines beloved by tabloids everywhere. For years there were supposed Lucan sightings. There was also speculation that he was being helped by upper-class pals, but he was never collared. Until now. In fact, he has been deliciously captured in this impish comedy of manners by Spark (The Prime of Miss Jean Brodie), which imagines two furtive fugitives, both claiming to be Lucan, as patients of a celebrated Parisian shrink named Hildegard Wolf. In fewer than 200 pages, Spark takes clear, deft shots at religion, love, psychotherapy and the British aristocracy. (Doubleday, $21)
Bottom Line: Spark-ling wit
by Tom Douglas
More revenge of the nerds: Seattle, famous for computer geeks and that goofy Space Needle, has become a gastronomic mecca. The booming local economy helps explain the profusion of great restaurants where chefs like Tom Douglas are inspired by the region's Asian population and the daily catch of salmon, oysters, giant clams and monster crabs. Douglas's Seattle Kitchen features such recipes from his three eateries as Sake-cured, Hot-Smoked Salmon from the Dahlia Lounge or Dungeness Crabcakes with Green Cocktail Sauce, a specialty of his Etta's Seafood. "Bread crumbs made from cheap white bread are a key ingredient," he reveals. But many dishes require stuff like flying-fish roe—hard to find unless you live in Seattle.
After sniffing the aromas emanating from this Kitchen, you may be inspired to move there. Douglas, who bears the honest paunch of a man who makes Barbecue Pork Butt Tacos, leads readers on mouthwatering tours of his favorite fish markets, butcher stores, microbreweries and Vietnamese fast-food stands. "In some cities, McDonald's rules," he writes, "but Seattle is ruled by teriyaki joints." Easy, Tom—even Paris has Big Macs, but we like your enthusiasm. And your chow. (Morrow, $30)
Bottom Line: Puget Sound advice for adventurous cooks
The Lives & Music of Jeff & Tim Buckley
by David Browne
Although the father and son barely laid eyes on each other in life, Tim Buckley and his son Jeff had a lot in common. It wasn't just their looks, although Jeff had the same wavy brown hair and grew into his father's handsome cleft-chinned face and dreamy poet's eyes. More hauntingly, Jeff took on his late father's love for guitar, his expressive, wide-ranging voice and his ability to write beautiful songs. Both men became acclaimed musicians, and both of their lives ended tragically: the father's as a result of a drug overdose in 1975 at 28, the son's in a freak drowning at 30, in 1997. These eerie similarities provide more than enough material for a gripping dual biography. And Browne, a music critic for ENTERTAINMENT WEEKLY (which, like PEOPLE, is owned by AOL Time Warner), rises to the occasion. His intricate reporting (which includes many of the younger Buckley's letters) creates a vibrantly detailed portrait of two very different eras. And Browne's decision to tell the stories in alternating chapters draws out the dramatic tension. Tim's troubled relationship with his own father, for example, is recapitulated when he abandons Jeff as an infant along with Jeff's teenaged mother. As poetic and probing as its subjects, Dream Brother delves skillfully into the unquenchable compulsions that lead as easily to triumph as to tragedy. (HarperCollins, $25)
Bottom Line: Well-wrought bio of ill-starred musical family
by Amy Gutman
Page-turner of the week
STARS "1"
Fifteen months after joining the prestigious Manhattan law firm of Samson & Mills, junior associate Kate Paine still can't believe her good fortune. Despite relentless deadlines and all-nighters—it's no accident the firm is often referred to by its initials—the Harvard Law School whiz knows that many would kill for a job like hers. Then someone does.
The victim whose murder sets in motion this addictive mystery is Madeleine Waters, one of the firm's few female partners and, office gossip has it, the former paramour of managing partner Carter Mills. As if Madeleine's slaying weren't disturbing enough to Kate, there's something else: Circumstances suggest that the killer could well be walking S&M's hushed halls.
Although this is Gutman's first novel, she expertly propels her reluctant sleuth through many—okay, maybe a few too many—hair-raising moments. The author, herself a former associate at a top firm, offers a compelling portrait of what passes for life in this golden ghetto. Readers are likely to hope— unequivocally—for an encore. (Little, Brown, $24.95)
Bottom Line: Judicious mystery
by Jenny Siler
Siler (Easy Money) chisels a sharp-edged tale with her second thriller. Savvy protagonist Megan Gardner, 29, is a tough, sexy ex-con who knows her way around guns, men and crime. Which is just as well, since she gets herself tangled in a complex web of murder and intrigue. In crackling language Siler describes the frigid Montana setting, menacing Russian mobsters, Megan's drag-queen sidekick and haunting memories of her Missoula childhood. So much about this book is refreshing—for openers, the hit man is a woman—that despite a plot that doesn't keep pace, Iced remains a bracing, original tonic. (Holt, $24)
Bottom Line: Sophomore thriller scores
by Susan Elizabeth Phillips
You could not find a worse match. Kevin is a hotshot NFL quarterback who gets his kicks gunning Ferraris and chasing bimbos. Molly is a struggling children's author with a pet poodle, a bad haircut and an empty love life. Bestselling paperback-romance novelist Phillips, making her hardcover debut, labors to create an endearingly fallible heroine here, but in the end Molly merely annoys. To seduce Kevin, she adopts the helpless female routine. Not only does she fake almost drowning but—unbeknownst to Kevin (yet unapologetically spelled out for us) she also indulges in rape fantasies that would appall in any genre of contemporary fiction.
Despite Molly's insistence on being seen as a modern, liberated woman, she is less mature than the bunny character she created in her kids' books. In the end, one wonders what even a buffoon like Kevin sees in Molly—aside from her "sweet little bottom," of course. Yuck. (Morrow, $24)
Bottom Line: Give it a pass
>GOD SAVE THE SWEET POTATO QUEENS Jill Conner Browne The sassy, Mississippi-based author, whose Sweet Potato Queens' Book of Love was a bestseller, offers more advice on life, love and margaritas. (Three Rivers, $12.95)
THE DEATH OF VISHNU Manil Suri Examining odious aspects of a class-bound society, this novel, set in a multistory apartment building in Bombay, could be described as a kind of Indian Upstairs, Downstairs. (Norton, $24.95)
ELVIS AND NIXON Jonathan Lowy The King and the Prez met in 1970, and Lowy uses that real-life encounter as a springboard for a wild story that touches on Vietnam and Watergate. (Crown, $22.95)
>Sahara Sunday Spain
No poet could ask for a more poetic name than 9-year-old Sahara Sunday Spain. And it would be a rare poet—of any age—who could match her commercial success: Spain's new book of verse, If There Would Be No Light, has earned her more than $50,000, a tidy sum for poetry.
The daughter of estranged parents (Elisabeth Sunday, 42, a photographer, and Johnny Spain, 51, a former Black Panther), Sahara began writing poems at 5. (Her first was a gift to Elisabeth: "When I drink mother's milk/ My heart sweats with love.") Mom assembled the early works into small photocopied books, one of which found its way to publisher Harper San Francisco. The rest is an ode to luck.
And talent. Bill Cosby, Gloria Steinem and Bonnie Raitt have all raved about Sahara, who hasn't let it—or the fact that she attends a school for gifted students in Hillsborough, Calif.—go to her head. "I just want to be a regular kid," she says. In that regard, one poem suggests Sahara knows well the everyday pain of growing up: "She makes me feel like/ She's the flower/ And I'm the dirt/ And everybody wants to admire the beautiful flower/ And nobody even takes a glance at me."
Contributors:
Joanne Kaufman,
Max Alexander,
Peter Ames Carlin,
Pam Lambert,
Laura Jamison,
Jennifer Wulff,
Michelle Bowers.
by Muriel Spark
Advertisement
Today's Photos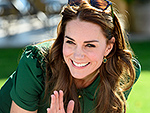 Treat Yourself! 4 Preview Issues
The most buzzed about stars this minute!