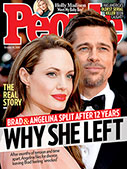 This Week's Issue!
People Top 5
LAST UPDATE: Tuesday February 10, 2015 01:10PM EST
PEOPLE Top 5 are the most-viewed stories on the site over the past three days, updated every 60 minutes
Picks and Pans Main: Tube
Talking With...
CBS (Thursdays, 8 p.m. ET)
When it comes to Survivor, no one has immunity. If you somehow manage to miss the smash "reality" series in prime time (don't forget it airs on two Wednesdays, March 14 and 21, to make way for Thursday coverage of NCAA basketball), you're sure to get the Outback lowdown via talk shows, newscasts, "infotainment" programs and, oh yes, magazines. Criticizing this ratings juggernaut is as futile as shaking your fist at a hurricane.
Nevertheless, I could have survived quite nicely if the show had packed it in after last year's sojourn on Pulau Tiga. Being all too aware that duplicity is the name of the game, I no longer have a speck of sympathy for any player who complains of backstabbing or betrayal. As for the "challenges," I sat up and took notice when the competitors started jumping off a cliff. But when host Jeff Probst tested their mettle with a lengthy multiple-choice quiz, I found myself wondering who was body-slamming whom on WWF Smackdown!
And speaking of Probst, please send this plastic man back to Rock & Roll Jeopardy! Only James Earl Jones himself could intone "The tribe has spoken" without provoking giggles.
Bottom Line: Hey, it beats eating cow brains
NBC (Sun.-Mon., March 11-12,9 p.m. ET)
I don't want to say the plot of this lavish two-part movie is hard to follow, but there's a character called the Prince of Confusion who must have written the script.
Seriously, folks, the teleplay is by playwright David Henry Hwang (M.Butterfly). It tells of an American expert on Chinese culture (Dharma & Greg's Thomas Gibson) who is chosen by the Goddess of Mercy (Bai Ling) to join the Monkey King (Russell Wong) and other mythic figures on a mission to save an ancient manuscript from destruction by an evil, centuries-old emperor (Randall Duk Kim). Hwang's hope, apparently, is that the sound and fury of the special effects will hold the attention of the mass audience while he slips in some political content applicable to modern China. (The chief villain denounces liberals and tries to stamp out intellectual freedom.) The end product is an impressive but cluttered spectacle that falls a bit short as both education and entertainment. Yet The Lost Empire has its attractions, including the lovely Ling and Ric Young as a slippery Confucius.
Bottom Line: Dizzying adventure
FOX (Sundays, 9 p.m. ET, through March 18; Fridays at 9 from March 16)
The March 4 pilot of this X-Files spinoff is what you'd call a comedy-drama, with a pratfall and some jokey dialogue balanced by the threat of catastrophe and sober talk of lost ideals. But the show turns into a clumsy comedy-comedy on March 11, when geeky conspiracy theorists Byers (Bruce Harwood), Langly (Dean Haglund) and Frohike (Tom Braidwood) are joined by genially inept Jimmy Bond (Stephen Snedden). Before teaming with the muckrakers, Jimmy coaches a blind football squad. How's that for hilarity? Future episodes feature an elderly war criminal with a Germany-shaped birthmark on her tush and a sex-addicted, sax-playing politician who might as well be named Billy Clinton.
Bottom Line: The laughs are out there...somewhere
Syndicated (check listings)
Show of the week
STARS "1"
I don't know a Libra from a Leo, but I find merit in an astrologer's report that Regis Philbin read on the air last month shortly after All My Children's
Kelly Ripa
became his cohost on this syndicated morning program. The not-so-scientific study determined that Philbin and Ripa share a basis for "enjoyable conversation." Ripa displays some of the perkiness of Philbin's longtime partner, Kathie Lee Gifford. Happily, however, she seems less self-involved. "I just hope the rest of America doesn't grow as sick of me as I am," she cracked during her first official week on the job. Ripa needs to express herself more—just as Philbin needs to listen to her with both ears—but she shows a knack for injecting a few words without breaking Reege's rhythm. Whether he's raving about his wife's succulent osso buco or ragging helpless executive producer Michael Gel-man, Philbin on a roll is the closest thing to a one-man talk show since Tom Snyder left late night. And his fans wouldn't have it any other way.
Bottom Line: Pairing holds promise
>Sunday, March 11 SCREEN ACTORS GUILD AWARDS TNT(8p.m.ET) Ossie Davis and Ruby Dee, who personify "classy couple," get a lifetime-achievement honor.
Monday, March 12 COLUMBO: MURDER WITH TOO MANY NOTES ABC (8 p.m. ET) A new TV movie finds the sly detective (Peter Falk) trying to pin one on a composer (Billy Connolly).
Tuesday, March 13 MTV ICON:
JANET JACKSON
MTV (8 p.m. ET) Fellow artists hail the queen of Rhythm Nation in a 90-minute tribute.
Wednesday, March 14 THE JOB ABC (9:30 p.m. ET) Denis Leary stars as an unconventional cop in this comedy series debut.
Thursday, March 15 INVESTIGATIVE REPORTS A&E(10p.m. ET) Risky Business: The Day Traders shows it's not that easy to get rich quick.
Friday, March 16 DENNIS MILLER LIVE HBO (11:30 p.m. ET) After ranting for a while, the host chats with The WB sitcom star Steve Harvey.
Saturday, March 17 MAGNOLIA STARZ! (8 p.m. ET)
Tom Cruise
and the late Jason Robards top the cast in this intense 1999 film about intersecting lives.
>David Leisure
Need a new car? How about an Isuzu with "gin-u-wine" llama-skin leather and a top speed of 300 mph for only $9 (marbles and seashells accepted if you are short on cash). Impossible? Yep. But just such a deal was offered by smarmy car salesman Joe Isuzu, played by David Leisure in the late '80s. Now he's back in a new campaign, but this time lyin' Joe is jobless, disheveled and has a few spare tires of his own, thanks to a padded suit. "I hope it's a good idea," says Leisure of reprising the role that put Isuzu on the map. "I was ready to put it to bed forever."
Leisure, 50, who lives in L.A. with his wife, Patty Bunch, a makeup artist, was an instant hit when the ads first aired in 1986. He later landed the role of Charley Dietz, the mooching neighbor on NBC's Empty Nest. "There wasn't a lot of difference between the old Joe Isuzu and Charley," says Leisure, who made his big-screen debut as a Hare Krishna in the comedy Airplane! Now, no matter what other roles he might get, Leisure is sure he'll always be known as the obnoxious pitchman. "Someone said to me, 'Isn't it a coincidence that you have the same name as Joe Isuzu?' " He adds, "It's just bizarre."
Contributors:
Christine Sparta.
The Australian Outback
Advertisement
Treat Yourself! 4 Preview Issues
The most buzzed about stars this minute!