People Top 5
LAST UPDATE: Tuesday February 10, 2015 01:10PM EST
PEOPLE Top 5 are the most-viewed stories on the site over the past three days, updated every 60 minutes
Picks and Pans: Pages
Spotlight On...
Disquiet slithers through McFarland's work. In each of his four novels the protagonists press mightily to come to terms with unexpected loss. In the searing
Singing Boy
, Boston architect Malcolm Vaughn is driving home with his scientist wife, Sarah, and their 8-year-old son Harry when he stops to help another motorist he thinks is ill—and is shot and killed for his efforts. The novel, told from the alternating perspectives of Sarah, Harry and Malcolm's best friend Deckard Jones, an African-American Vietnam vet, chronicles how each of the trio suffers—Deckard's memory problems and 'Nam flashbacks, Harry's unnatural silences and helpless bed-wetting, Sarah's feral grief—and how they separately fight their way back to the land of the living. McFarland is particularly-adept at the small moments of which heartbreak is made: a shattered teapot; Sarah's attempt to find solace in Malcolm's closet; and her Brazilian housekeeper's hard-edged efforts to nudge her into healing. "You have no light," the maid observes. But
Singing Boy
does. (Holt, $25)
Bottom Line: Beautiful mourning
"Baby, I Don't Care"
by Lee Server
Meeting Robert Mitchum for the first time, George Peppard asked, "Have you studied the Stanislavsky Method?" "No," replied Mitchum, "but I've studied the Smirnoff Method."
That's the gospel of acting according to the patron saint of B-movie tough guys. But for a man's man who thought acting was for sissies, Mitchum sure did a lot of work in makeup, making more than 100 films. A deceptively subtle performer, he packed a lot of heat onscreen, both psychological and otherwise (seldom did a Mitchum character, whether detective, cowboy, psycho or soldier, ever go unarmed), yet he never won an Oscar or had a blockbuster. Offscreen Mitchum was a lot like onscreen Mitchum: He brawled, philandered throughout his 57-year marriage to teenage sweetheart Dorothy Spence, and inhaled, earning 60 days in jail for his infamous 1948 pot bust. He was particularly obnoxious when drunk, and such outré moments as the time he relieved himself on the floor of producer David Selznick's hotel room are all cheerfully reported here. Still, he stuck by his method until the end: Before lung cancer killed him in 1997 at age 79, Mitchum was knocking back vodka for breakfast. (St. Martin's $32.50)
Bottom Line: Hell-raising from A to Z
by Wendy Holden
Aspiring writer Anna Farrier knows a lot about fiction: Her life is full of make-believe. She imagines a happily-ever-after with her hunky, wealthy boyfriend, Sebastian, but he treats her more like a maid. For her job, she is apprenticed to a best-selling romance novelist but spends most of her time nannying the blocked writer's psychotic 8-year-old son. And the man she hopes will replace Seb turns out not to be Prince Charming despite the fact that he is the scion of a Scottish clan and lives in an ancient castle.
As a satiric field guide to the trust-fund twentysomethings, social-climbing parents and gold-digging singles of London,
Bad Heir Day
neatly skewers its targets. But British journalist Holden (
Simply Divine
) has an unfortunate penchant for repackaged clichés and groan-inducing puns (the title might have tipped us off), which pepper every character's speech as if the novel takes place in some parallel universe inhabited only by tabloid headline writers. When one character gets food poisoning from bad fish, she quips that she had "a long dark night of the sole." A rival gives Anna the once-over "like a hurt-seeking missile." A punny wit, alas, is often a puny one. (Plume, $13)
Bottom Line: Lifestyles of the rich and shameless
by Ann Crittenden
Forget labor pains as we know them. This provocative new book argues that what really hurts about motherhood isn't the agony of delivery but the hit to the wallet that follows.
The financial reporter shows that for all our paeans to Mom and apple pie, parents—and at least 90 percent of the time that means the mother—pay a steep "mommy tax" in lost earnings and slowed career advancement. For instance, she calculates that a typical female college grad who has a baby will sacrifice $1 million in earnings over a lifetime.
Not everyone will agree with the publicly financed remedies Crittenden proposes. But after reading this impassioned work, it's hard not to concur that there
is
a problem. (Metropolitan, $25)
Bottom Line: Exposing the economic parent trap
Five-Finger Discount
by Helene Stapinski
Book of the week
"By first grade at Our Lady of Czestochowa, I knew how to spell 'indictment' and 'subpoenas'—two tricky vocabulary words for a 6-year-old." Not if the child grew up in 1970s Jersey City, a toxic gumbo of political corruption and grifters—some of whom shared not only Stapinski's 'hood but also her household. Her beloved father was a warehouse checker who swiped from delivery trucks the lobsters and Sara Lee cupcakes that fed his family. Her aunt toiled in a book-binding factory from which she endowed the Stapinski library with hardbacks stuffed in her girdle. And Stapinski's maternal grandfather, called Beansie because as a kid he pinched beans from a truck, was a violent and abusive drunk. But Stapinski, a journalist, is no crybaby. Her debut memoir is by turns wry and wrenching but utterly free of self-pity. (Random House, $23.95)
Bottom Line: will steal your heart
>
SPEAKING WITH THE ANGEL Nick Hornby et al
. This collection of short stories corrals such hip younger writers as Dave Eggers and Melissa Bank, plus a moonlighting actor:
The English Patient
's Colin Firth, whose contribution is a gem. (Riverhead, $12)
BEING DEAD Jim Crace
A married couple's gruesome end marks the beginning of this unusual love story, the winner of this year's National Book Critics Circle Award for fiction. (Picador, $12)
>Harry Potter
According to his biographical
page, Newt Scamander, author of
Fantastic Beasts & Where to Find Them
, "lives in Dorset with his wife, Porpentina, and their pet Kneazles: Hoppy, Milly and Mauler." But Newt is just another figment of the magical imagination of J.K. Rowling, who is serving up two snacks for Harry Potter fans hungry for the fifth book in her series about the boy wizard. Rowling and her publishers will donate proceeds from the slim
Beasts
, a guide to critters that populate the series, and
Quidditch Through the Ages
, a history of the sport played by broomstick-mounted wizards, to the charity Comic Relief U.K. (not related to the U.S.'s Comic Relief). Such celebs as Hugh Grant, Steve Martin and Mark Wahlberg are spreading the word by posing in Potter-y specs. The books' inside references (they re-create Harry's school texts, complete with doodles) and wry mock-scholarly tone should delight Potter-philes of all ages. And at last the scoop on the Loch Ness monster: It's a kelpie—a shape-shifting water demon—that "appears to have developed a positive thirst for publicity." (Scholastic, $3.99 each)
Contributors:
Joanne Kaufman,
Victoria Balfour,
Julie K.L. Dam,
Pam Lambert,
Christina Cheakalos,
Samantha Miller.
by Dennis McFarland
Advertisement
Today's Photos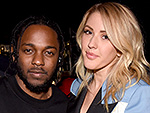 Treat Yourself! 4 Preview Issues
The most buzzed about stars this minute!