People Top 5
LAST UPDATE: Tuesday February 10, 2015 01:10PM EST
PEOPLE Top 5 are the most-viewed stories on the site over the past three days, updated every 60 minutes
A Lift Out of Life
After Breaking Up with Claudia Schiffer—Presto!—David Copperfield Finds Love Anew
If only he needed a reminder. In some three decades as the world's most famous magician, Copperfield's single-minded pursuit of his craft has prompted new talk from the 44-year-old about pulling off an entirely different kind of trick: juggling his career with a satisfying home life that would include a wife and kids to share his four-floor Manhattan apartment. For the first time since his well-publicized breakup with German-born supermodel Claudia Schiffer, 30, he has found love again—this time with Belgian model Ambre Frisque, 22. "I'm trying to balance my life a little bit," says Copperfield. "I need a form of escape even when I'm working really hard."
It's easy to understand why he would need one. Last year, Copperfield's touring schedule had him performing 512 shows around the world. For his latest television special,
Copperfield! Tornado of Fire
(airing April 3 on CBS), the master showman spent seven years preparing for a physical challenge that has him walking through gusts strong enough to tear a house from its foundation and flames as hot as 2,000°F.
Still, despite earning $60 million last year according to
Forbes
, placing him fifth on the magazine's list of the world's richest entertainers (ahead of Steven Spielberg and
Julia Roberts
), Copperfield says he has "a fear of ending up with just a bunch of plaques and awards." The legacy he now seeks is less about raising comely assistants and more about raising children. "And not someday," he says. "Soon."
Even so, Copperfield and Frisque, who have been together for five months now, are not rushing into marriage. The couple's first encounter took place in Brussels, when Copperfield picked Frisque out of an audience to assist him during a performance. She then agreed to have dinner with him—even though she had a boyfriend at the time. "It was the way David looked at me," she says. "No one had ever looked at me like that before." They have been inseparable ever since, the age difference notwithstanding. "I act like I'm 14, if you haven't figured that out yet," he says with a laugh, adding that the two of them like to go bowling and "to a lot of movies."
It helps that Frisque, who recently shot a commercial for Dentyne Ice, is scaling back on modeling so she can accompany Copperfield on tour. "David is my priority," she says. That's a striking change from Copperfield's last serious romance, with Claudia Schiffer. Copperfield met Schiffer the same way he met Frisque—at a 1993 Berlin celebrity gala, he brought Schiffer onstage to assist him during a mind-reading act—and proposed to her three months later on the Caribbean island of Little St. James.
But during their six-year engagement, the couple never set a wedding date—partly because they had difficulty scheduling time to be together. "We got busier and busier," Copperfield says. "It's hard when you have two people who are very driven."
And there were other difficulties, including relentless rumors about Copperfield's sexual orientation. "If I was gay, why would I hide it?" he says. "It's okay for me to be gay, but God didn't make me that way." There were also claims that the romance was a sham. In 1997 the magazine
Paris Match
wrote that Schiffer—whose modeling career reportedly earns her $9 million a year—had been paid to front as Copperfield's girlfriend. "What amazed us was the number of really intelligent people who believed it," he says. Schiffer responded by filing a $30 million lawsuit in France. In 1999 a French court declared the story false and defamatory and ordered
Paris Match
to pay undisclosed damages.
By then, however, the two of them were already "growing apart," Copperfield says. They broke up in the fall of 1999, though amicably enough that Schiffer says she still considers Copperfield "one of my best friends," adding, "He was my first love, so he will always be very special to me."
Copperfield's own first love has always been magic. By age 10, the only child of Hyman Kotkin, 78, a retired men's-clothing-store owner, and Rebecca, 77, a former insurance adjuster, was already working his Metuchen, N.J., neighborhood as "Davino, the Boy Magician" and striving to improve his skills. "He did things over and over again," his mother recalls, "until he absolutely felt he couldn't do them any better."
At 17, Copperfield adopted his stage name, suggested by friends who thought, as a boy, he had resembled the waiflike title character of Dickens's novel, and a year later scored his first big gig: the lead in a 1974 Chicago musical,
The Magic Man
.
In 1977 ABC tapped Copperfield to introduce its fall lineup on a show called
The Magic
of ABC, which led to a 1978 deal with CBS to produce a series of magic specials. Since then Copperfield's numerous shows for the network have focused on feats like walking through the Great Wall of China. "The way he thinks, the illusions he creates—David is 10 years ahead of everyone else," says Warren Kaps, president-elect of the Society of American Magicians. "He's advanced magic more than anyone."
And he has the trappings to prove it, from his penthouse's fourth-floor swimming pool to the second-floor screening room that's being created. But as he looks around at all he's accumulated, there's one item—a question—that Copperfield is trying to make disappear. "I find myself asking," he says, "is this all there is?"
Galina EspinozaFannie Weinstein
in New York City
Contributors:
Fannie Weinstein.
David Copperfield has risen 55 stories above the streets of Manhattan, but he didn't do so by levitating as he once appeared to across the Grand Canyon. No, this time he simply took the elevator to his sumptuous penthouse where he stands in front of a fortune-telling machine, one of some 100 vintage arcade games he owns. Slipping a coin into the slot, Copperfield receives an orange card that reads, "Devote yourself carefully to what you undertake."
Advertisement
Today's Photos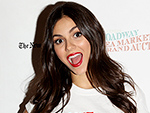 Treat Yourself! 4 Preview Issues
The most buzzed about stars this minute!