People Top 5
LAST UPDATE: Tuesday February 10, 2015 01:10PM EST
PEOPLE Top 5 are the most-viewed stories on the site over the past three days, updated every 60 minutes
Cat Fanciers
With An Increasing Number of Texans Keeping Tigers as Pets, Some in the State Fear More Maulings and Deaths
They wouldn't have been the only ones. All across the go-your-own-way state of Texas, zoologists, conservationists, politicians and just plain worried neighbors are asking the same puzzled question: Why are there so many privately owned tigers in the state? By some accounts Texas has the largest population of tigers in the world, between 2,000 and 4,000, roughly half of all the tigers in the U.S. and probably more even than India, which has an estimated 3,000, mostly in the wild. Just as surprising is the virtual lack of regulation: Texas is one of only a handful of states with no laws on the keeping and breeding of big cats. (A bill that would regulate ownership of dangerous wild animals is currently on track to pass into law.) The result: lots of undertrained citizens trying to handle wild animals that grow more dangerous as they mature. "It's a frightening situation," says Stacey Wilbanks of the Houston Society for the Prevention of Cruelty to Animals, which is lobbying for increased regulation. "It's like having a loaded gun in the house. People see a cuddly cub, but at three months the tiger is tearing up your house, and at one year it's stalking your children."
Just such disasters routinely force the issue into the spotlight. Among the dozen or so reported incidents over the past several years are a 10-year-old girl mauled to death by her stepfather's tiger in Yorktown; a 13-year-old boy nearly eaten alive by a tiger and a lion near Caldwell; 4-year-old Jayton Tidwell attacked in Channelview by his uncle's tiger, which ripped off Jayton's right arm (Jayton, now 5, has limited use of his arm after reattachment surgery; the tiger was sent to live with friends of its owner's). "These animals are untamed in their heart and can snap back to their natural instincts in an instant," says Jennifer Howell, Jayton's mother. "They are not pets, they are wild animals, point blank."
That, it seems, is precisely why some people like to have them around. "They have this allure; they represent power and beauty and mystery," explains "Jungle" Jay Riggs, 36, who owns more than 60 tigers and runs what he calls a sanctuary in Bridgeport, northwest of Dallas, where he takes in unwanted tigers. "We often get people who come up and say they'd like to own a big cat," he says. "We educate them on what it takes to feed and house them, and they end up saying, 'God, that's too much work.' " Owners unprepared for the commitment involved may wind up mistreating, abandoning or even selling their tigers to be hunted illegally. "People don't want to know what happens to the tigers they sell," says Dr. Ronald Tilson, a tiger specialist with the American Zoological Association. "No one tracks them." Adds Jim Boiler, chief cruelty investigator for the Houston SPCA: "Someone has this cute little cub that gets bigger and more aggressive, so they call a zoo. But the zoos and sanctuaries are inundated, so they end up calling the taxidermist or a hunting preserve."
Yet most of the hundreds of private owners in Texas do not neglect, abandon or otherwise endanger their tigers, claims veterinarian Randall Spencer, who treats some 30 tigers in his practice in Gilmer, not far from where the Ironses live. "The biggest problem we see is bone diseases from improper nutrition, but other than that I don't see any starving tigers around," he says. "Most people take good care of them."
Indeed, most owners argue that they are good citizens and shouldn't be held responsible for the lapses of others. "I hate that a tiger bit somebody's arm off down in Houston, but why penalize the rest of us for what this one individual did?" asks Mary's husband, Michael, 53, a disabled veteran. "We have more people dog-bit, but we don't even have a leash law in most places. It's just easier for politicians to pick on some dramatic story." In fact, Texas's Department of Parks and Wildlife decided to stop regulating animal ownership in 1995, prompting a steady call for stricter ownership standards. "We've had an enormous influx of animals into Texas [since 1995], and yet there's less regulation on tigers than on cats and dogs," says Robert Trimble, a Dallas attorney who volunteers for the Texas Humane Legislation Network, which wants to register animals, impose cage regulations and have owners post liability bonds. "We're not trying to tell people they cannot own these animals; we're saying that with ownership comes a responsibility to the community."
State regulation might have saved the life of 10-year-old Lauren Casey Villafaña, who in 1999 was mauled to death by a Siberian tiger in York-town while standing inside its cage with its owner, her stepfather, Bobby Hranicky. (Hranicky received a 10-year suspended sentence and a $5,000 fine for reckless endangerment of a minor and is appealing the sentence.) Richard Villafaña, Lauren's father, has lobbied legislators for stricter screening of potential tiger owners. "What's tragic," he says, "is that it would take the death of a child to make the Texas legislature wake up and do the right thing." Some say it may take more than that. "I believe the only thing that will stimulate the Texas legislature is several deaths," says Dennis White, director of the Southwest district of the Humane Society of the U.S. "Texas is a very independently minded state, and people are just fascinated by these animals."
Just ask Mary Irons, who bought Kitty and another tiger, Baby, for $1,500 apiece in 1993. "I decided to get them just to fix my neighbors," she says, referring to a family that she says harassed her about the two wild cougars she owned. (The neighbors have since moved away.) "I think it's my right as a U.S. citizen to have these cats," adds Irons, the mother of three grown children and an assistant at a home for disabled children. "If people say we can't have them, they're messing with my constitutional rights."
After she and her husband finally get Kitty and Mufasa back in their cage, Michael explains how he sometimes has to smack Kitty with a shovel, "just so he knows who's boss," he says. "He'll watch me with his ears back, and he'll get that eye-of-the-tiger stare, and I know what he's up to: He's fixing to charge me."
Still, he insists, there's no danger in owning a tiger as long as you know what you're doing. "They're wild animals," he concedes. "They're part of our family, but they're not pets. I don't turn my back on 'em." Neither, it seems, should his friends and neighbors.
Alex Tresniowski
Gabrielle Cosgriff in Houston and Pritchett
Contributors:
Gabrielle Cosgriff.
It's getting late in Pritchett, Texas—time for Mary and Michael Irons to say goodnight to Kitty, the family cat. This entails unlatching a 9-ft.-high chain-link perimeter fence in the yard beside their three-bedroom home, then opening the 20-ft.-by-20-ft. cage that houses Kitty, a 400-lb. Bengal-Siberian-mix tiger. While Kitty takes a final spin around the yard with Mufasa, the Ironses' 300-lb. lion and Kitty's cagemate, Mary tells how she used to hand-feed Kitty hunks of raw chicken. "One time he missed the chicken and bit my hand," says Mary, 39. "Blood was going everywhere. When I got to the emergency room I told them it was a dog. They would have thought I was crazy if I said it was a tiger."
Advertisement
Today's Photos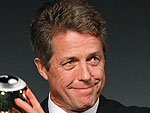 Treat Yourself! 4 Preview Issues
The most buzzed about stars this minute!