People Top 5
LAST UPDATE: Tuesday February 10, 2015 01:10PM EST
PEOPLE Top 5 are the most-viewed stories on the site over the past three days, updated every 60 minutes
Picks and Pans Main: Tube
Week at a Glance
This disappointing Hallmark Hall of Fame production (taken from a Luanne Rice novel) has a number of angles to explore, but its essential shape turns out to be an all-too-familiar triangle: Two brothers—one virtuous, one feckless—are in love with the same woman. She falls for Brother Wrong, carrying a torch for him even after he deserts her. But Brother Right remains steadfast and available.
What's unusual here is why the bad brother pulls his disappearing act. Mark (Eric Close) walks out on wife Dianne (Kimberly Williams) after learning that the baby they're expecting has severe genetic abnormalities. Dianne is nonetheless determined to bear the child, with support from her mother (Blair Brown) and Mark's brother David (Campbell Scott), a pediatrician whose love for Dianne is unspoken but obvious. How do they cope with the challenges of raising this little girl named Julia? The answers are sketchy because
Follow the Stars Home
skips over the first five-plus years of her life. The film is far more concerned with nudging Dianne and David closer together and building a relationship between Dianne and Amy (Alexa Vega from
Spy Kids
), the 12-year-old "mother's helper" who lends a hand with Julia. When a crisis brings Mark back into the picture, the pat resolution may satisfy some viewers but will surprise none.
Bottom Line: Follows a safe course
UPN (Tuesdays, 9 p.m. ET)
In the mid-April premiere of this latest exercise in paranormality, surgical resident Mitchell Grace (Grayson McCouch) learned that Boston's
All Souls
hospital had once been home to "horrible, insane experiments" and that an off-limits part of the building is rumored to be haunted. If Dr. Grace were as bright as he's supposed to be, he'd bolt for the exit and there'd be no series. To heck with that sage old nurse (Irma P. Hall) who keeps saying his
All Souls
affiliation is inescapable.
Aside from a couple of health-insurance jokes, there's little humor in this show, which can be really scary when it's not resorting to cheap gross-outs. But I'm amused as well as amazed at how the characters take the incredible in stride. In week two, Dr. Grace's best pal (Adam Rodriguez) was wheelchair-bound, then miraculously ambulatory, then spine-damaged all over again. Next episode he's grinning as if nothing happened. On May 8 Dr. Grace exposes the monstrousness of
All Souls
' sports medicine department and finds time to fall in love with a track star. He should be the one running—to another hospital.
Bottom Line: Horror and healing are a dubious mix
Showtime (Sun., May 6-27, 10 p.m. ET)
If you saw
Tales of the City
(PBS, 1994) or
More Tales of the City
(Showtime, 1998), you know what to expect from this new four-part adaptation of Armistead Maupin's fiction: sexual frankness and a bizarre plot strand or two. If you're a stranger to the San Francisco saga, you'll feel at sea till at least the second hour of
Further Tales
. (Consider waiting for June, when Showtime airs all three miniseries in order.)
It's 1981 and aspiring TV reporter Mary Ann (Laura Linney from
You Can Count on Me
) is onto a huge story: A charming homeless man (Henry Czerny) may have infamous evil in his past, and he may be stalking the two small children of Jonestown survivor DeDe (Barbara Garrick). This story line, which the script can't bring itself to take seriously enough, makes the other tales seem like tame time-wasters. Are Mrs. Madrigal (Olympia Dukakis) and her mother (Jackie Burroughs) smitten with the same man (John McMartin)? Will Michael (Paul Hopkins) and Jon (
Once and Again
's Billy Campbell) get back together? I wish I cared more.
Bottom Line: Only fair, but fans will want to go further
The Judge
NBC (Sun.-Mon., May 6-7, 9 p.m. ET)
Show of the week




Though it seems trite and sluggish in the early going, resist the urge to tune out this two-part adaptation of Steve Martini's novel. In the second half the courtroom drama gathers momentum and star Chris Noth makes it more watchable by shedding an unattractive mustache.
Sex and the City
's Mr. Big plays Paul Madriani, an aggressive lawyer who opens the film by drawing a contempt sentence from flinty Judge Armando Acosta (Edward James Olmos). But when Acosta is charged with murder, who's he gonna call? Joined on the defense team by an ex-girlfriend (Lolita Davidovich), Madriani does his best to outmaneuver the conceited state's attorney (John Terry) while foiling frame-up efforts by a thoroughly corrupt police force. Credibility is sometimes lacking, but the Acosta trial develops into a crowd pleaser when the presiding judge (Charles Durning, snapping and roaring) and the jurist-defendant both try to run the show.
Bottom Line: Ruled admissible
Carmen
MTV (Tues., May 8, 8 p.m. ET)
Let hipper critics judge the rhymes in this rap revision of Georges Bizet's 1875 opera ("So soothing and calming/ She's the furthest thing from common" sounds a little off to these tired ears). I will venture to say that Beyoncé Knowles of Destiny's Child is plenty hot as the seductive title character, while Mekhi Phifer (
A Lesson Before Dying
) conveys the conflicting feelings of the cop she brings to ruin. And a sly Mos Def nearly steals the show as a law officer without an ethical bone in his body. The film fails to attain an operatic level of emotion, and director Robert Townsend starts recycling his Hollywood Shuffle material when Carmen tries to launch an acting career. But this is an interesting experiment.
Bottom Line: Worth a try
Sunday, May 6
WHO WANTS TO BE A MILLIONAIR
E ABC (9 p.m. ET) Edie Falco and Dennis Franz are among the stars taxing their brains on this week's celebrity edition.
Monday, May 7
THE ULTIMATE GUIDE: PYRAMIDS
Discovery Channel (9 p.m. ET) Check out the massive monuments in Egypt, Mexico, Peru and China.
Tuesday, May 8
HOW THE RICH STAY YOUNG
Travel Channel (8 p.m. ET) Hey, aging couch potatoes: Here's what it will cost to lose those wrinkles.
Wednesday, May 9 ACADEMY OF COUNTRY MUSIC AWARDS CBS (8 p.m. ET) Lee Ann Womack and Toby Keith lead the pack in nominations.
Thursday, May 10
WILL & GRACE
NBC (9 p.m. ET) Woody Harrelson and Molly Shannon make guest appearances.
Friday, May 11
WINGSPAN
ABC (9 p.m. ET) Silly love songs, eh? A two-hour special tells how Paul and Linda McCartney soared with Wings.
Saturday, May 12
THE PATRIOT
HBO (9 p.m. ET) Mel Gibson fights the Revolutionary War in this rousing 2000 movie.
CBS (Sun., May 6, 9 p.m. ET)
Advertisement
Today's Photos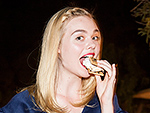 Treat Yourself! 4 Preview Issues
The most buzzed about stars this minute!