People Top 5
LAST UPDATE: Tuesday February 10, 2015 01:10PM EST
PEOPLE Top 5 are the most-viewed stories on the site over the past three days, updated every 60 minutes
Picks and Pans Main: Tube
Talking With...
The stars should be perfectly aligned for this adaptation of Neil Simon's 1993 play, a fictionalized memoir of his days on the talent-rich team that wrote TV comedy for Sid Caesar in the '50s. Nathan Lane, who played Caesar-like Max Prince on Broadway, repeats the role here—just as New York audiences are cheering his stage performance in
The Producers
, the musical smash from another former Caesar jokesmith, Mel Brooks.
There's only one hitch: Despite Lane's often strenuous efforts,
Laughter on the 23rd Floor
never ascends to the level of Simon's best work. When Max's writers (Saul Rubinek, Victor Garber, Dan Castellaneta, Mark Linn-Baker, Peri Gilpin, Zach Grenier and Mackenzie Astin) gather for their spitballing sessions, the results are more noisy than funny. And Simon's script never penetrates to the root causes of Max's problems with booze, pills and rage.
But remain after Laughter for Hail Sid Caesar!
The Golden Age of Comedy
(May 26, 9:45 p.m.), a lively documentary with vintage clips and comments from Caesar, Simon, Brooks, Woody Allen and Carl Reiner (whose son Rob narrates).
Bottom Line: The facts are more fun
Showtime (Sun., May 27, 8 p.m. ET)
Hang onto your rosary beads.
Sister Mary Ignatius Explains It All
for You has finally made it from stage to screen—to the small screen, that is, and with a shortened title. More than 20 years after it was first produced Off-Broadway, Christopher Durang's black comedy retains much of its capacity to amuse and offend.
Four disillusioned thirtysome-things (Laura San Giacomo, Brian Benben, Jennifer Tilly and Wallace Langham) set out to show up their third-grade teacher, ultradogmatic Sister Mary Ignatius (Diane Keaton), at her annual Christmas lecture. The confrontation turns angry, then violent, and Durang hurls many a barb certain to raise the hackles of traditional Catholics. Keaton isn't intimidating enough, and it's not hard to tell you're watching a padded one-act play. But if you ever knew a Sister Mary type, you'll stay in your seat.
Bottom Line: Don't be marked absent
Legacy of Attack
NBC (Sun., May 27, 9 p.m. ET)
Show of the week
The expedition to find a sunken Japanese submarine is disappointing, but the recollections of
Pearl Harbor
survivors are invaluable in this two-hour special (also airing May 27 at 8 p.m. on the National Geographic Channel).
With host-narrator Tom Brokaw setting the scene effectively, American veterans share their painful and poignant memories of Japan's attack on Dec. 7, 1941. Meanwhile, undersea explorer Robert Ballard leads an effort to find the remains of a midget sub reportedly sunk by an American destroyer in the
Pearl Harbor
area more than an hour before Japanese planes began bombing.
The vets' testimony is exceptionally moving. You'll long remember the simple dignity of Carl Carson, dying of cancer yet determined to return to
Pearl Harbor
and honor more than 1,000 of his shipmates who lost their lives when the USS Arizona went down. Submersible cameras provide haunting images of the broken battleship in its watery grave. But Ballard's search, with its artificial suspense, becomes a distraction.
Bottom Line: Worthwhile remembrance
ABC (Wednesdays, 9 p.m. ET)
This venturesome sitcom yields to no other series when it comes to sweeps-month stunts. Last November brought a live episode. In a February two-parter, Drew went into a coma, his soul floated heavenward and he wound up trapped inside the body of his newborn nephew.
Can May 23's hour-long, season-ending cliffhanger top all this? Not quite. Drew gets a promotion coveted by the hideous Mimi (Kathy Kinney), his office nemesis and sister-in-law. So Mimi drives Drew certifiably insane and moves to steal his new job after he's tossed in the booby hatch. Unfortunately, the mad goings-on at the Mary Todd Lincoln Mental Institution are not as funny as comatose Drew's February dream, in which he tested his trivia knowledge against that of Mary's husband, Honest Abe. "Ah, this is gettin' so old," Drew correctly observes when orderlies forcibly sedate him a second time. But don't skip the hospital visit or you'll miss one of the season's comic gems: Drew's encounter with a deluded patient who has taken on the personality of a famous CNN interviewer and USA Today columnist. Hail to David Ruprecht for cleverly mimicking the King of Talk.
Bottom Line: Crazy, but could be funnier
Sunday, May 27
HISTORY VS. HOLLYWOOD: PEARL HARBOR
History Channel (8 p.m. ET) The accuracy-minded series vets the new World War II blockbuster movie.
Monday, May 28
WORLD MUSIC AWARDS
ABC (9 p.m. ET)
Carmen Electra
and Sisqó play host to such chart-toppers as Ricky Martin.
Tuesday, May 29
ABOUT FACE
TLC (10 p.m. ET) Learn how surgeons use the latest techniques to repair facial disfigurements.
Wednesday, May 30
BACKSTREET BOYS: LARGER THAN LIFE
CBS (8 p.m. ET) Swoon. It's a whole hour of the cute boy band.
Thursday, May 31
A TRIBUTE TO BARBRA STREISAND
FOX (8 p.m. ET) Babs gets the AFI Life Achievement Award, plus kudos from Jack Nicholson, Dustin Hoffman et al.
Friday, June 1
MARILYN MONROE: THE FINAL DAYS
American Movie Classics (8 p.m. ET) A documentary examines the sex symbol's death and her last, unfinished film.
Saturday, June 2
GLADIATOR
HBO (9 p.m. ET) Russell Crowe does ancient Rome in the Oscar-winning epic of 2000.
Billy Ray Cyrus
Hearing Billy Ray Cyrus—he of the signature mullet hairdo and gentle Kentucky twang—spout medical terms like myocardial infarction may surprise some of his country music fans. "I have to use a lot of big doctor words that are not really in my vocabulary," says the singer turned actor of his role on the drama Doc (Sundays at 8 p.m. ET on PAX TV). But vocab is the least of it. "Touring is like a cakewalk compared to what I am doing on this set," he says, citing 12-hour workdays as another challenge. Still, Cyrus, 39, insists that playing Clint Cassidy, a good-hearted backwoods doctor from Montana who moves to New York City for his girlfriend and to work for a callous HMO, isn't all that much of a stretch. "Music and acting do have similarities," he says. "A scene has a rhythm just like a song does. You just have to find it." The busy crooner somehow found time to write and record a new album, Southern Rain, and to squeeze in concert dates between shoots. And when he does hit the stage he always ends with his best-known hit, the platinum single "Achy Breaky Heart." "It still gives that same adrenaline rush and chaos it did nine years ago," says Cyrus. "I will never get tired of that feeling. That's the fun part."
Contributors:
Ericka Souter.
Showtime (Sat, May 26, 8 p.m. ET)
Advertisement
Today's Photos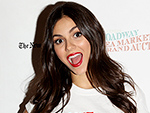 Treat Yourself! 4 Preview Issues
The most buzzed about stars this minute!