Archive Page - 12/1/12 39 years, 2,080 covers and 53,257 stories from PEOPLE magazine's history for you to enjoy
On Newsstands Now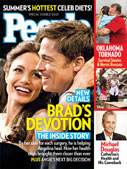 Brad's Devotion: The Inside Story

Oklahoma Tornado: Heroic Rescues

Michael Douglas on Catherine's Health
Pick up your copy on newsstands
Click here for instant access to the Digital Magazine
People Top 5
LAST UPDATE: Thursday May 23, 2013 03:10PM EDT
PEOPLE Top 5 are the most-viewed stories on the site over the past three days, updated every 60 minutes
Picks and Pans Main: Tube
Week at a Glance
Show of the Week




Carrie (
Sarah Jessica Parker
) turns 35 in the fourth-season premiere (the first of two June 3 episodes). Isn't it time the women of Sex and the City settled down? "Well, consider Carrie's friend Charlotte (Kristin Davis). She got married last year, and her husband (Kyle MacLachlan) was a non-performer in the bedroom. Now that they're separated, he can't contain his lust for her. Moral: Secure relationships aren't for everyone or every show.
Somewhat to my surprise,
Sex and the City
hasn't yet passed its freshness date. Miranda (Cynthia Nixon) still hides behind her cynical wit ("Soulmates only exist in the Hallmark aisle in Duane Reade drugs"), and Samantha (Kim Cattrall) still wants it any way she can get it. In the season opener she pants after a strapping friar (Costas Mandylor), even going so far as to feign an interest in St. Francis. But the characterizations are deepening with the years. Carrie grows wiser as well as older in the first episode, and the second imparts a funny, uplifting lesson on the beauty of being yourself. I'm not quite ready for wedding bells to break up this gang.
Bottom Line: Continued satisfaction
TNT (Sun., June 3, 8 p.m. ET)
Ya gotta feel for Mafia chieftain Paul Castellano (Chazz Palminteri). He wants his organization to concentrate on tidy, white-collar crime, but rebellious subordinates like John Gotti (Sonny Marinelli) stubbornly prefer a bloodier way of doing business. "I'm stuck trying to make morons into legitimate people," Castellano complains.
If you're up on gangland history, you know Castellano lost the dispute on Dec. 16,1985—in a hail of bullets outside a Manhattan restaurant. This TV movie begins and ends with a graphic depiction of that famous rubout. (For my dough, once would've been plenty.) But despite Palminteri's solid performance,
Boss of Bosses
lacks the style or insight to put it even close to the
Godfather
-
GoodFellas
league. Flaws include too many clichés in the flashbacks to Castellano's criminal apprenticeship and too much posturing by Daniel Benzali as an implacable FBI honcho.
Bottom Line: Middling Mob stuff
Lifetime (Mon., June 4,9 p.m. ET)
The basic situation is familiar: guiltless people caught in a nightmare caused by overzealous law enforcement. But the particulars are unusual in this well-acted TV movie, described by Lifetime as "inspired by a true story." A Chicago photographer (Felicity Huffman) pays a visit to her best friend, a Cincinnati widow (Mare Winningham) with children ages 7, 4 and 2. Huffman snaps the kids romping innocently in various stages of undress. A photo developer sees the shots and calls police, and it's Winningham who winds up facing child abuse and pornography charges. The drama may be a little too black and white—misguided prosecution, persecuted defendant—but Winningham is most sympathetic as a good mother under siege.
Bottom Line: Decent picture
NBC (Tuesdays, 9:30 p.m. ET)
Creator-executive producer John Markus says this new sitcom is "unusual television" in that its female central character is "principled," "virtuous," "right-minded" and averse to sex outside marriage. It seems perverse to point out that
Kristin
is not entertaining. Kristin Chenoweth (a Tony Award winner for
You're a Good Man, Charlie Brown
) stars as Kristin Yancey, a frighteningly perky Oklahoman who comes to New York City with hopes of a Broadway career but takes a day job as personal assistant to Tommy Ballantine (Jon Tenney), a playboy real estate developer described by NBC as "Donald Trump-esque." Tommy has an embarrassingly well-publicized history of sexually harassing female aides, so his right-hand man Aldo (Larry Romano) hires Kristin based on her minister's assurance that she has a strict no-shenanigans policy. (Did we mention that Markus promises "realistic, relatable stories"?) But Kristin has sex on the brain nonetheless. In the June 5 pilot, Tommy tests Kristin's defenses, and she has a strangely encouraging way of discouraging him. "A person's spirituality is very connected to their sensuality," she says. "And I'm extremely spiritual." Hallelujah, baby. In an upcoming episode, office sexpot Santa (pronounced "Sahnta" and played by Ana Ortiz) has thrilling intercourse with a construction worker on an exposed beam 60 stories up. Well, we don't actually see this difficult act, but there's a lot of tiresome talk about it. Her character's musical-theater side will give Chenoweth a welcome excuse to sing and dance now and then. Still, the breakdown on Kristin is 99 percent contrivance, 1 percent comedy. Bottom Line: Don't feel guilty about changing channels Sunday, June 3 TONY AWARDS PBS (8-9 p.m. ET) CBS (9-11 p.m. ET) Two networks split coverage of the Broadway event, emceed by Nathan Lane and Matthew Broderick of
The Producers
.
Monday, June 4 OBESITY: A DEADLY RISK Discovery Channel (9 p.m. ET) Carnie Wilson narrates this study of excess weight as a health problem.
Tuesday, June 5 HALFWAY HOUSE A&E (10p.m. ET) Investigative Reports tracks three violent offenders hoping for parole.
Wednesday, June 6 RUDOLF NUREYEV'S DON QUIXOTE PBS (8 p.m. ET) Great Performances offers a restored version of the 1973 film ballet.
Thursday, June 7 MTV MOVIE AWARDS MTV (9 p.m. ET)
Kirsten Dunst
and Jimmy Fallon are cohosts of this 10th annual exercise in irreverence.
Friday, June 8 PEARL HARBOR: SEVEN VIEWS OF DEFIANCE TLC (9 p.m. ET) An hour-long special recalls the Day of Infamy.
Saturday, June 9 SAVING GRACE STARZ! (8 p.m. ET) Brenda Blethyn is a matronly marijuana grower in this breezy 2000 movie.
HBO (Sunday, 9 p.m. ET)
Advertisement
Treat Yourself! 4 Preview Issues
The most buzzed about stars this minute!