People Top 5
LAST UPDATE: Tuesday February 10, 2015 01:10PM EST
PEOPLE Top 5 are the most-viewed stories on the site over the past three days, updated every 60 minutes
Clothes Harmony
Whether Matchers (Julia and Ben) or Mixers (Courteney and David), Some of Hollywood's Most Stylish Couples Reveal Their Secrets for Dressing À Deux
Jennifer Aniston
and
Brad Pitt
California Cool
What a disappointment. For a fleeting moment last month legions of wives and girlfriends took heart at reports that
Brad Pitt
was launching his own clothing line—raising the tempting prospect that their own men could slip into a bit of his movie-star sexiness. The actor promptly squelched the story, but the excitement was understandable. "The reason Brad has such great style is that he never looks to what people are going to think of him," notes Todd Shemarya, an L.A. stylist who advises Pitt, 37, and his wife,
Jennifer Aniston
, 32. "He looks at what he likes best and what's most comfortable." That frequently includes suits by Dior designer Hedi Slimane, while
Friends
star Aniston favors understated Prada and Calvin Klein. "When she gets dressed up, she looks cool and sleek," says her longtime hairdresser Chris McMillan, "and not like a poodle with a bow in her hair." Ah, the hair. Despite reports that Aniston regrets the cut, McMillan says the proudly biased Pitt loves his wife's current shoulder-length do. "Brad just adores her," says McMillan. "Period."
Drew Barrymore
and Tom Green
Wild Things
No self-conscious Hollywood preening for
Drew Barrymore
. "I don't think I could live in that I-have-to-be-cool world," she told Premiere in November. Fortunately, her husband, Tom Green, 29—best known for depositing a live mouse in his mouth in last year's gross-out comedy
Road Trip
—often seems to inhabit another planet entirely. And when it comes to clothes, these two chart their own course. "They look casual, calm," notes Los Angeles stylist Tod Hallman, who has counseled Barry more, "like they're not trying too hard." When not facing red-carpet duty in vintage Armani or modern Vivienne Westwood, Barrymore, 26, keeps it simple in "jeans and a cute little top," says Gabrielle Zuccaro, owner of Bleu, a chic L.A. boutique frequented by the star. "And she always has great jewelry on." Adds Hallman: "She's at the point where she can say, 'This is Drew. This is what I like.' " Green, meanwhile, revels in the ordinary. "Road Trip wouldn't have worked if he was in a Brioni suit," says Hallman of Green's rolloutta-bed appeal. "Guys can identify with the way he dresses—just cool and casual."
Britney Spears
and
Justin Timberlake
Denim Monde
They're young, they're in love, and they're music stars. Did you expect them to wear Dockers? "They do a lot of denim," concedes stylist Rachel Zoe Rosenzweig, who has worked with
Britney Spears
and her boyfriend, 'N Sync's
Justin Timberlake
. "They have things custom-made in denim with denim studs, denim tie-dye, dazzle denim."
That covers the denim; for Spears, 19, the other motif is, of course, skin. Says celebrity stylist Tod Hallman: "She is embracing her sensuality. She's showing more skin; she's body-conscious." Yet she's also conscious of not upstaging her 20-year-old beau. "When Britney goes out by herself, she's more edgy, fashion-forward," says Rosenzweig. "Together they look like teens; they dress down." And together, says Hallman, they pull off what others might call fashion faux pas. "They're at an age where they can do it and get away with it," he says. "They can be as fun and wacky as they want to be." After all, he points out, somewhat superfluously, "she's not an investment banker, and he's not a nuclear physicist."
Whitney Houston and Bobby Brown
Proud to Be Loud
True diva style, it might be said, is a dying art. Sure, newbies like Destiny's Child and
Christina Aguilera
aim for over-the-top flamboyance, but their approach is all flash and flesh—with very little flair. Clearly they could stand to take notes from the ever eye-popping Whitney Houston. Case in point: the neon purple faux fur Houston paraded at this year's Academy Awards. Houston, 37, likes to look "cool but glamorous," says stylist Patti Wilson, who has worked with both the singer and her husband, R&B artist Bobby Brown, 34. And always, "she's gotta have her heels!" A fan of form-fitting designs by Pamela Dennis and Roberto Cavalli, Houston "has a basic instinct for how she wants to look," adds her cousin, singer Dionne Warwick. As does Brown, who Wilson says conveys a mix of "street and glam." Notes designer Dennis: "They both have great confidence and can pull off something when others cannot."
Julia Roberts
and Benjamin Bratt
Megawatt Glamor
Given the obsessive media attention surrounding her appearance at this year's Academy Awards—what will she wear? what about the hair?—
Julia Roberts
, 33, might have been forgiven a histrionic breakdown (or two or three) in the hours beforehand. Instead, says her longtime hairstylist Serge Normant, the actress was the portrait of placidity. "It's never the drama of the last minute with her," says Normant, "even on the night of the Oscars." Likely contributing to her preternatural calm: her serene steady of three years, actor Benjamin Bratt, 37. "No matter what they wear, they project a happiness, security and self-confidence," says Normant. Roberts, in particular, has long since abandoned the sometimes frumpy look of her fledgling starlet days. "She's evolved," notes Normant. Observes designer Vivienne Tam, a Roberts favorite (along with Armani and Valentino): "Her style is elegant, simple and very natural." Bratt, a fan of Armani and Calvin Klein, "is current but not in an insane way," says E! fashionista Joan Rivers. Side by side, adds Rivers, "they're the cutest couple on the red carpet."
Angelina Jolie
and Billy Bob Thornton
Rebel Rousers
Breezing into the leather store Buffalo Chips during a recent visit to New York City, longtime patron Billy Bob Thornton carefully surveyed the merchandise before settling on a pink-and-white cowboy shirt. "I thought he was buying it for his wife," recalls the shop's co-owner Paul Greyshock. "But he said, 'Angie just loves me in pink.' " That Jolie, Hollywood's bad girl, prefers pastel on her man shouldn't come as any surprise. Both Thornton, 45, and Jolie, 26, who wed last year, have built careers on nonconformity. Rule No. 1: no personal stylists. The pair prefer to choose their own outfits, with Thornton favoring worn Levi's and "outrageous cowboy boots with real pointy toes," says Greyshock. Jolie, on the other hand, shoots for "simplicity," notes Fred Segal Beauty stylist Paul De Armas. And whether in a Dolce & Gabbana pantsuit or a tee and jeans, she keeps the attention on her, not the clothes. "Whatever she's trying to do," he says, "it's uniquely hers. She carries it."
Sarah Michelle Gellar and Freddie Prinze Jr.
Polished and Buffed
They're set to star as Fred and Daphne, the goofy teenage sleuths in next year's live-action
Scooby Doo
flick, but by all accounts, lovebirds Sarah Michelle Gellar and Freddie Prinze Jr. would be equally well cast as Fred and Ginger. "Their grace is breathtaking," says L.A.-based jewelry designer Cathy Waterman, who sold Prinze the engagement ring he slipped on Gellar's finger in April (no wedding date yet). The 5'3" Gellar, 24, best known as TV's
Buffy the Vampire Slayer
, likes to dance between classic elegance (Valentino) and right-now hipness (Frankie B jeans), says Deborah Waknin, an L.A. stylist who advises the couple. "She has this East Coast, cool, sexy and put-together style." As for the 6'1" Prinze, 25, the avid tap dancer "never wears anything that's too showy," says Waknin, adding that he is most comfortable in loose-fitting cargo pants and T-shirts. "He does everything from Gucci to Gap. He's like a sophisticated skateboarder." And a besotted one too. Notes Waterman: "He is so smitten, he radiates love. There's nothing chicer than that."
Iman and David Bowie
Hip Huggers
Stylists? Who needs 'em? David Bowie, says Hamish Bowles, a Vogue editor who has followed Bowie on the European fashion circuit, "is someone with instinctive style who has always had the courage of his convictions." And Iman, 45, whom Bowie married in 1992, hews to an independent line too. "I'm usually quite clear about what works on me," she says. "Even if it's outrageous, it has a point of view. Why wear something that a flock of people are wearing?" Why indeed? Bowie, 54, favors British designers Alexander McQueen and Paul Smith, who, Iman says, "design clothes that are traditional but have a sense of irony." Her own taste runs to Azzedine Alaïa, John Galliano, Calvin Klein and Donna Karan. "I like very comfortable, more sensual clothes," she explains. Together, says Bowles, Iman and Bowie "make a staggeringly dramatic couple."
Kate Hudson
and Chris Robinson
Beauty and the Rock Star
Given his druthers, rocker Chris Robinson would dispense with the designer duds often worn by his wife, actress
Kate Hudson
. "He likes naked," confesses Hudson with a giggle. "He thinks that's my best color!" Call it newlywed chic (the pair were married in December), but don't expect to see it on the red carpet anytime soon. Instead, Hudson, 22, and Robinson, 34, favor a blend of Hollywood glamor and rock and roll wackiness. "They can pull off this rocker-couple thing without being too over-the-top," says Rachel Zoe Rosenzweig, who knows the pair. "They play with fashion." Hudson, whose freewheeling feminine style frequently calls to mind that of her mother, actress Goldie Hawn, uses stylists for big occasions but otherwise likes to rely on her own clothing instincts. "I've always been someone who wears what she likes," says the
Almost Famous
star. "I never thought about it that much." Which often translates into lots of last-minute grooming. "We're the procrastinator go-outers," admits Hudson. "We're the kind of people who get dressed 15 or 20 minutes before [a party], and I'm doing my makeup in the car." Nonetheless, "they definitely work together in their dress," says Rosenzweig, pointing to the pair's his-and-her fedoras at a Versace party in February. Indeed, Hudson says that Robinson, the lead singer for the Black Crowes, is something of a "clothes-horse." How so? "He loves his scarves. He loves his little trinkets. He loves his hats," she explains. "I call him my million-dollar bum!"
Courteney Cox Arquette
and David Arquette
Odd Couple
While shopping at Decades, a West Hollywood vintage-clothing boutique,
Courteney Cox Arquette
, 36, once told owner Cameron Silver that her husband, David, 29, changes clothes three or four times a day. Not surprising considering his—to put it kindly—eclectic tastes. "I'd love it if platform shoes and jumpsuits came back into fashion," Arquette told The Calgary Sun in March. "I love what Elvis wore for his Las Vegas shows." Silver, who recently sold the star of the Scream movies what he terms "an insane plaid" suit made in the early 70s, calls Arquette's look "a mix of Wayne Newton with a touch of Jim Morrison and a little bit of the boy-next-door." Arquette's wife of two years, on the other hand, is all grown-up-next-door, favoring both flashy and tailored designs by Dolce & Gabbana. "She has it pared down to the minimum," says Cox Arquette's makeup artist Beth Katz. Despite the couple's wildly divergent fashion philosophies, "she would never try to change him," says Katz. "And Courteney could wear a plastic bag and David would still think she looked beautiful. It's actually very sweet."
Sarah Jessica Parker
and Matthew Broderick
Urban Sophisticates
"I am like a man from 1958," confesses Matthew Broderick, "who needs his wife to tell him what belt to wear." Fortunately for Broderick, 39, his wife is one of the most fashion-forward actresses ever to hit the small screen. As the tousle-tressed star of HBO's
Sex and the City
, a show in which clothes matter nearly as much as the characters,
Sarah Jessica Parker
, 36, has launched scores of style trends—including nameplate necklaces, minuscule minis and shoes so pointy-toed they could make the Wicked Witch weep. "With Sarah you see a lot of different looks—modern sexy, retro sexy," says New York City stylist Garth Condit, who has worked with the couple. "She loves it all jumbled up." Yet when it comes to Brod-erick's style, her tastes lean toward the conservative. "She wants me to be like a banker," notes the Broadway star of
The Producers
, who favors classic tuxedos and Armani suits. "She likes traditional men's clothes. So do I, mostly." As for what he prefers his wife to wear, that's simple: "I love when she is dressed up, but I am happier when we're home and she's in a nightshirt. I'm not as intimidated!"
Jada Pinkett Smith and
Will Smith
Dressed to Chill
It's not so much that Jada Pinkett Smith wears the pants in the family, it's more a case of her having the final say on just what pants will be worn. "Jada," says stylist Nonja McKenzie, "pretty much decides" what she and husband Will Smith wear for joint appearances. "Pretty much whatever she says, he goes along; he's a real trouper." And why shouldn't he be? In their three years of marriage, Smith, 32, and Pinkett, 29, have earned a red-carpet rep for high-fashion hipness. "They strive to be sexy," says Rachel Zoe Rosenzweig, who has worked with Pinkett, "but in a tasteful and fashion-conscious way. A lot of Hollywood doesn't understand the difference between chic and sleazy, but you'll never see them in anything that's cheap or shows too much." In fact, you'll usually see them in outfits that not only don't clash but actually complement each other. Adds McKenzie: "They enjoy dressing alike a lot. They're really good friends, so they want to coordinate with one another."
Faith Hill
and
Tim McGraw
Town and Country
Jetting into New York City from Rome on April 23,
Faith Hill
and
Tim McGraw
had just a few hours to get ready to strut the red carpet at the Metropolitan Museum of Art's Costume Institute Ball. "I didn't think we'd get it together," recalls stylist Garth Condit, who garbed the couple in coordinating gray-and-black ensembles. "They jumped into their clothing." Of course, warp-speed primping is a snap with the help of a stylist, a hairdresser, a makeup artist—and a certain high-profile designer. "It was pretty easy tonight," McGraw, 34, said later that evening. "Calvin Klein made these [outfits] for us." The couple, who have been married four years and have two daughters, Gracie, 4, and Maggie, 2, don't always try to coordinate as a duo. "It depends on how we feel," says Hill, 33. "Sometimes I wear the high heels," says McGraw, "and she'll wear the boots." Kidding aside, "Tim is very macho," says designer Jane Booke, who has worked with the pair. "He's Mr. Cowboy—and that goes with any kind of woman." Adds Condit, who frequently dresses the couple in Versace, Dolce & Gabbana and Richard Tyler: "With Tim, we always do modern suits or slick leather." Hill, on the other hand, "is very feminine, romantic," says Booke. If it were up to McGraw, though, his wife would sport "sweats and T-shirts—but they have to be my T-shirts," he says. "She looks good in anything." Hill returns the compliment: "He doesn't need recommendations—he does great on his own." Not that she doesn't help out now and then. "Whatever she says," declares McGraw, "I put it on."
Advertisement
Today's Photos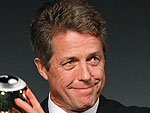 Treat Yourself! 4 Preview Issues
The most buzzed about stars this minute!