People Top 5
LAST UPDATE: Tuesday February 10, 2015 01:10PM EST
PEOPLE Top 5 are the most-viewed stories on the site over the past three days, updated every 60 minutes
Picks and Pans Main: Song
Worth a Listen
Reviewed by Joanne Kaufman
Make room in that spotlight, Diana Krall. Monheit, 23, is jazz's next sultry sweetie. Like Krall, she tops a pretty face with a pretty amazing voice: It's a high, clear instrument (occasionally given to unnecessary trills) with sophisticated phrasing. "Waters of March," Antonio Carlos Jobim's rapid-fire test of breath control, spins out like a silken thread. The simply rendered "Blame It on My Youth" and "Spring Can Really Hang You Up the Most" are haunting evocations of love lost.
This sophomore album (her debut, Never Never Land, was a hit last year) is a bit ballad-heavy. No one will quibble with classics like "I'm Through with Love," but Monheit should swing instead of serving up soggy Bread (the tedious "If"). Her true colors shine on two versions of "Over the Rainbow": The first includes a seldom-heard verse; the second, a charmer, was recorded by Monheit as a 3-year-old. Each is a magical trip to the land of ahhhs.
Bottom Line: Sweet Dream
blink-182 (MCA)
Not since Bart Simpson has immaturity found better spokesmen than blink-182. The twentysomething punk-pop trio reached the acme of acne rock with their 7 million-selling 1999 disc
Enema of the State
and its infectious, relentless singles "What's My Age Again" and "All the Small Things." On their fourth disc the San Diego-based lads give listeners exactly what they expect: adrenaline-laced sonic gems reveling in blink's patented, potty-mouthed humor, recommended only for adolescents of all ages. "Happy Holidays" explores how many four-letter words can fit into 41 seconds, and it even rhymes. "Roller Coaster" is another update from high school confidential as guitarist Tom DeLonge examines how hard it can be for a teen to operate a telephone: "Breathing deeply, walking backwards/ Finding strength to call and ask her." More substantial are the divorce-themed "Stay Together for the Kids" and "Story of a Lonely Guy," which is sad and poetic enough to be a tears-in-your-beer country tune—except it rocks.
Bottom Line: Undressed for success
Brad Paisley (Arista)
Ablum of the week
[




]
Here's one young man with some respect for his elders. On his second album this 28-year-old West Virginian turns in a strong version of the hymn "Old Rugged Cross," even adding an introduction (from a taped broadcast) by Grand Ole Opry mainstay Little Jimmie Dickens. Two other stalwarts, George Jones and Buck Owens, sing on the pleasingly sarcastic "Too Country" ("Is the grace too amazing, is the steeple too tall/ Are there too many 'Yes, Sirs' 'Yes, Ma'ams' and 'How're y'alls'?") Paisley and songwriting partner Chely Wright collaborate on the clever "Come On Over Tonight," about a man breaking his vow to tame a wandering eye: "We'll sit on the swing/ Watch the pigs fly by, flappin' their brand new wings." It was Peter Allen, hardly a good ol' boy, who wrote that "everything old is new again." But the sentiment is as true in Nashville as it is on Broadway.
Bottom Line: Sticking with the traditions what brung him
Amanda (Maverick)
Amanda may look like the latest product off the
Britney Spears
factory floor, but she isn't. First, she's an import (from Sweden); second, her debut disc of slick power pop comes wrapped in the snow-white mantle of the virginal anti-Britney,
Mandy Moore
. Amanda,16, attempts a Moore wholesome image with several tracks that argue strongly against teen sex.
But wholesome doesn't necessarily mean boring. On her first single, "Everybody Doesn't," a let's-take-things-slow jam, she admonishes, "If I loved you I would/ If you loved me I wouldn't have to." With her no-nonsense take on teen life, this diva junior grade keeps things real on girl-power anthems like "You Don't Stand a Chance" and the sassy "No Pressure," which is set to a rousing tango backbeat. But Amanda falters on routine boy-crazy tunes like "Call Me" and "Crush on You," which reflect the bland if radio-ready production of Swedish hit-makers BAG (98°,
Jennifer Lopez
). Alas, Amanda even takes a trembling step into Spearsland on the candy-coated ballads "If I Open My Heart" and "Start It All Over Again."
Bottom Line: Swede thing
BREAK THE CYCLE
Staind (Flip/Elektra) Signed by Fred Durst to his Flip label, this quartet comes into its own on this introspective follow-up to 1999's multiplatinum Dysfunction, which bleeds emotion on the melancholy "It's Been Awhile" and the tragic "Waste," inspired by a fan's suicide.
THE SOPRANOS: PEPPERS & EGGS
Various Artists (Columbia) Family favorites: Bob Dylan ("Return to Me"), Elvis Costello & the Attractions ("High Fidelity), Otis Redding ("My Lover's Prayer") and the Rolling Stones ("Thru and Thru") hit high notes on this spicy two-disc soundtrack.
ODYSSEY NUMBER FIVE
Powderfinger (Universal) On their lush U.S. debut, filled with carefully crafted songs about love and loss like "Waiting for the Sun" and "Whatever Makes You Happy," this Brisbane quintet show us what folks Down Under have known all along: Australians do know how to rock.
Contributors:
Joanne Kaufman,
Sona Charaipotra,
Ralph Novak.
Jane Monheit (N-Coded)
Advertisement
Today's Photos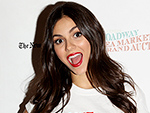 Treat Yourself! 4 Preview Issues
The most buzzed about stars this minute!