People Top 5
LAST UPDATE: Tuesday February 10, 2015 01:10PM EST
PEOPLE Top 5 are the most-viewed stories on the site over the past three days, updated every 60 minutes
One Big Family
Adoptive Dad Adam Pertman Calls for Less Secrecy and More Contact with Birth Mothers.
Actually it was the second time. For, symbolically enough, it was on Mother's Day 1997 in Novato, Calif, that Erin gave birth to 6-lb. 6-oz, Emmy. Then a single mother of two unable to care for a third child, she handed the baby over to Adam Pertman and his wife, Judy Baumwoll, for adoption and moved on with her life. Not until earlier this year—and with prodding from the adoptive parents—did Erin make contact with her daughter. Now the two exchange photos, chat by phone and plan to meet. "We want Emmy to have a sense of who she is," says Pertman, 48. "We want her to feel Erin is part of our extended family."
To many, Pertman's inclusiveness may seem unconventional. And that is precisely why the veteran Boston Globe reporter wrote Adoption Nation. Published last year, the book argues for an end to secrecy in adoption, a word long tainted. To be sure, he notes, some of its stigma has eroded, thanks to highly publicized adoptions by such celebrities as Steven Spielberg,
Rosie O'Donnell
and Calista Flockhart. With about 6 million adoptees in the U.S., Pertman says, it's time the wider public embraces the process as a natural part of American society. He calls for open adoption, in which adopted children and both sets of parents forge relationships. In this way, he says, children grow up with a richer sense of identity, adoptive parents gain precious insight into their children's heritage, and birth mothers can heal from the loss of a child. "The stereotype is that these women want to jettison babies and be anonymous," says Pertman. "The reality is they want some level of contact."
So far his approach has met with approval from many adoption-rights groups. "He talks about openness and equity," says Susan Cox of Holt International Children's Services. "Those aren't radical ideas." Some traditionalists counter that creating two sets of parents sends kids confusing signals. "It's [giving birth mothers] parental rights without parental obligation," says child psychiatrist Denis Donovan, who has worked with adoptees for 25 years. Adds William Pierce of the National Council for Adoption: "There's no evidence that it benefits children."
Pertman himself is the youngest of four children born to Holocaust survivors in Poland. Raised in Baltimore, he dropped out of the University of Maryland and joined the Globe, where he has worked as a political reporter and foreign correspondent for 22 years. Marriage to exhibit designer Judy Baumwoll in 1992 turned Pertman's focus toward family. After failed fertility treatments, the couple contacted an adoption agency that after three months found them a son near Denver. With just a few days' notice, they jetted off to pick up Zack, now 7, and, at the birth mother's request, warily agreed to meet with her. "It was one of the scariest moments in our lives," says Baumwoll, 50. Fears vanished as the baby's mother, then a single college student, warmly welcomed them. "It was the best thing we could have done for Zack," says Baumwoll. "We can now tell him things about her."
Adopting a second child wasn't as easy. One birth mom decided to keep her baby at the last minute; another couple skipped town with their baby after Pertman and Baumwoll had lent them $5,000. Still, after bonding with a pregnant Erin in 1997, the pair leaped at the chance to attend Emmy's birth and spend a week with Erin and her two kids. "Zackie played with his sister's siblings, who aren't his siblings," says Pertman. "It's a modern American family."
The couple soon worked phrases like "adopted son" and "adopted daughter" into lullabies. "We wanted the word to have a positive meaning," says Baumwoll. No surprise, then, that on a recent day at their Victorian home outside Boston, the topic barely pries Zack from his Lego spaceship or Emmy from her giant stuffed dog. "Is adoption a good or bad thing?" asks their dad. Reply the kids in unison: "It's gooood!"
On Mother's Day little Emmy Pertman phoned both of her grandmothers and presented her mom with a handmade card and a giant bouquet of lilies and sunflowers. This year the Newton, Mass., 4-year-old also called Petaluma, Calif., and asked for Erin. "It brought tears to my eyes," says Erin, 29, a home-maker. "This was the first time we connected on Mother's Day."
Advertisement
Today's Photos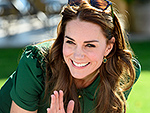 Treat Yourself! 4 Preview Issues
The most buzzed about stars this minute!