People Top 5
LAST UPDATE: Tuesday February 10, 2015 01:10PM EST
PEOPLE Top 5 are the most-viewed stories on the site over the past three days, updated every 60 minutes
Still Rocking
With a Startling Memoir, Two Kids and a New Girlfriend, Melissa Etheridge Hits 4-0
Popular
. And though her usual set of wheels these days is a Mercedes SUV suitable for transporting her two kids, she splurged on a grownup toy. "A '67 Camaro convertible," she says, "white with a blue stripe on the front. It's such a muscle car!"
Less than a year after breaking up with Julie Cypher, 36, her lover and (for lack of a better term) co-mother of their daughter Bailey, 4, and son Beckett, 2, Etheridge doesn't seem to need any added horsepower. "I feel very strong," she says. "There are a lot of new things in my life." This month
The Truth Is
..., a pull-no-punches autobiography that includes memories of childhood sexual abuse, arrives in stores. In July she releases her seventh rough-edged album, Skin (which boasts Ryan and Laura Dern singing backup on "Heal Me"). She has also braved her first-ever tattoo, on the back of her neck (it spells out her album title), and plunged back into the singles' pool. She met her new, younger (by 14 years) girlfriend, Michaels, at a West Hollywood bar in March. "I want to jump up and down and go 'Woo woo!' " says Etheridge, stretched out on a sofa in her two-bedroom L.A. home. "I figure I'm doing the early midlife crisis, dating a 26-year-old and buying a Camaro. Why not?"
Especially since the prelude to midlife wasn't such a blast. Last September she and Cypher, a former filmmaker now looking to become a TV correspondent, broke up only a month after the country's other high-profile gay couple, Ellen DeGeneres and Anne Heche, did the same. (Heche, in fact, is getting married; see page 127.) The couple met in 1988, when Cypher—then married to actor Lou Diamond Phillips—was shooting a music video for Etheridge. Over the course of more than a decade, they settled down into what seemed to be the epitome of a gay nuclear family, blessed with two children conceived with the help of rock veteran David Crosby, carried to term by Cypher and adopted by Etheridge. "We were put on a pedestal," says Etheridge. " 'Look at them! Bum bum pah!' But people change."
Outwardly, at least, they still claim to be taking the higher ground. Dern was relieved when she didn't have to chose which woman to invite to her 34th-birthday party in February. Etheridge and Cypher both attended. "It's the most admirable, commendable break," says Dern. But still a break. Cypher was not among the invitees to Etheridge's big four-oh. "This isn't all tea and honey," says Etheridge. "There's sadness and anger."
She poured both into such confessional songs as "Down to One" and "The Prison" on Skin. She and Cypher still meet with a couples' counselor to keep the relationship unspooling smoothly. "It can't be a clean break," says Cypher, "when you share the responsibility of co-parenting. It shouldn't be."
Their property line guarantees it won't. They sold their antiques-filled Tudor home last winter and moved nearby into two smaller homes with abutting yards. The children, who can roam between "Mama" (Etheridge) and "Mamo" (Cypher), spend four consecutive nights with each. (The women also share a nanny.) Under her own roof, Etheridge is customizing her role to her talents. "Singing is a great way to communicate with them." says Etheridge. "Pick-up-your-clothes," she sings. "All of a sudden they're like, 'Oh, that's cool!' "
Etheridge knows there are greater tasks ahead than instilling tidy habits. First, she will have to make Beckett and Bailey, already attending preschool, understand a society of mommies linked to daddies. "That's what the world is," she says. "On television, in books." She'll also have to explain the unusual circumstances of their birth—not to mention why their mothers found a sperm donor in Crosby, 59 and already the father of a young son. "We weren't shopping," she says. "We didn't want someone to just donate and never be around." Crosby, whose wife, Jan, 49, fully supported the idea, visits occasionally as a friend. "The children are curious about me," he says. "Bailey has sort of figured out who I am."
Thanks to her frank memoir, they will someday also learn about their mother's traumatic childhood. According to
The Truth Is
..., between the ages of roughly 7 and 10, Etheridge—daughter of John Etheridge, a high school teacher and basketball coach who died in 1991, and Elizabeth, a retired computer consultant—was sexually abused by her older sister Jennifer, now a home-maker in Arkansas. Etheridge, unwilling to be more specific about the abuse, says she is sure it affected her sexual orientation and left her unable to form a stable relationship from adolescence on, when she first realized she was a lesbian. "I don't think it's what made me gay," she says, "but it definitely shaped it." She barely speaks with her sister now, and her mother (who, like Jennifer, declined to talk to PEOPLE) "feels it's me airing my dirty laundry," says Etheridge, who began seeing a therapist at age 22. "But I'm not going to suppress my experience."
That, of course, was not always the case for Etheridge, who in the past decade has slowly unveiled the woman behind the tough rock facade. When she openly acknowledged her sexuality in January 1993 at a Clinton inaugural ball thrown by gays and lesbians, "it was just a very natural statement," she says. The relationship with Cypher surfaced publicly soon after. Today, getting ready to promote both her new album and book (with the kids in tow for part of the tour), she is uninhibited in expressing her feelings for Tammy Lynn Michaels. "Am I in love? Oh God, ask me that in a few months," she says. "It's too soon. It's new and it's exciting and I'm happy."
Tom Gliatto
Julie Jordan in Los Angeles
Contributors:
Julie Jordan.
Turning 40 is like 180 in rock-star years," jokes singer Melissa Etheridge, who reached the four-decade milestone May 29. She sure didn't celebrate it like someone closing in on her bicentennial. Three days before, Etheridge threw herself a party at a Santa Monica club with a guest list that included such big-name friends as Meg Ryan, Helen Hunt, Kathy Najimy and Etheridge's new girlfriend, actress Tammy Lynn Michaels of The WB's
Advertisement
Today's Photos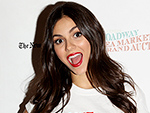 Treat Yourself! 4 Preview Issues
The most buzzed about stars this minute!