People Top 5
LAST UPDATE: Tuesday February 10, 2015 01:10PM EST
PEOPLE Top 5 are the most-viewed stories on the site over the past three days, updated every 60 minutes
Born with AIDS
Fifteen Years Old and Infected Since Birth, Stephanie Zepeda Has Come Bravely to Terms with a Life More Uncertain Than Most and An Illness Medicine Cannot yet Defeat
"I have AIDS," she announces in a clear, measured voice. "I was born with it. The parents I have now are not my biological parents, who have both passed away. My mom was a prostitute on drugs and didn't know she was pregnant until she had me. I was born on a couch."
Wide-eyed, her classmates fall silent as Stephanie continues her revelations. She first learned of her disease at age 9, she says, when a dentist, alerted by the details of a pre-exam questionnaire, asked her mother point-blank, in front of her, if Stephanie had AIDS. Brenda Zepeda answered simply, "Yes." "Later, out in the car, my mom explained to me that I was adopted," recalls Stephanie, pausing to take a deep breath. "And that's how I figured out that I have all this stuff."
It is now 20 years since the disease that has come to be known as Acquired Immune Deficiency Syndrome was first identified in a nine-paragraph report, issued by the Centers for Disease Control on June 5, 1981, chronicling the deaths of five gay men in Los Angeles who suffered from a rare form of pneumonia. In the two decades since, AIDS has claimed 22 million lives—450,000 in the U.S. alone.
While such antiviral drugs as protease inhibitors and AZT are prolonging the lives of AIDS patients, Stephanie and others like her still face an uphill battle against an inevitably fatal disease that is far from being eradicated or cured. True, there is some encouraging news about AIDS. Largely because more people are practicing safe sex and avoiding contaminated needles, the rate of HIV infections in the U.S. has leveled off in the last decade. But there are disturbing statistics as well. In the early 1980s the median age of newly infected HIV patients stood at 30; today, of some 40,000 new cases annually, half occur in those under the age of 25.
Why is AIDS becoming increasingly a disease of the young? The reason is sadly predictable. Unlike people in their parents' generation, many of today's young people—certain of their own invincibility—may simply never have known anyone to die of AIDS. "Young people know HIV is out there. They just don't think it can happen to them," says Kayla Jackson, director of the HIV-prevention program for Advocates for Youth, a Washington, D.C., health organization. "They also think that if they do get infected, they'll just have to take a pill. They believe in the myth of immortality."
It is Stephanie's mission to persuade them otherwise. Though she admits to her classmates that in the past she has had protected sex, she and her last boyfriend decided to hold off on sleeping together. "That wasn't even in our heads," she says. "All I wanted to do was talk to him and laugh with him. Simple things that I never thought I could do with a guy. It was the best time I ever had." The lesson, she tells the girls, is clear: "Don't rush into things. Don't make the mistake of doing something you don't want to do. AIDS is not something you want."
At the close of her talk, as sympathetic classmates circle around her, it appears Stephanie has made her point. "She made me look at things in a different way," says her friend Sara Dunajski, 16. "I can say, 'I'm going to get married and have kids.' Who's to say Stephanie is going to make it that far? She already knows how she is going to die."
Yet to hear those who know her best, Stephanie, who takes modern-dance classes at nearby Delta College and works after school as a cashier at a local bowling alley, is preoccupied not so much with dying as with sorting out how she will live. She is intent on attending college and is looking ahead to the possibility of law school. Yet she has also made some concessions. "I always wanted to join the Army," she says, "but I can't because I have AIDS." She also has a teenager's certainty that she will never choose to have children of her own. "I am not going to put my kids through what I am going through," she explains.
Among young people living with AIDS, her qualms are not unique. "These teenagers are questioning who they are, but they have the virus, and it's hard to make sense of what role that's going to play," says Peggy Macy, 39, Stephanie's social worker at Children's Hospital in Oakland, which treats 85 HIV-infected children, 15 of them in their teens. "Some rebel by refusing to take their medication. Others avoid dating because it's just too highly charged. Do they have to tell someone before they kiss them? It's complicated enough to be a teen and navigate these things without having HIV."
In Stephanie's case her struggle is all the more poignant, given that she had no hand in contracting her disease. On Aug. 19, 1985, she was born to a heroin-addicted mother who was so high on drugs and alcohol that at first she didn't realize she had given birth. It was nearly eight hours before the infant was treated by a physician at an Oakland hospital. Fifteen years ago nearly half of all premature babies born to HIV-infected mothers also developed the disease, and doctors held out little hope for their long-term survival. But today, thanks to new drugs and more aggressive treatment of pregnant women and newborns, the infection rate at birth has fallen to just 2 percent among these babies, whose prognoses have vastly improved. Stephanie herself is one of 2,185 second-generation AIDS patients, born with HIV, who are now in high school or college, marrying, and going on to have babies of their own.
After spending her first 14 months in temporary foster care, Stephanie was placed with Brenda and Rick Zepeda, a couple then living in San Lorenzo, Calif., who had adopted another infant, Michael, the year before. At the time, county officials, fearing the stigma of AIDS, did not disclose Stephanie's illness to the Zepedas. "But we knew she had HIV before we took her," says Brenda, 38, whose husband, Rick, 39, works for a trailer-hitch manufacturing company. "The [social workers] dropped a lot of hints."
Still, in 1986 there were no real guidelines about how to care for HIV babies. "It was the beginning of the AIDS epidemic, and I absolutely did not know what it meant," says Brenda. "I went into the adoption completely blindfolded. I didn't see anything but those brown eyes, eyelashes and all those curls. Stephanie was a round, fat butterball. She never looked like someone who had anything wrong with her."
During Stephanie's childhood, Brenda—who used antibacterial soap and kept Band-Aids on any open cuts of her own—tried to take precautions against coming into contact with her little girl's body fluids. But sometimes, as when the toddler flipped her stroller over and cut her lip badly, Brenda found it impossible. "I had gloves and should have put them on," she recalls, "but Stephanie was screaming."
When Stephanie started school, the Zepedas told the principal that they needed to know if any of the other children came down with chicken pox, which would have been dangerous for Stephanie because of her already compromised immune system. Then in grade school the little girl herself decided to tell her closest friends she had AIDS, a disclosure that was met with general acceptance in her community.
She has also faced minor tensions within her own family. When friends find out that his sister has AIDS, "it kind of ruins my reputation a little bit," says her brother Michael, now 17 and earning his high school degree. "So I shock them a little bit. I tell them I'll take a blood test to show that Stephanie and I aren't blood-related." Nonetheless the two are close, says Brenda: "They can get brutal, but that's just how they deal with each other."
As a little girl Stephanie was hospitalized for a variety of serious ailments—seizures, pneumonia, shingles, meningitis. Since beginning AZT about a dozen years ago, she has had only a few short hospital stays related to her illness. This summer she will also begin taking a so-called cocktail drug combination, a tactic that doctors believe will enhance her quality of life and buy her added years. Of Stephanie and those like her who are receiving aggressive combination-drug therapy, "most are doing better, their viral loads are low, and their functions are better," says Dr. Ann Petru, director of the Children's Hospital pediatric HIV/AIDS program. "Stephanie can do cartwheels and go swimming. She leads life to the fullest."
She also faces challenges that are unique to adolescents in her situation. Brenda—whose family recently moved from a tough, low-income neighborhood into a one-story house in a part of Stockton populated largely by retirees—has seen plenty of change in her teenage daughter. "Until now, I've been the one to make the decisions about what day we were going to the hospital and what meds Stephanie was going to take," she says. "Stephanie wants independence but she doesn't want the responsibility for her medical decisions. Can you imagine being 15 and having to remember, 'I can't do this. I have to be careful of that'? All she wants to worry about is, 'Am I ever going to get a boyfriend and am I ever going to get out of school?' "
Stephanie, who receives tutoring twice a week, sometimes struggles in her classes, especially math. "There are times when she comes to tears because she doesn't understand it," says her special-education teacher JoAnn Rivera. "She's been ill a lot and that kind of held her back. But she's a joy to work with. She's positive most of the time."
Indeed, it is just that spirit and optimism that those who know her find most inspiring. "Stephanie's understanding of her own mortality is sporadic," says Brenda. "Between the ages of 10 and 13, she asked more questions, but she doesn't talk about it now. In the back of her mind, she knows it's there and that something can happen, and who knows what can trigger it. But it's not anything that we dwell on. My husband figures that she will always be here and that's it. He has never thought any other way."
It is a sentiment that Stephanie herself seems to have taken to heart. "I've seen people with AIDS who are depressed, but I don't think this illness has stopped her one bit," says her teacher Alice Rosas. "She's active in school. She's determined to succeed." In short, adds Rosas, describing what may be the greatest miracle of all, "Stephanie sees herself as having a future."
Susan Schindehette
Giovanna Breu in Oakland
Contributors:
Giovanna Breu.
Advertisement
Today's Photos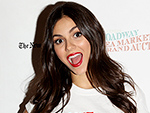 Treat Yourself! 4 Preview Issues
The most buzzed about stars this minute!