People Top 5
LAST UPDATE: Tuesday February 10, 2015 01:10PM EST
PEOPLE Top 5 are the most-viewed stories on the site over the past three days, updated every 60 minutes
Picks and Pans Main: Song
Worth a Listen
It wouldn't be summer without a radio sing-along anthem, and this year's can't-get-it-out-of-your-head chorus (the exact words are "na na na na na na") is from "Drops of Jupiter (Tell Me)," the title track of this San Francisco quintet's million-selling second album. Train, which first chugged into stations on the dial with 1999's hit "Meet Virginia," rides more of the right tracks here with a southern-roots rock sound that recalls Counting Crows. Smooth orchestrations—crunchy guitars meld seamlessly with rhythmic pianos—mark "She's On Fire," the country-tinged "Let It Roll" and "Hopeless," a resigned breakup ballad. The standout, though, is the subdued, sax-laced closer, "Mississippi."
Bottom Line: All aboard
Rufus Wainwright (DreamWorks)
Album of the week
[




]
Death and despair never sounded so good. A pop romantic with Byronic ambition, Wainwright fills his songs with impressive wordplay and literary allusions. And he sings them with enough ennui to make Tori Amos sound like a cheerleader. When he warbles about "Wandering properties of death/Arresting moons within our eyes and smiles" in the song "In a Graveyard," you may long for his folky dad's zany streak: Loudon Wainwright III gave his songs titles like "Dead Skunk."
But son Rufus's rapier writing, rich melodies and voice full of dark, autumnal texture allow you to forgive the measured melancholia of his Poses. While you may need a graduate degree to decode some of his lyrics—"Grey Gardens" alludes to Thomas Mann's Death in Venice; the nameless lovers of "Greek Song" and "Evil Angel" are as obscure as the Dark Lady of Shakespeare's sonnets—Wainwright's deft humor leavens things nicely. The addict of "Cigarettes and Chocolate Milk" has an epiphany: "Everything it seems I like's a little bit sweeter/A little bit fatter, a little bit harmful for me." The bright young man of "Poses" admits, "I did go from wanting to be someone now/I'm drunk and wearing flip-flops on Fifth Avenue." And the pop culture junkie in "California" confesses that "Yes I fell for a streaker."
Bottom Line: Exquisite
Foxy Brown (Def Jam)
First came MTV's Hip Hopera Carmen. Now comes the Soap Hopera Foxy. A 22-year-old Brooklyn-born rapper (née Inga Marchand), Foxy has a well-earned rep as a trash-talking, Prada-parading bad girl whose salacious rhymes about sex and the glamorous gangsta-moll life helped her two prior CDs go platinum. A public feud (with sista vixen Lil' Kim) and a romance (with rapper Kurupt) have helped her become hip hop's own Erica Kane. Now the rejuvenated rapper breaks a three-year silence with this uncharacteristically confessional and surprisingly heartfelt CD, which is by far her most emotionally powerful work to date. With an unlikely guest turn by Ronald Isley of the Isley Brothers, Brown gets personal on the somber "The Letter," in which she bares her feelings over an understated beat: "Dear Mommy, I apologize/I know it's 'cause of me that/Your life was traumatized." Both "Run Dem" and "Oh Yeah" have reggae flavorings. On the thumping "730," Foxy, backed by a squiggly synthesizer that sounds as if it were lifted from a Yes instrumental track, implores, "How could I smile when I'm hurting so bad inside?"
Bottom Line: Foxy lady gets real
Lila McCann (Warner Bros.)
At 19, this not-so-newcomer is aching to be Reba redux. Like McEntire, McCann has an irrepressible twang in the high end of her impressively wide-ranging voice, and she has hired McEntire's producer David Malloy for this, her third album. A year out of high school in Steilacoom, Wash., McCann, who honed her chops singing with the band her father fronted back home, also displays the country-pop appeal of LeAnn Rimes on the title track, a touching ballad that takes some emphatic singing to get across. McCann's pipes are up to the task, and she has plenty of pep on "Where It Used to Break," a clever play on bent and broken hearts, and "Like a Rocket," which has the feel of an intergalactic hit.
Bottom Line: Most likely to succeed
>RAMONES Ramones (Rhino) The musical Molotov cocktail that launched the punk revolution in 1976, this reissue detonates 14 sonic blasts in 29 minutes (plus bonus tracks), including "Blitzkrieg Bop" and "I Wanna Be Your Boyfriend." You too will wanna be sedated.
FLOWER FROM THE FIELDS OF ALABAMA Norman Blake (Shanachie) With his Uncle Sam beard, Blake belongs in a Thomas Nast cartoon. His acoustic music, picked on his collection of antique guitars and mandolins, is as timelessly American.
A TWIST OF MARLEY Various Artists (GRP/Verve) Late reggae king Bob Marley's canon gets jazzed by the likes of sax man Michael Brecker, guitarist Lee Ritenour and vocalist Maxi Priest. The lilting arrangements do not blunt the master's message.
Contributors:
Sona Charaipotra,
Steve Dougherty,
Amy Linden,
Ralph Novak.
Train (Columbia)
Advertisement
Today's Photos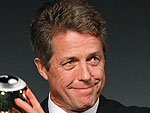 Treat Yourself! 4 Preview Issues
The most buzzed about stars this minute!