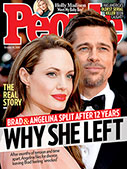 This Week's Issue!
People Top 5
LAST UPDATE: Tuesday February 10, 2015 01:10PM EST
PEOPLE Top 5 are the most-viewed stories on the site over the past three days, updated every 60 minutes
Picks and Pans: Pages
Worth a Look
Edgar Allan Poe's Baltimore graveside serves as a homicide scene in the sixth installment of Lippman's popular Tess Monaghan detective series. Wanted for questioning in the murder of a waiter is the city's infamous "Poe Toaster," a cloaked figure who leaves roses and cognac at the grave on Poe's birthday each year. But don't expect Poe-ish darkness and dread—or even much suspense—in this annoyingly breezy whodunit. Our hero Tess is a sunny, gun-toting lass; her potential foes include a librarian and a porcelain collector who discuss footnotes and bric-a-brac. Poe, with his musical ear, would cringe at the clunky language. Says Tess: "You run the risk of confusing potential witnesses who might have information that doesn't jibe with your scenario."
Lippman, a reporter for the Baltimore Sun, does make the occasional deft stroke—describing the porcine porcelain dealer, for example, as having "a face like a glazed ham." But there's little else worth raven about. (Morrow, $24)
Bottom Line: Poe relation
By Alex Kava
Ah, those toxic relationships. So difficult to end one tactfully, especially when the other party is a serial killer who sends body parts instead of bouquets. That, in essence, is the dilemma faced by beautiful FBI profiler Maggie O'Dell in Kava's sophomore thriller, a sequel to
A Perfect Evil
. Although the book bears an obvious resemblance to
The Silence of the Lambs
, Kava's killer, Albert Stucky, is less sophisticated than "Hannibal the Cannibal" Lecter and, if anything, bloodier. Maggie O'Dell has the psychological and physical scars of their last encounter as proof and knows that the only way to stick it to Stucky is to catch him herself.
There are some nice touches, such as Stucky's habit of leaving neatly packaged organs along with his victims. But we never figure out why Maggie, who seems more like Damsel in Distress model 3.0 than a gifted profiler, is the target of Stucky's obsession. After a while it's hard to care. (MIRA, $22.95)
Bottom Line: Silence of the lame
By Susan Isaacs
For Judith Singer, the lovable Long-Island housewife turned sleuth from Isaacs's Compromising Positions, the past 20 years have been strikingly uneventful. Sure, she has earned her doctorate in history, but mostly she has been trying to shake the memory of her long-ago torrid affair with detective Nelson Sharpe, the man she was "born to dance with."
Her health-conscious, crudites-eating husband suddenly drops dead after running a marathon, and a perky socialite vanishes. Hmm. "Upper-middle-class suburban women with biweekly lip-waxing appointments tend not to disappear," Judith notes perspicaciously. The socialite's father-in-law is a mobster who wants Judith on the case. Soon it's as though a menopausal Bridget Jones has teamed up with Tony Soprano.
Isaacs serves up too many red herrings and the case's facts are repeated more often than
Law & Order
. But with her hilarious satire of suburbia, riveting plot turns and zingy one-liners, who cares? They'll fix it in the screenplay. (HarperCollins, $26)
Bottom Line: Fire up the popcorn popper
By Sara Paretsky
Page-turner of the week




Sick of mysteries with plots thin enough to waft away on a summer breeze? Savor the I.Q.-regenerating pleasures of Paretsky's 10th V.I. Warshawski novel, which tackles heavyweight issues but—like the tough-cookie PI herself-is unpretentious and fast on its feet. When a man claims to have recovered repressed memories of a childhood devastated by the Holocaust, his story deeply rattles V.I.'s friend Dr. Lotty Herschel, who lost her own family to the Nazis. V.I., who is also on the case of a black family swindled out of a life-insurance payout, uncovers corruption in the present as she delves into the horrors of the past. Peretsky leavens a gripping read with an eye for the little annoyances of the detecting life—from traffic jams to bloodstains on one's favorite outfits. (Delacorte, $25.95)
Bottom Line: PI V.I. is A-1
By Douglas Coupland
Roll over, June Cleaver, and give Carol Brady the news: Meet the Drummonds, the all-star team of weird families, in a comic novel as rich as an ovenful of fresh-baked brownies and twice as nutty.
America's pride, astronaut Sarah Drummond, is about to blast into space despite being born with one hand. That's the newspaper story. The real story is her family and their biting, beating and cheating as they chase a card from
Prince William
to his mother that was taken from Diana's casket. The reluctant emcee of this freak show is mom Janet, who is shedding her regrets and growing into herself at 65. She's the boring one, except that she got AIDS from a bullet fired straight through her son by his father. Meet Me in St. Louis, this isn't. There will be no hugging.
Everyone with a strange family—that is, everyone with a family-will laugh knowingly at the feuding, conducted with a maestro's ear for dialogue and a deep understanding of humanity. Coupland, once the wise guy of Generation X, has become a wise man. (Bloomsbury, $24.95)
Bottom Line: A Disney World of dysfunction
SAVING MILLY
Morton Kondracke The author and former McLaughlin Report pundit movingly chronicles his wife Milly's 13-year battle against Parkinson's disease. (Public Affairs, $25)
SAP RISING
Christine Lincoln Lyrical lessons of self-discovery unfold in a shimmering, worldly-wise debut short-story collection. (Pantheon, $20)
Contributors:
Laura Italiano,
Amy Waldman,
Lori Gottlieb,
Samantha Miller,
Kyle Smith.
By Laura Lippman
Advertisement
Treat Yourself! 4 Preview Issues
The most buzzed about stars this minute!